FAIRHOPE, Ala. — The GOP civil war in Alabama's Senate race culminated here Monday with front-runner Roy Moore brandishing a revolver as Steve Bannon, Donald Trump's former chief strategist, said voters should ignore the president's endorsement of Moore's establishment-backed opponent.
Four hours north in Alabama's largest city, Vice President Mike Pence dutifully vouched for Sen. Luther Strange, the embattled incumbent who trailed badly ahead of Tuesday's vote in a trio of election eve polls despite Trump's surprise endorsement.
"Our president needs Luther Strange back in the United States Senate so he can finish the job," Pence said at a hanger rally for Strange at the Birmingham airport. "I know Sen. Luther Strange will be there for our president, because he's already been there."
"When you look at what President Trump has accomplished," Pence continued, "You'll see Sen. Strange has been there every step of the way."
Later, at the Moore rally, Bannon, joined by "Duck Dynasty" star Phil Robertson and the United Kingdom's Brexit leader Nigel Farage, said the opposite was true.
In a barn adorned with a giant American flag, Bannon told the crowd that the Washington establishment "think you're a pack of morons."
Calling out several GOP operatives by name and their "running dogs" in the media, Bannon declared, "Your day of reckoning is coming."
Photos: Dueling Rallies Show Republican Rift in Alabama Senate Race
That establishment does not include Trump, apparently, who took the extraordinary step of traveling to Alabama to campaign for Strange just three days ago.
Trump and Moore draw on a similar base of support, and Moore supporters like Bannon see no inconsistency in supporting both.
"We did not come here to defy Donald Trump, we came here to praise and honor him," Bannon said. "A vote for Judge Roy Moore is a vote for Donald J. Trump."
Referencing the ongoing controversy over NFL players taking a knee during the National Anthem, Bannon said, "Every person in this country should get down every night and thank God Donald Trump is president."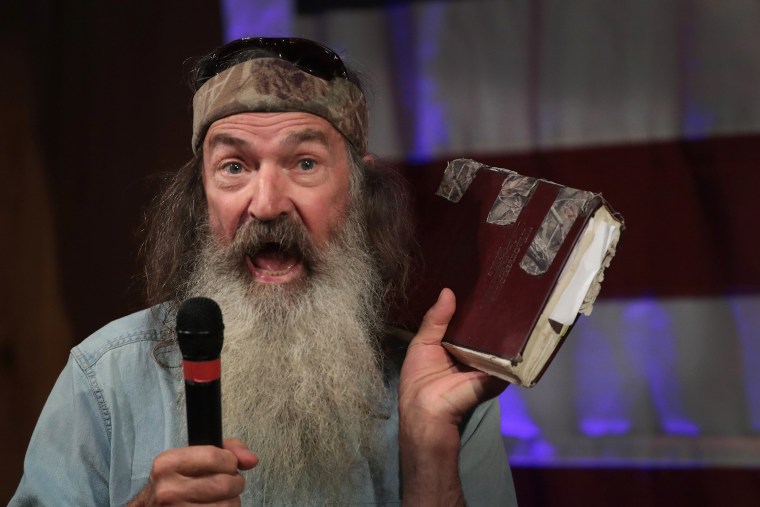 Strange's backers, including Senate Majority Mitch McConnell, "are the same people that have tried to destroy Donald J. Trump since the first day he announced for office," Bannon said.
Meanwhile, Bannon continued, Moore backers like Sarah Palin, Sean Hannity, and Ben Carson, Trump's own housing secretary, have "been with Donald Trump since the beginning."
Farage, who traveled all the way from the England to Alabama at Bannon's urging, told NBC News he did not want to contradict his ally Trump.
Related: 'Homosexual Conduct Should Be Illegal,' Roy Moore Said in 2005 Interview
But when he heard Trump joke Friday that he may be making a mistake in supporting Strange, Farage felt free to join a campaign that he said had a common enemy with his British nationalist movement.
"The point of getting Judge Roy Moore is to help the president, isn't it?" he said.
That was a sentiment echoed by regular voters like Don Guy, who said he voted for Strange in the first round of the primary in August, but changed his mind after seeing Trump's remarks on Friday.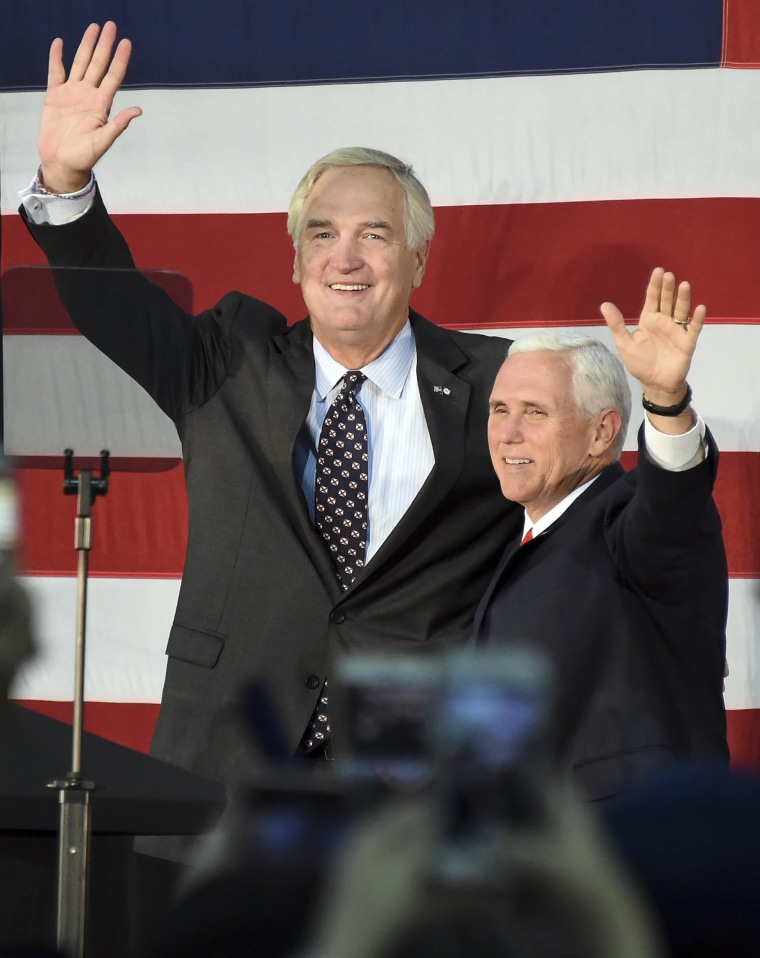 "I think that Trump will turn around and say, 'I made a mistake,'" Guy told NBC News.
State Auditor Jim Zeigler earned applause from the stage for declaring, "We are tired of the leadership of the United States Senate obstructing the Trump agenda."
Robertson, sporting in his signature camouflage clothes and long beard boasted that he doesn't own a cell phone and has never turned on a computer. He urged the crowd not to worry much about the health care debate currently raging Washington, because everyone is going to die.
Related: Alabama GOP Senate Candidate Uses Racial Slurs in Speech
"Invest in eternal health care," he said, referring to Christianity.
Moore took the stage afterwards, wearing a cowboy hat and vest, perhaps a reference to his tradition of riding a horse to the polls for every election.
Moore opened with a story about the time Robertson caught a "very rich New York lawyer" on his land and kicked him "you know where."
"Mitch McConnell needs to be replaced," he said in one of his loudest applause lines. "We've got to go back to God. We've got to go back to a moral base."
"All of the nation is watching to see what the people of Alabama do tomorrow," Moore said to cheers.