Over 140,000 ballots have already been cast in the Georgia congressional race Tuesday in which Democrat Jon Ossoff is looking to flip a decades-held Republican seat and defeat GOP opponent Karen Handel — and there are some slightly positive signs for the Democrat.
As of June 19, 140,510 votes (a quarter of all registered voters in the district) have been cast. This number is more than double the number of early votes in the April 18 runoff election (58,825) and approaches the number of early voters for the 2016 presidential race last November (195,852).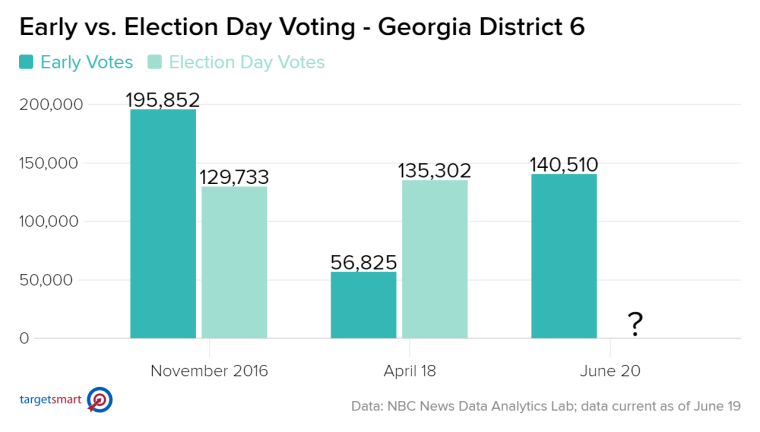 Georgia's 6th Congressional District, which encompasses Fulton, Cobb and DeKalb counties in the highly-educated suburbs of Atlanta, has voted for Republican candidates for the House since 1979; in 2016, incumbent GOP candidate Tom Price won the district by double digits. But President Donald Trump only narrowly edged out Hillary Clinton in the same district — defeating her by 1.5 percentage points.
The now-vacant seat has caught the attention of Democratic fundraisers and strategists on the national stage who are trying to capitalize on anti-Trump sentiment across the country and sustain voter engagement in the months ahead of the 2018 midterm elections.
This is also why combined campaign spending has surpassed $40 million dollars — a record for a House race. Does early voting suggest that Ossoff or Handel appear to be doing better? To take a closer look at how the race seems to be shaping up, the NBC Data Analytics Lab independently analyzed voter file data provided by TargetSmart.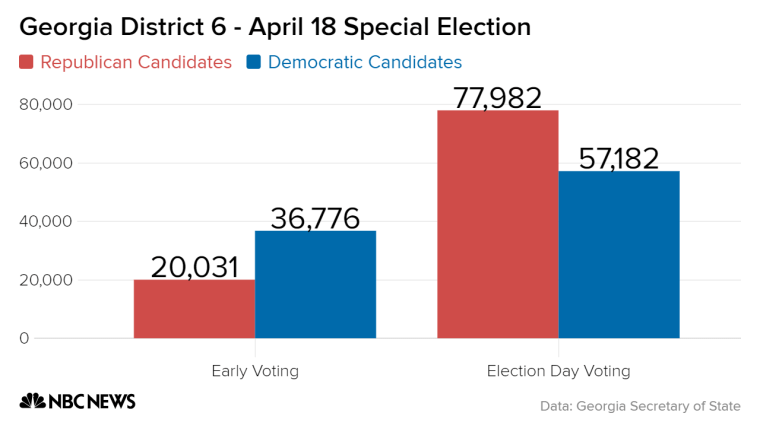 Although Ossoff did remarkably well among early voters in the April 18 runoff election, he performed much worse among Election Day voters, and many more voters went to the polls rather than vote in advance. This is also consistent with patterns of early voting in key swing states that looked advantageous for Clinton in the 2016 general election but did not provide a solid enough lead to win.
The final result in the runoff election underscores an important caveat when interpreting early votes: Election Day turnout and voter composition is not fully known until Election Day and certainly has the ability to change the outcome of the election.
Demographics of early special election voters helps get a sense of how a race might be shaping up. In particular, party affiliation is usually the best predictor of how someone might vote. Using party affiliation as a proxy for vote choice is trickier in the case of Georgia, however, which does not require voters to self-affiliate with a particular party when registering to vote.
In order to gauge what types of voters might be turning out for the June 20 race, the NBC News Data Analytics Lab analyzed partisan scores computed and provided by TargetSmart. These scores estimate the likelihood that a voter supports the Democratic or Republican Party. Scores closer to 0 represent more likely Republican voters and scores closer to 100 represent more likely Democratic voters.
The figure below, which plots the distribution of partisan scores among April 18 voters overall, shows that Georgia District 6 voters are more Republican-leaning than Democratic.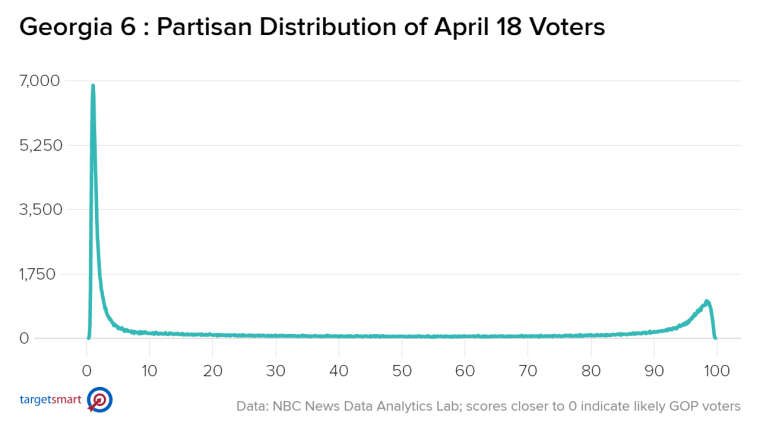 The vote split in the April 18 contest showed a nearly equal number of voters supporting Democratic candidates and Republican candidates. Given this result, along with the known partisan distribution of April 18 voters, Ossoff needed to win Democrats as well as "middle of the road" voters and possible some moderate Republicans — or most of the voters in the partisan score range of 20 to 80. He seemed to succeed in doing so in the April 18 round of voting.
Among early June 20 voters, we see a similar distribution of partisans — indicating a likely close race between Ossoff and Handel.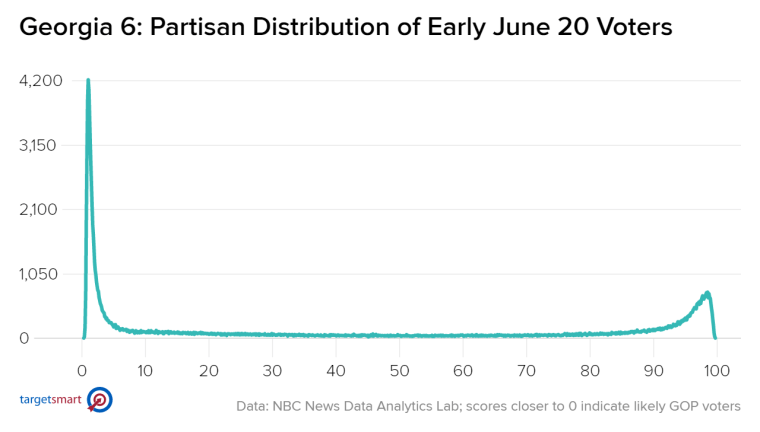 While these scores give us some idea of the actual vote, they are only approximate, and other variables may be more useful in interpreting how a race is headed. Perhaps a more clear way to measure how Ossoff and Handel might be doing is to look at early voters by race.

In the April 18 election, African-American voters made up 10.5 percent of early voters and 8.81 percent of Election Day voters. In early June 20 voting so far, African-American voters make up 9.41 percent of early voters — down slightly from their proportion among early voters in the April 18 voting round. Hispanic and Asian voters, however, make up slightly larger proportions of the electorate — indicating that Ossoff's campaign might be successful in mobilizing other minority voters.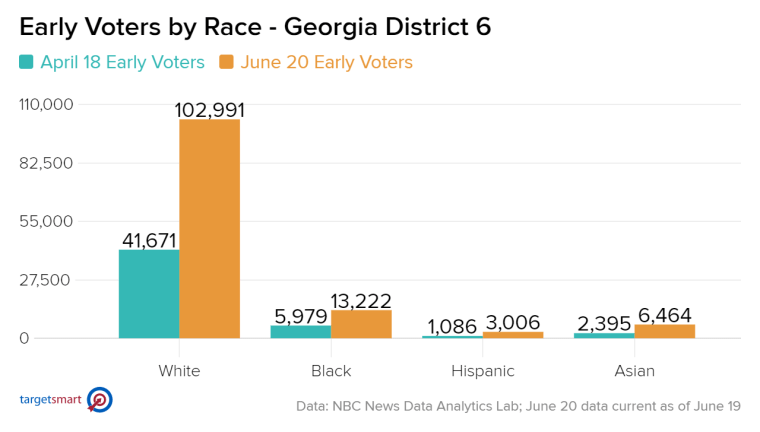 When looking at the number of early voters who have cast ballots by race, voters from all racial groups have cast more ballots for the June 20 election than in the April 18 election.
While Hispanic and Asian voters make up slightly larger proportions of early voters overall, the number of white voters — and their partisan leanings — are crucial unknowns for Handel and Ossoff. More white voters in GOP-rich sections of the district like Cobb and Fulton could be positive for Handel.
If Ossoff is able to secure the higher-educated white voters who are more moderate, he could pull off a win. What about those who sat out the first round, but have already voted in the June 20 race? While Ossoff captured 48 percent of all votes in the first round of voting, the Republican candidates taken together constituted 51 percent of the total votes.
The question for the June 20 election turns to whether the parties can keep these same voters engaged, while also encouraging new or infrequent voters to mobilize. Of those who have voted early so far in the June 20 race, 74 percent also voted in the April 18 primary runoff. That leaves 36,481 (26 percent) who did not vote in round one.
The age and racial breakdown of these voters may give some clues for whether these new voters might be leaning toward Ossoff or Handel. These voters are considerably less white than early voters overall — a potentially good sign for Ossoff.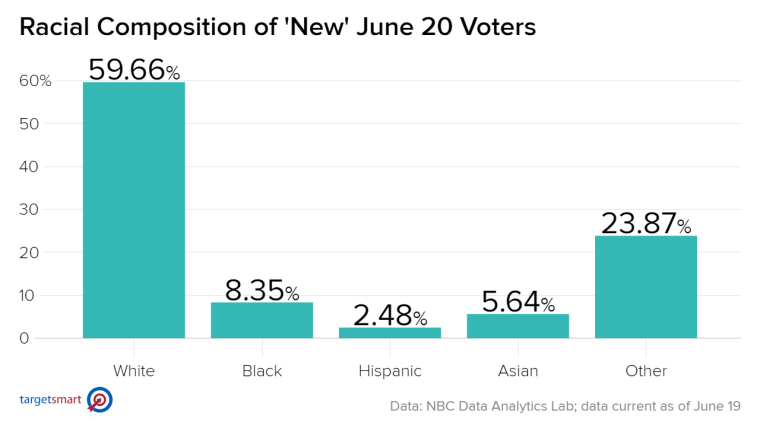 Additionally, these voters skew slightly younger than early voters overall. This could potentially be another positive sign for Ossoff as Democrats tend to gain larger support from young voters.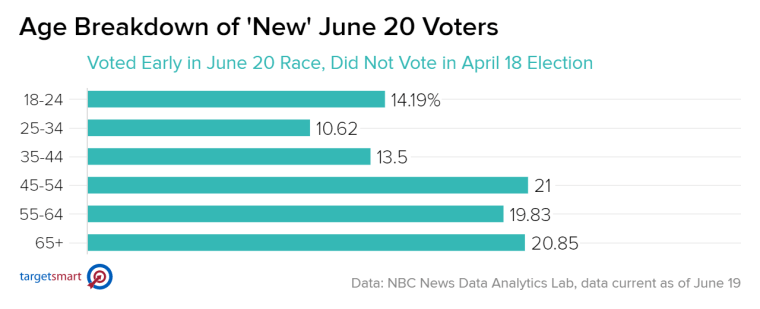 Again, this analysis is only focused on early voters collected as of June 19. This does not mean Ossoff will win. But if one is to look for a slightly positive sign for Ossoff, the composition of the new voters who did not participate in the April 18 contest would be it. The size and composition of Election Day voters may alter these findings significantly.
What does this mean for national races and 2018? Nationally, Ossoff has become a litmus test for whether Democrats can ride a wave of anti-Trump sentiment to win traditionally red seats. But figuring out what the test results mean for the national political environment is a difficult task.
There are many months left before the midterm elections and the bitter political environment will most certainly change between now and then. Democrats will look to see how much better they can do in the district when the national spotlight — as well as millions of dollars in fundraising — are attuned especially toward them.