The November midterms gave election officials and pro-democracy advocates their first sigh of relief in years: The election system they'd spent years defending and shoring up operated almost seamlessly, and most of the election deniers who threatened to disrupt it were defeated.
The respite, however, appears to have been brief, with the new year marked by violent, moneyed and high-profile election denialism:
"The extreme rhetoric is not stopping," said Colorado Secretary of State Jena Griswold, who chairs the Democratic Association of Secretaries of State, a group that led the charge in battleground states against election denialism. "It just led to a little girl having bullets shoot through her wall in New Mexico because someone was mad at her mom because they thought that she rigged an election, right? I really do not think we're out of the woods."
Election experts, pro-democracy advocates and secretaries of state who defeated election deniers said in interviews that while democracy defenders have won a key battle, the existential threat to American democracy remains.
"In some ways, it was just a dress rehearsal for the 2024 presidential election," Minnesota Secretary of State Steve Simon said. In November, he defeated Republican Kim Crockett, a Trump-endorsed candidate who said the 2020 election was rigged.
Simon said that at a recent meeting of like-minded people operating under the Chatham House Rule, he heard someone sum up the situation well: "This person said, 'We dodged a bullet, but the gun is still loaded,'" Simon recalled. "I think that that summarizes where a lot of us are thinking particularly going into 2024."
The campaign for democracy
The group Griswold chairs, known on the left by its acronym, DASS, was key to the campaign against election denialism last year.
It raised over $30 million during the 2022 cycle — more than 12 times its previous fundraising record — and injected millions into Arizona, Nevada, Minnesota, Michigan and other states. Candidates raked in millions more than they had in previous cycles in secretary of state contests — once sleepy down-ballot races shaped by the tops of tickets.
The group cast Democrats as "competence versus chaos," Executive Director Kim Rogers said, contrasting extreme views with assurances of fair election administration.
An ad in Nevada said Jim Marchant, the Republican nominee for secretary of state, wanted "to end early voting and vote by mail to control elections for himself and his allies" and promised that Democrat Cisco Aguilar "will make sure everyone's vote is counted, regardless of their political party."
The group spent $6 million in Nevada; Aguilar won by just over 23,000 votes.
It's a strategy the group expects to carry into 2024. Rogers said she hopes secretary of state contests will boost other Democrats in states like Missouri, Montana and West Virginia.
Last year, secretary of state candidates were the top vote-getters in Minnesota, Michigan and Massachusetts; in New Mexico, Arizona and Rhode Island, Democratic secretaries of state outperformed the winning Democratic governors.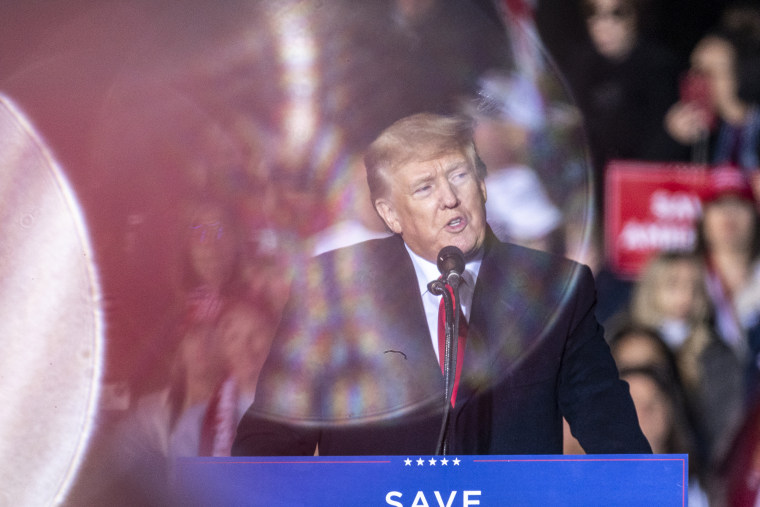 Democratic governors and attorneys general, too, pitched themselves as democracy defenders last year. President Joe Biden personally campaigned on the issue throughout the year. In November, he called on voters to reject voter intimidation and political violence.
"My fellow Americans, we're facing a defining moment, an inflection point," he said then. "Our democracy is under threat."
The speech raised eyebrows on the left and incited mockery on the right — how could the sitting president be talking about anything other than the economy five days before the midterms? — but exit polling would later show democracy was a top issue for voters in November, right alongside inflation, and denialism was dealt a hearty blow in state after state. 
"It wasn't a winning political strategy in 2022," Simon said. "That might go a long way towards muting — not eliminating but muting — some of those same tactics in 2024."
Still, some of the wins were razor thin.
"It's good that Arizona can get an attorney general who is not an election denier by 250 votes and ... a governor who believes in free and fair elections by 1%," said David Levine, an elections expert at the Alliance for Securing Democracy. "But it tells you just how close some of these things are."
Levine also warned that some threats may not be homegrown, as foreign adversaries continue to try to influence U.S. elections, and he said polarization around election administration may make it harder for the U.S. to fight off such efforts.
A 'blueprint' for 2024
Officials and onlookers said next year's election is bound to draw more interest and higher stakes, particularly with Trump running again.
"Not having sort of the election denier-in-chief claiming that his own election was stolen — that is a significant" part of why 2022 ran more smoothly, said New Mexico Secretary of State Maggie Toulouse Oliver, a Democrat.
Rogers said she expects Democratic secretaries of state will be key messengers of accurate information about elections, a counterweight to Trump, who may well be on the ballot in 2024.
Since 2020, voter education and myth-busting have become an enormous part of election officials' work.
"In the states, we have gotten better about pre-bunking, debunking, quickly responding to mis- and disinformation," Toulouse Oliver said, adding it takes a huge amount of energy and time that she wishes were being dedicated to improving elections.
Simon said he'll be focusing on relentless voter education in Minnesota, which he said undermines bad-faith pitches.
"I think 2022 gave us a really good blueprint for how we can minimize if not eliminate some of those threats," he said. "Transparency is really effective. Once people see or come to understand how the system really works, they inevitably come away with a lot more confidence."