BLUEFIELD, W.Va. — You wouldn't know it by the monotone timbre of his voice, but in a dimly lit room at Macado's restaurant and bar, Don Blankenship was feeling good.
Just 48 hours earlier, his leading opponents in the West Virginia Republican Senate primary — Rep. Evan Jenkins and the state's attorney general, Patrick Morrisey — did their best to ignore him during a Fox News-hosted debate in Morgantown.
Despite his rivals' strategy, the performance left Blankenship feeling buoyed and had him promising voters here Thursday night that the nationally televised event had helped him move "way ahead" in the race. (A Fox News poll before the debate had him in third.)
"Expect a full assault going forward," the once-imprisoned ex-coal baron told the crowd at Macado's ahead of Tuesday's vote.
Blankenship is an irritant to establishment Republicans. Some in the party's top brass, including allies of Senate Majority Leader Mitch McConnell, R-Ky., have run ads against him, hoping to remove the wild card from their calculations in the GOP's quest to pick up the Senate seat long-held by Sen. Joe Manchin, a Democrat.
And when President Donald Trump visited the state for a tax reform event in March, he had Jenkins and Morrisey flanking him — conveying, however unofficially, the White House's preference for this to be a two-man race.
On Monday morning, Trump went a step further, publicly coming out against Blankenship with a tweet and urging voters to vote for Jenkins or Morrisey.
Who's Don Blankenship?
A year ago, Blankenship was finishing a one-year prison sentence for his role in the 2010 Upper Big Branch coal mine explosion that killed 29 of his Massey Energy miners. In 2016, 55 percent of voters in the state had a negative opinion of him and 60 percent thought he should've been behind bars for longer.
Now, Blankenship is pitching his prison stint as an example of what he characterizes as President Barack Obama's rogue Justice Department and their over-zealous war on coal. Blankenship asserts that it was a "fake prosecution" on a "fake charge" against him. He was acquitted of two felony charges, but was convicted of a misdemeanor — conspiring to violate mine safety standards.
But his time in prison isn't necessarily deterring likely Republican primary voters.
Those conservatives that are already with him, like Stacy Sparks, told NBC News on Thursday night that Blankenship was "railroaded" during his trial. Even voters still on the fence, like Beverley Mitchell, said the prison time didn't bother her.
Mitchell didn't pay attention to the 2015 trial, she said, "but I don't have any negativism about him being the senator because of that."
"There's a lot of people that made a good living working for Don Blankenship," Bill Farley said as he nursed a beer while waiting for Blankenship to address the crowd. "The miners working for Don Blankenship were the best-paid miners in the state ... and people remember that."
The Alabama Factor
But Republicans in Washington don't have to look too far into the past to find a cause for concern.
The GOP waved goodbye to a Senate seat that had been in their hands for decades when allegations of sexual misconduct against Republican nominee Roy Moore upended Alabama's special election in December.
Now, Republicans are alarmed enough over Blankenship's candidacy that super PACs close to McConnell have blanketed the airwaves with ads to discredit Blankenship.
One of the spots alleges that Blankenship's company contaminated a community's drinking water with "toxic coal slurry" while Blankenship ran a new line to his home so he could have clean drinking water. "Isn't there enough toxic sludge in Washington?" the ad asks.
But the war on the airwaves isn't the only one Blankenship is fighting.
Donald Trump Jr. last week urged West Virginia voters not to put the GOP in a similar position as it was with Moore by fielding a weak candidate — "no more fumbles like Alabama" — in November. "Make a wise decision and reject Blankenship," he tweeted.
Blankenship said that he felt Trump Jr. was being "misled," blaming McConnell and others in the GOP "establishment" for conjuring the specter of Moore.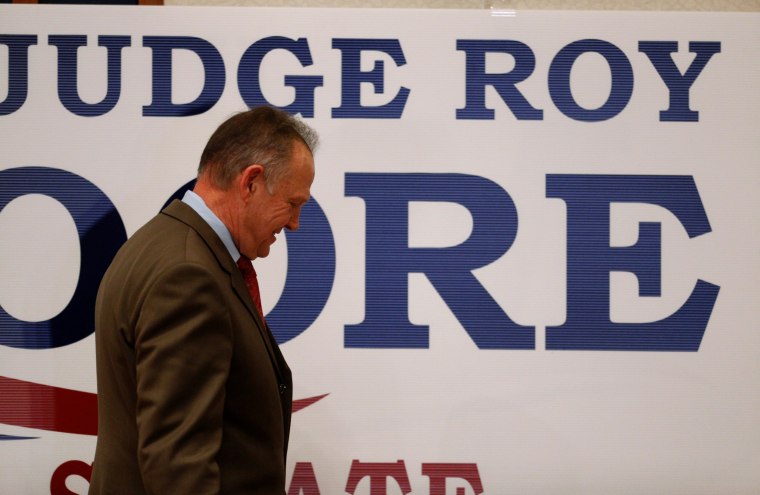 "I think that the administration needs support in the Senate," Blankenship said. "If they don't get it, they're not gonna achieve their agenda. So they need me."
Blankenship has waged war against McConnell in recent weeks, airing ads that refer to McConnell's "China family" and refer to him as "Cocaine Mitch." McConnell is married to Transportation Secretary Elaine Chao, who is a naturalized American citizen, born in Taiwan. Her parents are Chinese.
Defending the "Cocaine Mitch" ad Thursday night, Blankenship admitted it was partly to gin up the media, but also because Blankenship says McConnell's father had $7 million worth of cocaine found on one of his ships. "So it was an easy thing to bring up," Blankenship deadpanned. The Washington Post gave the claim four Pinocchio's, calling the McConnell-related tale "kooky."
"I'm a West Virginia person; you're an NBC person," he said, defending the ads and comments in a radio interview in which he referred to McConnell's father-in-law as a "China person."
"In order to have a racist statement you have to mention a race or a derogatory comment about a race," Blankenship told NBC News.
Shades of 2016
The two more mainstream competitors in this race — Morrisey and Jenkins — have mostly been mum on Blankenship, ignoring him just as Republicans like Sens. Ted Cruz and Marco Rubio did to Trump in the early days of the 2016 GOP presidential primary.
Jenkins is holding fast to that strategy. Asked if he felt Blankenship was using racial slurs in his ads against McConnell, Jenkins said that was up to voters to decide.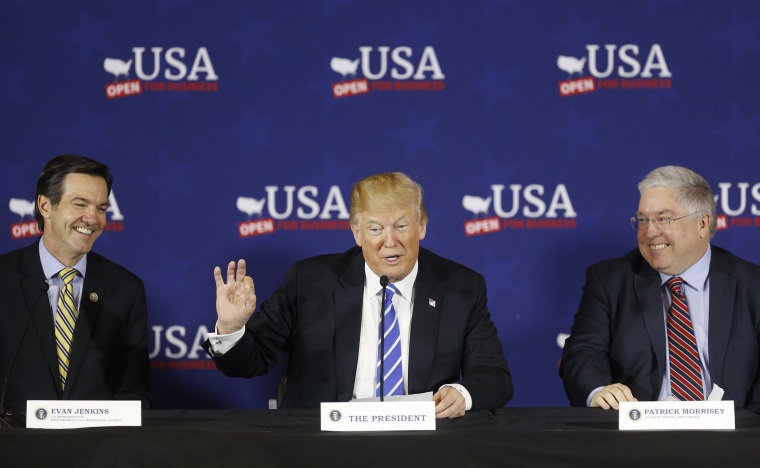 "I'm going to let Don explain why he said it, what he said, and the American people and the West Virginia voters can decide whether or not they agree with his rationale," Jenkins said. "Bottom line: I'm running my race. I am running to replace Joe Manchin. Don Blankenship can talk about his campaign, what he says and why he said it. I'm focused on my campaign."
But with days to go, Morrisey took a different approach, launching a late blitz attacking Blankenship.
The attorney general released a robocall Saturday "educating voters on Don Blankenship's anti-Trump and criminal record." And his campaign announced a Sunday news conference to talk about "Don Blankenship's criminal record, his significant legal issues, and how his candidacy threatens West Virginia's conservative agenda."
"This race is coming down to the conservative fighter versus the convicted criminal," Morrisey said Sunday, painting Blankenship as a lawless candidate for both his time served in prison and his disregard for basic campaign rules. Blankenship has yet to file his personal financial disclosure forms, a requirement for running for the Senate.
Blankenship strategist Greg Thomas told NBC on Saturday night that Morrisey's strategy smacked of "desperation because he knows we are going to win."
Thomas laughed off Morrisey's attacks as "just a waste of time" and said that Blankenship was "actively" working on the financial disclosure forms, citing a busy campaign schedule and his complicated finances for the delay.
The winner on Tuesday will take on Manchin, who has an uphill climb ahead of him in a deep red state that Trump won by 42 points in 2016.