WASHINGTON — A retired Marine colonel and former top aide to White House Chief of Staff John Kelly has launched a write-in campaign in next month's Alabama Senate race, seeing an opening after multiple women accused Republican Roy Moore of sexual misconduct.
"I'm not happy with the two choices I had," Lee Busby said on MSNBC's "Morning Joe" on Tuesday. "I felt like there was a lot of people in Alabama who felt like me. The more I talked to, the more sense I got that there's this huge swath in the middle that feels like they're not represented there."
Busby, an Alabama native and registered Republican who says he voted for Donald Trump last year, said he thinks neither Moore nor Democrat Doug Jones are right for the job, pointing to Jones' pro-abortion rights stance.
Busby said he opposed Moore even before numerous women came forward to accuse the candidate of pursuing them as teenagers, but Busby added that he saw a political opening in the wake of the scandal. Moore has adamantly denied all wrongdoing.
"I don't know Roy Moore. I've never met him," Busby said. "But there's a sense of self-righteousness that comes out of that campaign that bothered me. And I don't think it represents the majority of Alabama voters."
As for the allegations, Busy said he didn't know whether to believe them or not. "I'm not interested in that. Couldn't care less. That's between them," he said.
Write-in campaigns are always a long shot. And in Alabama, Republican establishment leaders, who are desperate to derail Moore, decided against trying to back a third candidate after polling convinced them it would be doomed and potentially hand the race to Jones by splitting GOP votes.
Breitbart News, which is aligned with Moore's campaign, called Busby a "plant," noting that he attended a Jones campaign fundraiser (Busy said he didn't donate to the Democrat) and compared the write-in candidate to former CIA officer Evan McMullin, who ran a protest campaign against Trump last year.
But Busby insisted he is in the race to win it.
"It's winnable," he said on MSNBC, adding that officials expected low turnout and a large number of write-ins. "I've been accused of being a spoiler. It's not. I think I will draw from both Roy Moore supporters and Doug Jones supporters."
Busby's campaign appears to be a shoestring operation so far, with a website created Monday, according to Internet registration records, that as of Tuesday still had no information under its "My Positions" tab. But it did feature perhaps the most important information: Instructions on how to write-in Busby's name on the ballot in the Dec. 12 special election.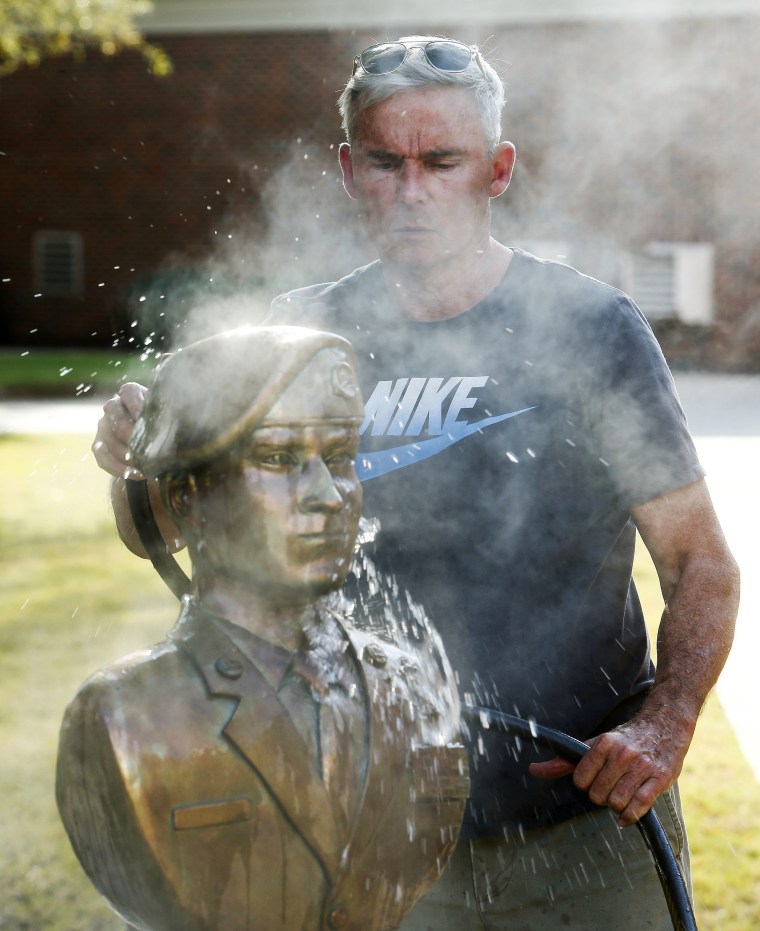 Busby spent 31 years in the Marines, including a stint as vice chief of staff for Kelly, then a lieutenant general in the Marine Forces Reserve. Kelly now serves as Trump's chief of staff.
Busby is also, according to a recent profile in Southern Living magazine, "one of Alabama's best sculptors." Since retiring in 2013, Busby has made busts of Alabama service members killed in Iraq or Afghanistan for their families.
"I'm no Michelangelo," he told the magazine. "But I know the world that these people operate in and I know what they went through. And, I do have some ability to sculpt. So, that's what I want to do."