FOUNTAIN HILLS, Ariz. — Joe Arpaio is running for the Senate in Arizona despite a criminal conviction, an admitted absence of policy depth, a nearly nonexistent campaign and a history of inflammatory treatment of Hispanics, the fastest-growing segment of the state's population.
Yet despite all that — or maybe because of it — the 85-year-old Arpaio has a legitimate shot at winning this state's Republican Senate primary on Aug. 28.
Arpaio's candidacy is emblematic of how Republican politics have been transformed in the Trump era.
President Donald Trump's surprise victory in 2016 has emboldened some convention-bucking candidates like Arpaio, who might have been considered fringe players in the past — candidates whose views on hot-button issues like immigration in particular have found a safe harbor among a sizable portion of GOP voters.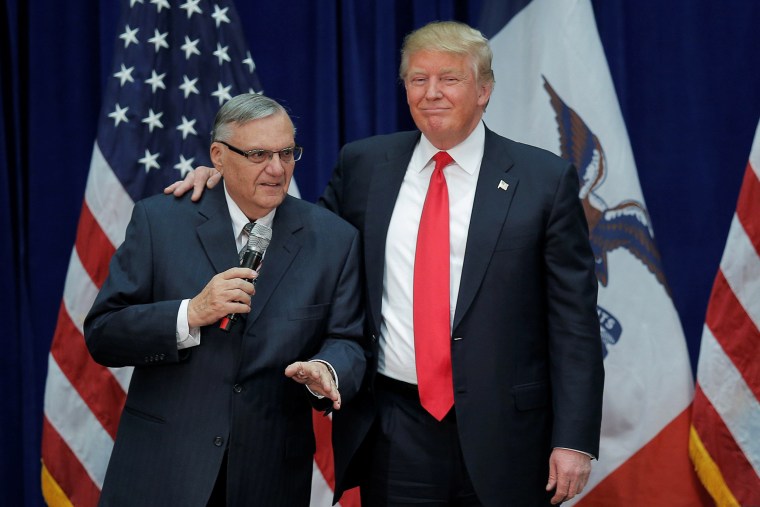 This dynamic played out notably in the special Senate election in Alabama late last year, when Roy Moore toppled an establishment rival in the GOP primary despite a long history of controversial views. Moore fell just short of victory in the general election after multiple accusations of sexual misconduct with teenage girls.
Arpaio, who lost his 2016 re-election bid as sheriff and faced jail time for a criminal contempt conviction until Trump pardoned him, wouldn't seem the most viable candidate to replace retiring Republican Sen. Jeff Flake. But like Moore in Alabama, Arpaio has achieved folklore status among many conservative voters. He has never lost a GOP primary in Maricopa County, where approximately 60 percent of the state's electorate resides. And his muscular crackdown on immigration has made him a prodigious national fundraiser: He pulled in a $12.8 million in his losing sheriff's contest.
To be sure, plenty of Republicans are worried that if Arpaio is the party's standard-bearer going into November, voters will reject his incendiary history and views and elect a Democrat. In 2016, despite there being more registered Republicans than Democrats in Maricopa County and Trump winning the county by 3 percentage points, Arpaio lost by 13 points.
"It was Republicans (in 2016) who decided that they had enough of Joe Arpaio, and while he'd excite a certain part of the electorate, he'd turn off a larger portion (in the general election)," said Barrett Marson, an Arizona GOP consultant who is not involved in the Senate contest. "Everybody knows who he is, and it'll be hard for him to define himself as anything different."
A jolt to the Senate race
Arpaio, who as sheriff had made a tradition of riding atop a tank in Phoenix's annual Christmas parade, made a similarly blunt entrance by jumping into the Senate race in January, just four months after Trump pardoned him.
The president hailed Arpaio as "a patriot" who is "very strong on borders, very strong on illegal immigration." But Trump has yet to endorse his Senate candidacy.
Republicans had anticipated a two-candidate contest for the nomination to replace Flake: Rep. Martha McSally, a retired Air Force fighter pilot, and Kelli Ward, a former family physician and state senator who challenged Sen. John McCain in the 2016 Senate primary (she lost by 12 points but drew national headlines with her suggestion that McCain was too old to serve effectively).
But then Arpaio added a jolt of uncertainty to the now three-way contest.
Arpaio told NBC News his candidacy is serious. But he has yet to hold a campaign event, acquire campaign signs or buttons, or hire any staff outside of his longtime political consultant.
He said he didn't know how much money he had raised for the campaign thus far. (Campaign finance reports have yet to be filed so the information is not publicly available.)
And he shows little understanding of policy. Pressed for his views on health care, trade and tax reform, Arpaio batted them away as "technical questions."
"When you're asking me now, don't forget: I just made a decision to run," he said in an interview in late January. "Instead of looking at the sports page, I've got to start looking at the newspaper. I don't have the luxury of being in Washington, having all these bills, talking to my colleagues. I'm just the outside guy."
When it comes to the issues, Arpaio said: "The president is always right. I'm going to support the president's agenda."
Tough stance on immigration
Immigration, the issue that catapulted Arpaio to national prominence, remains the topic that animates him most.
As sheriff, Arpaio prided himself on housing inmates, including many Hispanics, in "Tent City," a makeshift jail where thousands were packed into Korean War-era tents for misdemeanor crimes like driving under the influence. There they were forced to endure the swings in the desert climate — often freezing at night, triple digits by day — wearing black-and-white striped jumpsuits and pink underwear.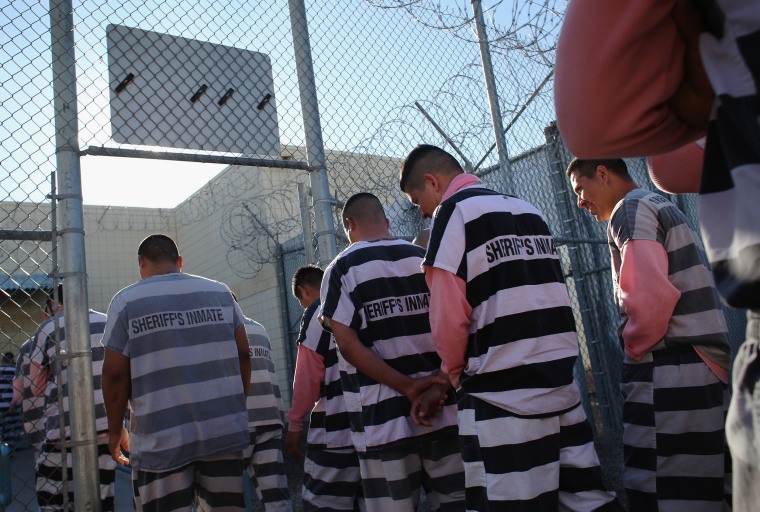 Arpaio had long battled the federal government over his questionable efforts to root out immigrants living in Maricopa County illegally. He defied a federal judge's 2011 order to halt his department's practice of "crime-suppression sweeps" — an operation in which he directed deputies to patrol heavily Latino neighborhoods and target individuals they suspected of living in the country illegally.
"I'm going to continue to enforce the laws," Arpaio told Univision months later, dismissing the order against him as a "political attack."
It led last July to his criminal conviction for contempt of court.
Arpaio's tough stand on immigration made him an icon among many conservative voters, helping to fuel multiple re-election wins. His endorsement became sought-after in Arizona for Republican presidential contenders, including Mitt Romney in 2008, Rick Perry in 2012 and Trump in 2016.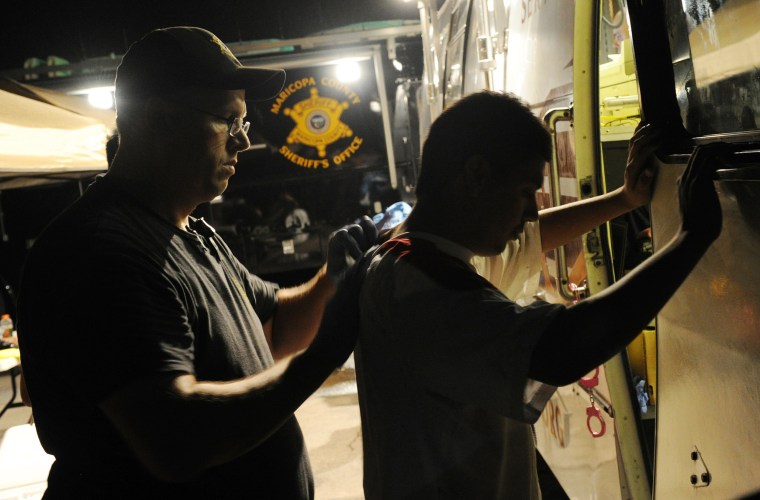 With Congress embroiled anew in a hotly contested debate over immigration — especially the future of Dreamers, the approximately 1.8 million undocumented immigrants who illegally arrived in the U.S. as children — Arpaio said this is what he'd tell them if he's elected to the Senate: "You're going back."
"Why can't these people be deported, go back to the country, learn about the country where they came from, be ambassadors?" he said. "They love the United States. Go back to where they came from. Start plugging our country. Learn about their former country, and then fast track them."
Believes he's the GOP's best candidate
Newspaper clippings sit atop Arpaio's desk at his personal office in this Phoenix suburb, along with framed news articles, photos, certificates and a copy of his presidential pardon on the walls.
"If you don't know, this is the Smith Corona," Arpaio said from behind his desk. "This is a typewriter." He prepped the machine, placed a piece of blank white paper into it, and began to type.
"It's easier to do it on computers now," said his wife, Ava Arpaio, sitting on a couch across the room.
Arpaio is more than 30 years older than his two primary rivals, McSally and Ward. He has shown little interest in differentiating himself from them.
"Everybody says I'm old — 85. All these guys — they want to run around the block? Let them run with me," Arpaio said, referring to McSally and Ward.
Republicans already had a battle on its hands to retain the Senate seat. Rep. Kyrsten Sinema, the likely Democratic nominee, has positioned herself as a centrist and will be well-funded going into the general election.
She spoke out quickly after Arpaio announced his candidacy, tweeting that Arizonans "will defeat Sheriff Joe's dangerous actions and tired rhetoric."
"I'm the only one that could beat her — you know that, right?" Arpaio said of Sinema.
Arpaio worked for 25 years for the Drug Enforcement Administration — from Istanbul to Mexico City, as well as Arizona, Maryland and Texas. He backs Trump's support for the death penalty for the country's biggest drug kingpins.
"I lived through the drug thing and the politics of it, and we still have a drug problem," Arpaio said. "For those amateurs who want to get hooked up with the big boys, you're going to have to face it and deal with the death penalty."
After leaving the FDA, he ran for sheriff six times, calling himself "America's Toughest Sheriff" for the next 24 years. He lost a bid for a seventh term in 2016.
While Trump may be the political world's most famous "birther," having stoked the discredited claim that former President Barack Obama was not born in the U.S., it was Arpaio who dispatched a sheriff's deputy to Hawaii to investigate in 2012. Arpaio later joined the investigator at a news conference in Phoenix with a slide presentation explaining why he believed Obama's birth certificate was fraudulent.
Arpaio says he sympathizes with Trump, who has pressed his desire to root out government employees he accuses of being "deep state" actors working to undermine the administration.
"I feel very sorry with what's going on with the president," Arpaio said. "We seem to travel the same highway."