PARK CITY, Utah—The wealthy, well-connected donors who raised more than $1 billion for Mitt Romney in 2012 are looking for somebody—anybody—who is capable of beating Hillary Clinton.
About 300 of the 2012 Republican presidential nominee's most influential supporters gathered at a luxury resort in the Rocky Mountains this weekend to rub elbows with potential 2016 presidential candidates.
Sign up for breaking news alerts from NBC News
But the cloudless sky outside belied the quiet anxiety and confusion indoors: Six months from the unofficial start of the next presidential campaign, is there anyone in the Republican Party who could take on Clinton?
"I think if you asked this group, 'who could beat Hillary Clinton,' they'd say, Mitt Romney could beat Hillary Clinton."
The answer is so unclear that one name kept coming up: Mitt Romney, the man who couldn't beat President Barack Obama.
"I think if you asked this group, 'who could beat Hillary Clinton,' they'd say, Mitt Romney could beat Hillary Clinton," said Spencer Zwick, the finance chairman of Romney's 2012 presidential campaign and an organizer of the summit. "Now, again, he's not running—but is there someone like that that we could get behind?"
Romney is enjoying something of a renaissance within the GOP. He's endorsed a slate of candidates in the midterm elections -- and so far, not a single politician he's backed has lost a primary. The malaise that's crept over Obama's second term has only underscored his supporters' belief that he should have won the election.
World events have made some of Romney's ridiculed campaign statements -- such as labeling Russia "America's no. 1 geopolitical foe" -- seem prescient. And he's still able to draw party luminaries like Rep. Paul Ryan, Sen. Rand Paul, New Jersey Gov. Chris Christie, Sen. Rob Portman, former Gov. Mike Huckabee and New Mexico Gov. Susana Martinez to address his "ideas summit" this weekend.
"The unavailable is always the most attractive, right? That goes in dating as well," Romney joked when he was asked about the summit's palpable Mitt-stalgia.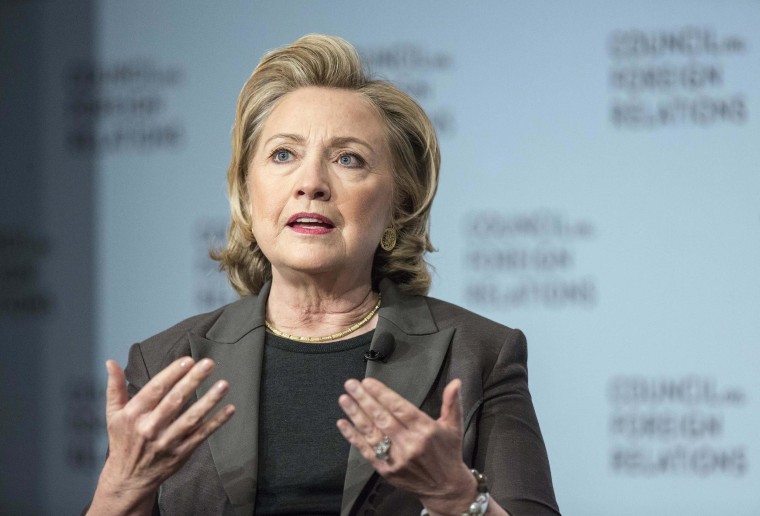 The former Massachusetts governor insists he's not running in 2016, but he's very open about his desire to play a key role in shaping the future of the party.
"I want to be one of the voices," he told reporters Friday. "I want to continue to have influence in my party and in the country."
In particular, he wants to ensure the party picks candidates who can win national elections.
"As someone who has run and has served, I would like to be able to, if you will, push our party and our nominees toward the positions that I think are the most effective for the country," he said.
But Romney also seemed eager to give this audience what they were looking for: A reason to believe the seemingly inevitable Clinton juggernaut can be stopped. In a campaign-style speech, he declared the "Obama-Biden-Hillary Clinton foreign policy" to be a "monumental bust."
"I want to continue to have influence in my party and in the country."
Clinton was top-of-mind for donors here, many of whom believe she has made missteps in the rollout of her book tour and offered further proof that she is potentially vulnerable in 2016. In an interview with ABC's Diane Sawyer, Clinton mentioned having trouble cobbling together mortgages for houses after she and former President Bill Clinton left the White House; last week, she got into a testy exchange with NPR's Terry Gross over her evolving position on same-sex marriage. The larger question and source of GOP frustration, several attendees said, was whether any Republican would be in a position to capitalize on the mistakes.
"Is she beatable?" one asked Sen. Rand Paul of Kentucky during a Friday morning breakfast.
Clinton herself was invited to address the summit, but she declined, citing scheduling conflicts, according to organizers.
With so much uncertainty, the gathering gave undecided donors a chance to evaluate potential 2016 candidates in a personal way. Donors described Sen. Paul as "interesting," and several said they were impressed he drank bourbon and stayed late at the Friday night cocktail party. Rep. Ryan, Romney's vice presidential running mate, won good reviews for a substantive speech and set of prescriptions for the party in 2016. Martinez, the New Mexico governor, fell flat in comparison.
Christie, who conducted some Republican Governors' Association fundraising business Friday night, performed well in his Saturday morning speech, according to several attendees.
But Christie's appearance here—as just one of many interesting speakers on a long list—served to underscore the real impact of the scandal that ensued after the closing of several lanes on the George Washington Bridge last year.
The governor didn't mention the controversy in his opening remarks. But when he opened up his session to questions, the first query was whether he'd put the Bridgegate scandal behind him. Christie made a point to thank Romney and his wife, Ann, for supporting him publicly and privately through the controversy.
"You know who your friends are," Christie told the crowd. "So when Mitt calls, I say yes."
Christie also expressed confidence that the political damage would be minimal, and accused the media and Democrats in his state for dragging out the controversy.
But the damage has already been done.
"Prior to the bridge scandal, I think that Chris Christie, he was the guy," said one influential Romney confidante. "He could have willed himself to be the nominee. But now I think people are going to ask, what has he actually done?"