WASHINGTON — Barack Obama didn't pull off one of the greatest political upsets of the century alone. He beat Hillary Clinton in 2008 with a little help from friends he made on the campaign trail two years earlier when he was a senator stumping for Democrats around the country in the midterms.
Today, with a potential midterm wave building, the 2020 presidential race is off to a rolling start as a host of potential Democratic candidates look to help themselves by helping others, quietly stepping up their political work to curry favor with key party members ahead of what could be a presidential primary contest with a double digit number of hopefuls competing.
"Then-Senator Obama was one of the least-established nominees of a major party in a very long time," said Bill Burton, who worked for the Democratic Congressional Campaign Committee in 2006 and later joined Obama's campaign. "Part of what made it work was the fact that he went to dozens upon dozens of congressional districts and states all around the country in 2006."
"It was invaluable to the Democratic cause that cycle," Burton said, "and was the beginning of a pretty strong case that he could run a presidential campaign across the country and win."
Obama shared in the credit when Democrats won the House that year. And big-name presidential endorsements from people he had helped, like Sen. Claire McCaskill, D-Mo., gave him instant credibility when he ran for president two years later.
With a potential Democratic field in 2020 wider than an Iowa cornfield, would-be slayers of President Donald Trump need to do everything they can to distinguish themselves from the pack and win friends before others get to them.
They're wasting no time.
The 2020 pole position may belong to former Vice President Joe Biden, who has emerged as his party's "Everywhere Man" — the rare national Democrat who can comfortably campaign in even the most conservative parts of the country.
He began building up good will when he stumped for successful candidates like Doug Jones in the Alabama Senate race and Conor Lamb in the Pennsylvania House contest, even as both candidates kept the rest of their party at arm's length. When congressional candidates get asked who they want to campaign for them, Biden is without a doubt the most frequently cited name.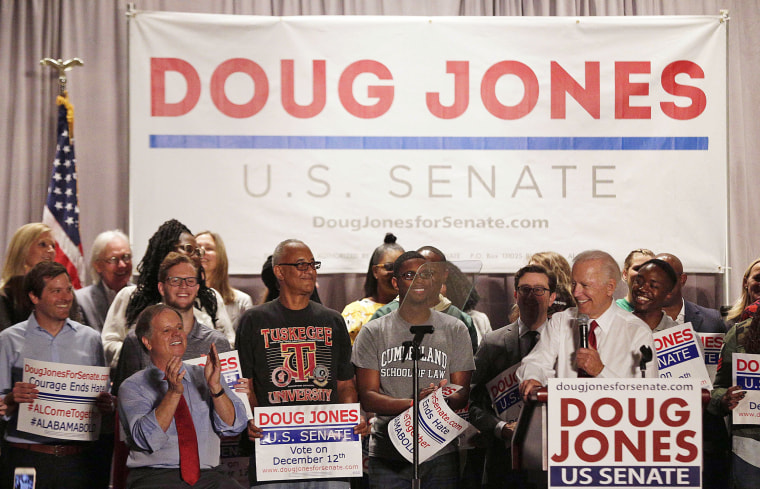 "I will spend all the time any of you want me to making sure we win back the House," Biden told House Democrats at a retreat in February after one lawmaker yelled, "Run, Joe, run!"
Biden recently told the Rev. Al Sharpton on MSNBC that he isn't ruling out a presidential run in 2020.
Meanwhile, Sen. Bernie Sanders, I-Vt., who was snubbed by all but one senator and a handful of congressmen during his 2016 primary run against Clinton, is working harder than ever, both for his adoptive Democratic Party, to sweep more "Berniecrats" into office, and perhaps to wrack up some IOUs that he could collect should he decide to run again.
Sanders has basically not stopped campaigning since his presidential bid ended, first for Clinton, then on his national book tour. After that he took part in 2017 in the Democratic National Committee's "Unity Tour," defended the Affordable Care Act from Trump's attempts to gut it, and followed that by fighting against the GOP tax cut plan. Now he's stumping for midterm candidates.
Sanders has visited 30 states — including Iowa, New Hampshire and Nevada, three of the four early presidential nominating states — since Trump's election. And a group that grew out of his campaign, Our Revolution, is backing even more candidates up and down the ballot.
Politics is all about favor-trading, and politicians tend to have a long memory of who endorsed them or gave a donation — and who didn't.
"You always remember that as a candidate, especially in your first race," Jason Altmire, a former Democratic congressman from Pennsylvania, told NBC News. "Who came in for you? Who helped? I always felt like I owed them."
Altmire learned first hand how it works when Bill Clinton expected him to endorse Hillary in 2008.
"When I didn't," Altmire recalled, "they held it against me for years."
Sen. Elizabeth Warren, D-Mass., shunned talk of national ambitions in 2016. But this year, even while tending to her re-election bid back home, Warren has taken steps that could pay off down the road if she does decide to run for the White House, as many expect.
Warren is spreading it around thick — she has donated $5,000 to the Democratic committee in all 50 states and made the maximum allowable contribution to each of her Senate colleagues who are up for re-election, plus to the Democratic Congressional Campaign Committee and the Democratic Senatorial Campaign Committee.
"When we change Ohio in 2018, that's the first step to changing America in 2020," Richard Cordray, a Democrat running for governor in next month's primary in Ohio — a key swing state in presidential elections — said this month at a rally with Warren by his side. (Cordray is a former director of the Consumer Financial Protection Bureau, which Warren has championed.)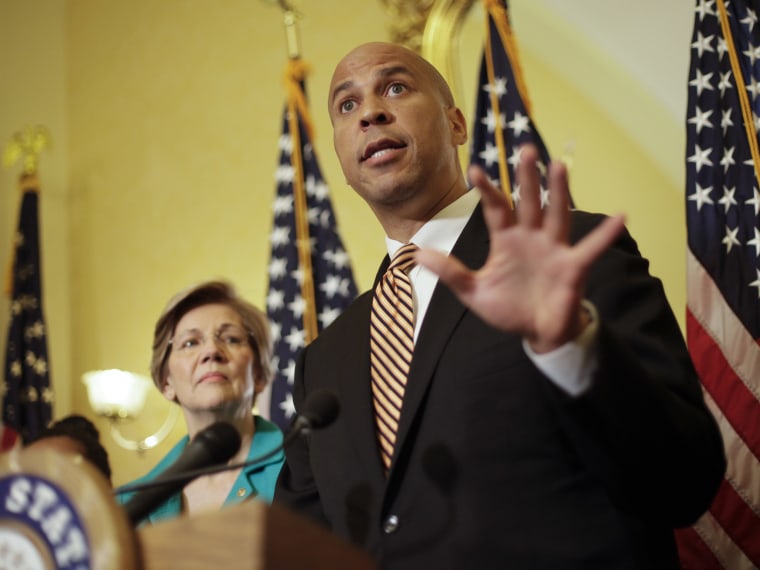 Former Virginia Gov. Terry McAuliffe handed off the reins to his hand-picked successor in November, and has since been busy helping other Democrats, especially those running for governor, with plans to address Democratic events in Louisiana and Maryland.
Meanwhile, Sen. Cory Booker, D-N.J., another possible presidential hopeful, has been busy, traveling to New Mexico, Montana, Indiana, Ohio and Florida to help Democrats — all within one month last year.
This year, he's waded into Democratic primaries to endorse African-American gubernatorial candidates in Maryland and Georgia, while traveling for Senate colleagues up for re-election in key swing states, including Ohio, Florida and Wisconsin.
Next door in New York, Sen. Kirsten Gillibrand, a Democrat, has been continuing her work boosting female candidates, several of whom are now in Congress. She's helped raise or distribute $6.5 million for other women since 2011, and has been busy recruiting and mentoring candidates this year, including in recent Texas and Illinois primaries, where Gillibrand's endorsement helped put one major contest on the map.
Nevada is Democrats' best pickup opportunity in the Senate and also has a governor's race — and it just so happens to come right after Iowa and New Hampshire in the presidential nominating calendar.
Washington Gov. Jay Inslee, the new chairman of the Democratic Governors Association, was there last week, before heading to Los Angeles to appear Friday on "Real Time with Bill Maher."
And freshman Sen. Kamala Harris, D-Calif., who has been stepping further into the national spotlight, recently spoke in Nevada, jokingly telling a supporter not to answer a reporter's question about 2020.
Harris, who has said that she's focused on "immediate needs" when asked about future plans, has raised $3 million and made several trips on behalf of Senate colleagues up for re-election this year, including headlining a sold-out Michigan Democratic Party dinner in Detroit this month.
Beyond offering endorsements and doling out contributions to win friends who may be useful down the road, potential 2020 candidates know that midterm travel is crucial to building connections with local Democratic activists, said Jesse Ferguson, a Democratic strategist.
"People exploring a presidential campaign who campaign for down-ballot candidates in the midterms get a valuable introduction to the candidate's supporters at the events or through the blast email," said Ferguson, who worked on Clinton's 2016 campaign.
"That entree to those supporters is as valuable, maybe more valuable, than any loyalty earned from the actual candidate running," he added.
Harris' fellow Californian, Los Angeles Mayor Eric Garcetti, has visited Iowa, New Hampshire and South Carolina — all key states for any Democratic White House candidate — but still says he's focused on Democratic midterm victories, even calling his new PAC the Democratic Midterm Victory Fund to underline the point. Next month, he's hosting a fundraiser for the South Carolina Democratic Party in L.A.
To have a shot in 2020, Garcetti needs to be build a national profile, as does Jason Kander, the former Missouri secretary of state, who has earned plaudits for his work with a voting rights group he founded.
By sheer numbers, Kander has a leg up on almost everyone else. A 36-year-old former Army captain, he has visited 39 states — including 10 trips to New Hampshire and 13 to Iowa — since Trump became president, and has participated in or headlined 156 Democratic events and taken 238 flights.
But he'll have stiff competition from Eric Holder, the former U.S. attorney general who will help distribute tens of millions of dollars through Democrats' flagship redistricting group he runs.
Holder, who told MSNBC's Chris Hayes last week that he is "thinking about" a presidential bid in 2020, has been involved in races up and down the ballot, and plans to travel to Arizona, Minnesota, Georgia and New Hampshire soon.
Altmire, the former congressman, had some advice for those 2018 hopefuls dealing with potential presidential candidates: Know that there are strings attached.
"If you accept their help, they're going to expect payback later on," he said. "That's just how it works."