WASHINGTON — Sen. Dianne Feinstein, D-Calif., announced Monday she will run for re-election in 2018, setting the stage for a potential Democratic battle in the heartland of progressivism.
Feinstein, 84, said in a Facebook post that while she's "immensely proud of my service," there is more she wants to do "from ending gun violence, to combating climate change, to ensuring proper and affordable access to healthcare, and to giving DREAMers the chance to stay in the United States."
Feinstein has bucked the left wing of her party on occasion, including during the state's recent push to enact single-payer health care, and she is almost certain to face a primary challenge. On social media, allies of Sen. Bernie Sanders, I-Vt., were quick to express their hunger for a fight.
An even bigger threat might come from more established Democrats, like state Senate President Kevin de Leon, who has been openly considering a run for months. Or from someone who could self-fund what's sure to be an expensive campaign, like progressive billionaire Tom Steyer.
Markos Moulitsas, the founder of the liberal Daily Kos blog, which is based in the Bay Area, said he wants to work with de Leon to "beat the most pro-Trump Blue-state Dem in the country!"
Still, the state's size and notoriously expensive media markets make it challenging for upstarts to break through. And the "jungle primary" system, in which the top two candidates, regardless of party, advance to the general election, is designed to have a moderating influence, which could help protect Feinstein.
Sanders lost California to Hillary Clinton in last year's Democratic presidential primary, despite an all-out push in the state.
But Feinstein's vulnerabilities extend beyond her left flank to include generational ones.
California Democrats have been anxiously circling Feinstein's seat, hoping she would create an opening for them by retiring. Up-and-coming Democrats have had little room to climb thanks to years of stable leadership from Gov. Jerry Brown, who served two previous terms in the 1970s, along with Feinstein and former Sen. Barbara Boxer, who were both first elected in 1992.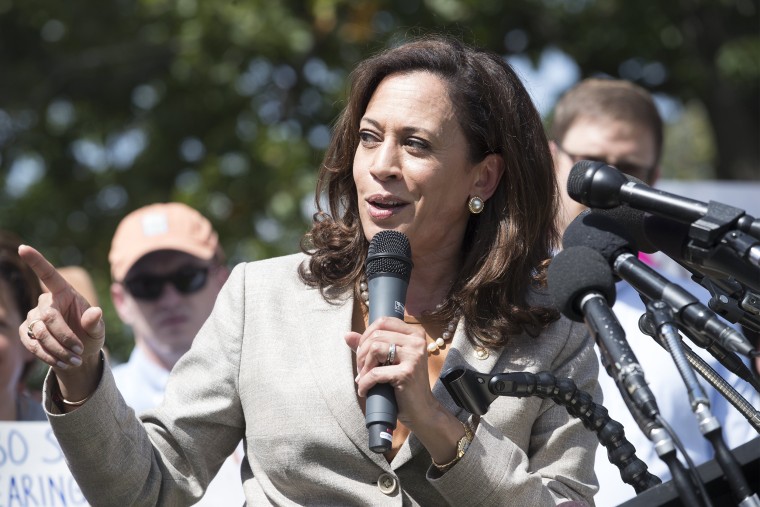 Sen. Kamala Harris, D-Calif., who replaced Boxer after she retired last year, was the first new senator from California in nearly a quarter of a century. Harris moved quickly to back her colleague and try to keep the field clear.
"I strongly support Dianne's re-election campaign," Harris wrote on Facebook. "We are better off with her leadership, and I look forward to continuing to fight together for California in the Senate."
The Republican Party is virtually extinct statewide in California.
Feinstein's move may have the side effect of increasing the competition to replace Brown, who is term-limited. Former San Francisco Mayor Gavin Newsom is the early front-runner, but other Democrats were waiting on Feinstein before deciding on whether to run for governor.
According to her most recent campaign finance disclosures, Feinstein has more than $3.5 million in the bank for the 2018 campaign, a small down payment on a race that could easily cost tens of millions of dollars.
Harris spent nearly $15 million on her 2016 campaign, despite having an opponent who never come close to threatening her in the polls.