ORLANDO — As voters head to the polls Tuesday, Democrats of all stripes are relieved to see the end of an awkward primary for the state's open Senate seat, and eager to move on to the fight against Sen. Marco Rubio.
With the backing of national Democratic leaders, Rep. Patrick Murphy is expected to prevail over liberal firebrand Rep. Alan Grayson, whom allies abandoned earlier this summer after his ex-wife accused him of domestic abuse.
The race, which pundits had once been billed as a marquee battle for soul of the Democratic Party, fizzled into a episode even many of Grayson's former backers are eager to sweep under the rug.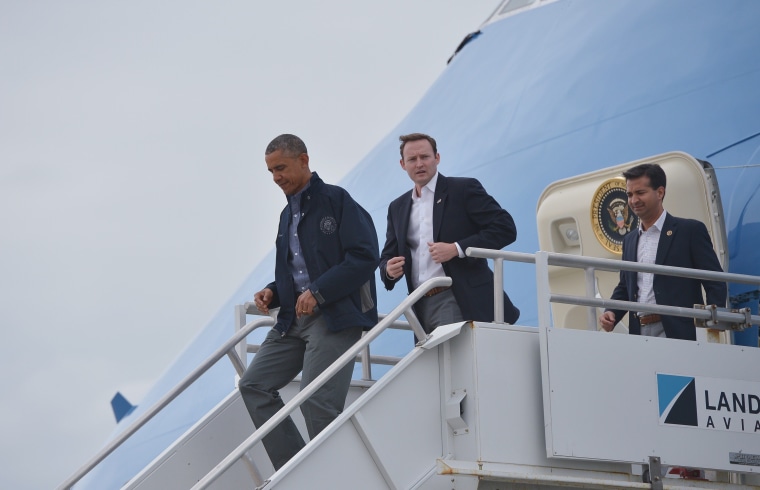 Murphy and Rubio have already begun attacking each other nearly every day, while completely ignoring Grayson. At a press conference on the eve of the primary Monday, Murphy did not mention his opponent once until a reporter asked, and even then Murphy avoided using his name.
Buddy Dyer, the mayor of Orlando, which is in Grayson's congressional district, replied to a question about the congressman by saying, "I'm just here to support Patrick."
Still, Grayson, whose name is better known than Murphy's, has not lost all support from voters. He's trailing Murphy by around 10 percentage points or less in recent polls and his new wife may end up winning a congressional race to fill the seat he vacated to run for Senate. Several voters who spoke with NBC News Monday said they had not heard about Grayson's abuse allegations.
Meanwhile, Rubio's last-minute decision to run for reelection nearly cleared what had been a crowded GOP field. His remaining opponent, Carlos Beruff, sank more than $8 million of his own money into the race, but trailed Rubio by 39 percentage points in a recent Mason-Dixon poll and is said to have essentially stopped campaigning.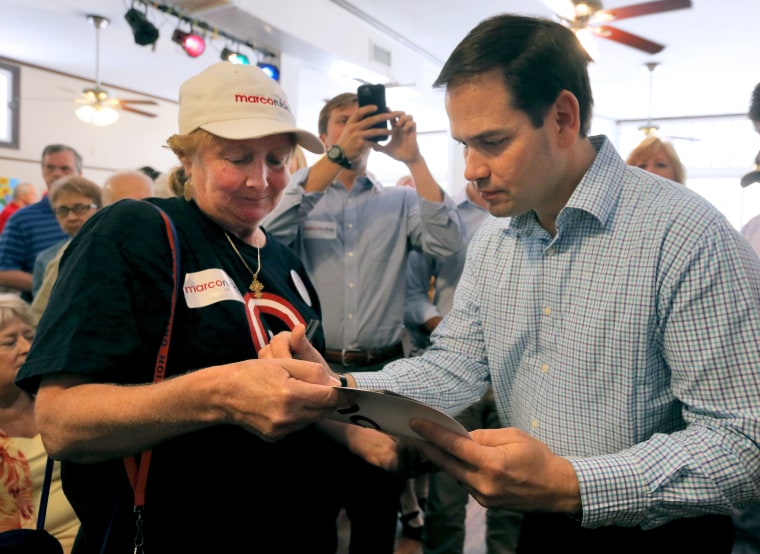 The race could be critical for Democrats efforts to retake the Senate, but polls have consistently shown Rubio with a lead — though under the crucial 50 percent threshold. Murphy allies say the Democrat still has plenty of room to grow, since he's not yet widely known statewide, while they claim Rubio has already hit his ceiling of support.
It's an ignominious end for Grayson, who did not participate in an interview though his campaign promised one.
A self-made millionaire with three Harvard degrees, Grayson branded himself as "the congressman with guts." He built a national following that turned him into a prominent voice on the left and prodigious small-dollar fundraiser.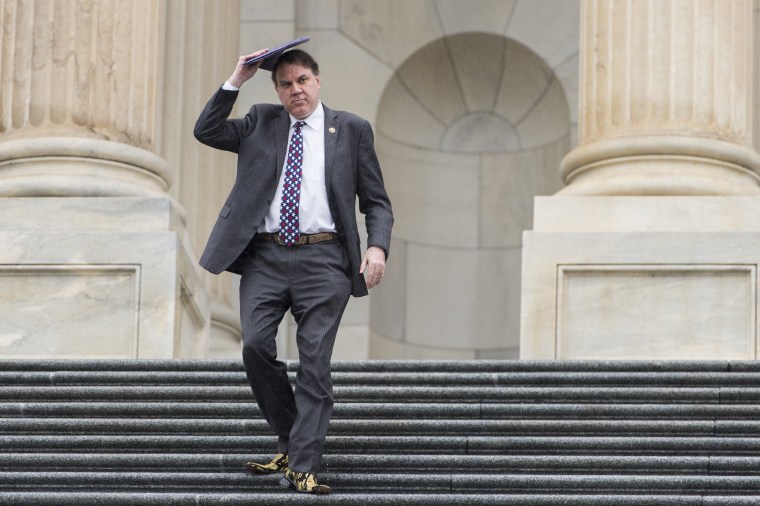 At one point, a source close to his campaign said internal polls showed him leading by 10 percentage points. However, public polls from the time period showed Murphy leading.
"Campaigns do matter and Alan Grayson has just run an incredibly sh***y campaign. I do believe there is a world in which a Grayson-like person could win a primary here," said Florida Democratic strategist Steve Schale.
And Murphy has some major vulnerabilities of his own. He's a former Republican who gave the maximum legal contribution to Mitt Romney in 2008 and only became a Democrat months before running for Congress.
His wealthy father has been a key booster of his political career, with his family spending at least $2.3 million to support Murphy's campaigns. Republican operatives have followed Murphy with a giant silver spoon and signs that say "privileged Patrick."
But Grayson had never been easy to work with and faced earlier questions about a hedge fund he allegedly ran out of his congressional office. After the domestic abuse allegations broke, he became a pariah.
Two national progressive groups, the Progressive Change Campaign Committee and Democratic for America, made their first-ever un-endorsement. A handful of staffers quit, consultants cut ties, and elected officials steered clear.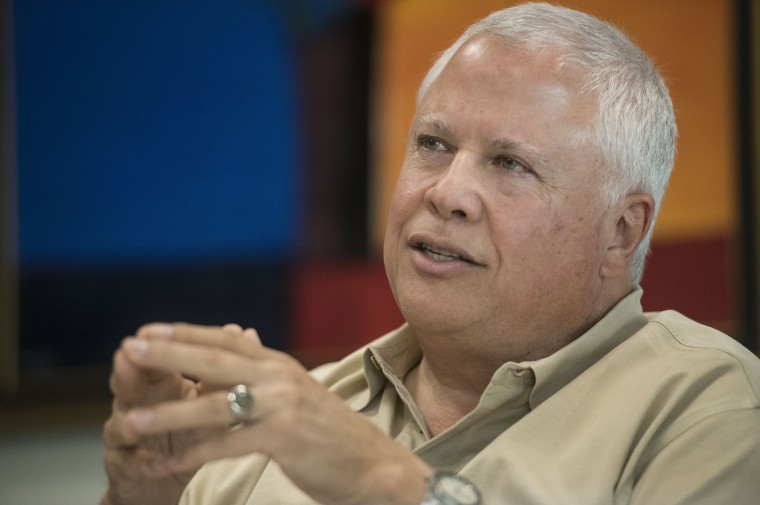 Some Grayson fans doubt the veracity of the allegations, but he made matters worse when he shoved match with a reporter from Politico, which broke the news.
"Grayson managed, as always, to self-sabotage," said Mark Pinsky, a freelance writer and former Orlando Sun reporter who has covered Grayson since 2009. "He's been the engine of his own destruction."
Earlier this year, Grayson embarrassed some colleagues by confronting Harry Reid during a closed-door meeting on Capitol Hill. Grayson demanded to know why the Senate Minority Leader was supporting Murphy and not him. "I want you to lose," Reid replied to Grayson.
"He's a very smart guy, but he has impulse control issues and he tends not to want to listen to people who give him advice he doesn't want to hear," said Pinsky.
And now, Florida progressives are upset about his involvement in down-ballot races, like a state senate primary where they feel he endorsed the less progressive candidate.
"I think we don't have a strong bench"
"We are just kind of baffled by what he's been doing," said Susan Smith, the president of the Florida Progressive Caucus, which encouraged Grayson to run for Senate, but never endorsed him. "There's just been concern about the way the campaign has been going for the last few weeks."
Most notable is the toss-up primary to replace Grayson in the House between his new wife, Dena, his former district director, Susannah Randolph, and state Sen. Darren Soto.
Most progressives lined up behind Randolph, but Grayson quietly married his then-girlfriend just before the filing deadline so she could change her name and use "Grayson" on the ballot.
Alan Grayson also appears on many of his wife's mailers, and has used his email list to support her.
Some Democrats have wondered why, in a state with 23 million people, the party could not find two candidates with less baggage.
"I think we don't have a strong bench," said Smith, citing gerrymandered districts and expensive media markets as an impediment to statewide runs. "It's really hurt us over the last 20 years or so."
Correction: An earlier version of this story incorrectly stated MoveOn.org was one of the groups that un-endorsed Grayson.