WASHINGTON — Former aides to Bill and Hillary Clinton are launching a new super PAC to upgrade Democratic organizing and fundraising in support of the party's candidates around the country, NBC News has learned.
The new group, called Party Majority, would act as a parallel structure to Democratic Party committees at the national and state levels while coordinating with them. Its creation comes at a time when party committees are struggling to maintain their relevance as donors increasingly push money to political organizations that can raise and spend money with less regulation.
"Democrats are motivated to fight the Trump agenda, but without fully funded organizing operations, we won't maximize our opportunities next year and every year thereafter," said Party Majority co-founder Mike Lux, a former aide to President Bill Clinton who has helped build a series of progressive organizations over the last two decades.
"Party Majority PAC will fill in holes to make sure activists on the ground have the resources they need to be successful, working with existing organizations both new and old to ensure resources are used effectively," he added.
Despite its obvious ties to the Clinton world, the group is expected to announce soon a larger set of leaders from across the Democratic political universe.
Lux and the other co-founder, Adam Parkhomenko, who built Ready for Hillary, later served as director of grass-roots engagement on Clinton's presidential campaign and is currently a paid adviser to Clinton, have been frustrated by the lack of coordination and continuity in Democratic campaigns. Every four years, a presidential campaign builds infrastructure across the country only to see it wither by the next set of elections or as new crews take over leadership roles at party committees.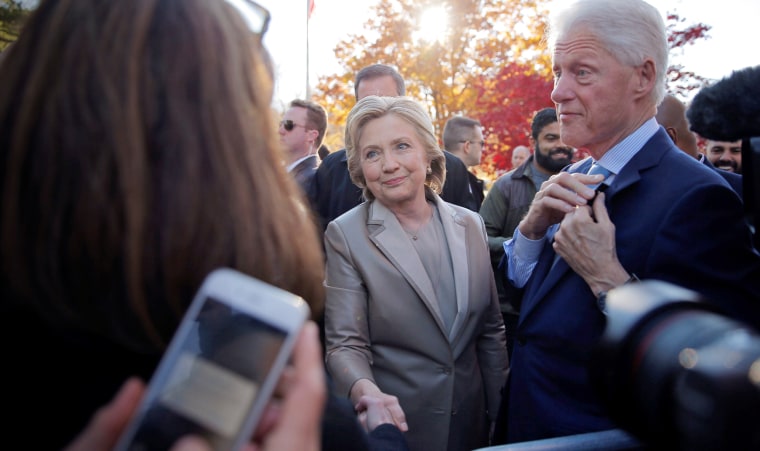 "The days of starting from scratch, not sharing information and not working together are over," said Lux, who was a special assistant for public liaison in President Bill Clinton's White House.
Ultimately, Party Majority is designed to address what its founders see as deficiencies in the way Democrats run campaigns right now — too much emphasis on data analytics, television advertising and raising money for specific candidates and not enough on building the networks of personal relationships that activate voters and keep them engaged from election to election.
To start building its coffers, Party Majority has tapped Lazar Palnick, a family friend of the Clintons and a Democratic fundraiser, to create a national finance council. He pointed to Democratic victories in Tuesday's elections in Virginia, New Jersey and other states as evidence that Democrats can win if they have the money and the will to organize.
"This week's election results showed that when we mobilize our voters, we win," Palnick said.
"Democrats are hungry to get to work, connect with other Democrats and share their needs and best practices, but harnessing their enthusiasm takes massive resources invested directly in the field — not just on TV. Party Majority PAC will make sure the same organizing and grass-roots resources that were used so effectively in places like Virginia are constantly available to Democrats everywhere," Palnick added.
A hybrid PAC is defined by the Federal Election Commission as one that collects and spends money using one bank account that is subject to federal limits and a separate account that can receive unlimited contributions for expenditures that are independent of federal campaigns and committees.