WASHINGTON — Republicans may have just gotten another layer of armor to defend their Senate majority.
Sen. Al Franken's seat wasn't supposed to be up again until 2020. But his announcement Thursday that he was resigning amid allegations of sexual misconduct sets up a 2018 special election in Minnesota. And Republicans, who hold a 52-48 majority, are now on the hunt for a top-tier candidate in a politically competitive state where President Donald Trump lost by less than 2 percentage points last year.
The unexpected opportunity could be a "total game-changer in terms of control of the Senate," said Republican strategist Alex Conant, a Minnesota native who worked in communications roles for the Republican National Committee and former Minnesota Gov. Tim Pawlenty's 2012 presidential campaign. "If," he added, "we field a strong candidate."
Pawlenty, 57, is the dream candidate for the GOP, particularly after former Sen. Norm Coleman, who lost his seat to Franken by a few hundred votes in 2008, said Thursday that he won't run. Pawlenty currently serves as CEO of the Financial Services Roundtable, a Washington lobbying group, and is considered a good bet to raise a lot of money quickly. There was no word from him Thursday.
"Everybody in Minnesota on the Republican side is extremely eager to hear from Tim Pawlenty," said Josh Holmes, a Republican strategist and former chief of staff to Senate Majority Leader Mitch McConnell and who is from Minnesota. "He would be a spectacular candidate if he would consider it."
Holmes added that Franken's early departure "shifts the landscape" for control of the Senate.
The counterweight for would-be Republican hopefuls is the expectation that they would be running into a headwind in the first midterm of Trump's presidency. Typically, the president's party loses seats in Congress in midterms, and Trump's approval ratings have been mired around the 40 percent mark. Either way, a credible GOP candidate would force Democrats to defend a seat that wasn't even on the map until Franken's Democratic colleagues pushed him to resign.
In the interim, the state's governor, Mark Dayton, a Democrat, will appoint a successor to Franken who will serve until January 2019. But the winner of a 2018 special election, to be held alongside the other midterm Senate races, will finish the final two years of the six-year term Franken won in 2014. Dayton, who is reportedly considering naming Lt. Gov. Tina Smith as a caretaker, said Thursday that he's not yet ready to name an interim senator.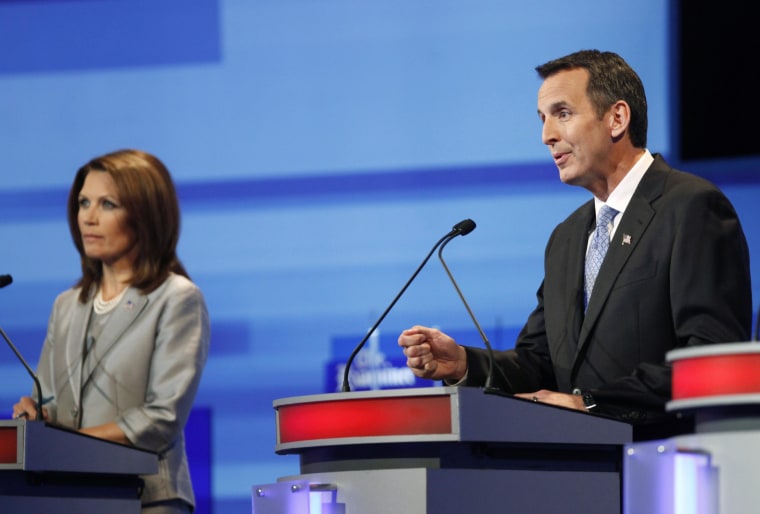 The Democratic bench in Minnesota is deep, as the party holds all of the partisan statewide elected offices, and Reps. Tim Walz and Keith Ellison have long been considered potential contenders for an open Senate seat. One senior Democratic Senate aide pointed to the state's Attorney General, Lori Swanson, as a potential candidate. And Jake Sullivan, who was Vice President Joe Biden's national security adviser and a top State Department and campaign aide to Hillary Clinton, has told friends in the past that he might seek office in Minnesota.
Ellison, who is the first African-American to represent Minnesota in Washington and the first Muslim elected to Congress, could be the most intriguing candidate to watch in a contested Democratic primary. A longtime leader among House progressives, he elevated his national profile as a surrogate for Bernie Sanders in 2016 and as the runner-up candidate for Democratic National Committee chairman after the campaign was over.
Jim Manley, a former Senate Democratic leadership aide and Minnesota native, said Democrats should be able to hold serve in Minnesota.
"There's no such things as free shots in politics, but I feel pretty confident that Democrats can keep the seat in 2018," Manley said. "I understand that Trump did very well there, but I think of the [Democrats] being discussed, there's a whole bunch of people who can win in 2018."
For Republicans, Pawlenty is in a class by himself as a potential candidate. But if he doesn't run, former Rep. Michele Bachmann and several members of the current Minnesota delegation in the House, including Erik Paulsen and Tom Emmer, could be attractive alternatives for the GOP.
Though Minnesota has long been in Democratic hands at the presidential level, having last voted for a Republican in 1972, Republicans have won seven Senate elections in that span.
"It's certainly a purple state and one that with the right candidate Republicans could compete to win," Holmes said.