Ohio Sen. Rob Portman, the first sitting Republican senator to publicly support gay marriage, is beginning to feel the backlash from social conservatives as he prepares for his re-election campaign or a possible White House bid in 2016.
But the uproar being made by some has yet to materialize into a real political problem for the first-term senator.
Just days after the midterms, the National Organization for Marriage pledged to "make sure that GOP primary voters are aware of his desire to redefine marriage," and urged conservatives not to vote for Portman in the general election. The statement echoed the feelings of many of Ohio's so-called "values voters," or those who place issues like traditional marriage and anti-abortion rights above all else. They felt betrayed by Portman when he changed his thinking on gay marriage after learning his son is gay.
"I will not cross that moral line to vote for him"
While conservative activists have made headlines for renouncing their support for him, the threats are unlikely to carry much weight unless the state's anti-Portman faction of the GOP can coalesce around a single candidate to battle him in the Senate primary. More than a dozen conservative leaders in Ohio are currently working on finding that person, but it has not been easy.
"It's very hard to find a high-profile Republican who will run against him because they don't want to give up their own seat, or the Golden Rule is that you just don't run against another Republican," said Phil Burress, president of Citizens for Community Values in Ohio and one of Portman's most outspoken critics since his gay marriage switch.
"But there will be people running against him," Burress said. He predicts that a number of conservatives will challenge Portman if he runs again for Senate.
For their part, Portman aides say they don't expect a credible primary challenger to emerge, but will be ready if one does. The senator remains personally popular, is well-liked by Ohio's establishment GOP and has a robust network of donors from his years in politics. Aides also feel issues like the economy will be much more import to Ohio voters than gay marriage, which has become increasingly acceptable to the American public and is now legal in 32 states and the District of Columbia.
Recent fears of far-right candidates mounting successful primary challenges to incumbent GOP senators proved unfounded in the 2014 elections. Mississippi's Chris McDaniel came close, but ended up losing his race against Sen. Thad Cochran in a runoff.
"We take nothing for granted, we never do," said Matt Borges, chair of the Ohio Republican party. "I suspect we have a very good chance that, when it's all said and done, the results look very similar to how they did on Election Day in 2014, when all the shouting is over."
A Quinnipiac poll from July shows Portman's approval rating at 40 percent, and his popularity among Republicans has slightly dipped in a state President Barack Obama won in 2012 by three points.
But recently, Portman has been most interested in gauging his chances in a 2016 presidential contest after playing a key role fundraising for the GOP in the midterm elections. He acknowledged in June that his position on gay marriage would likely hurt him if he ran "at a national level," but told CNN last week that he has "more experience than other people who are running or thinking about running."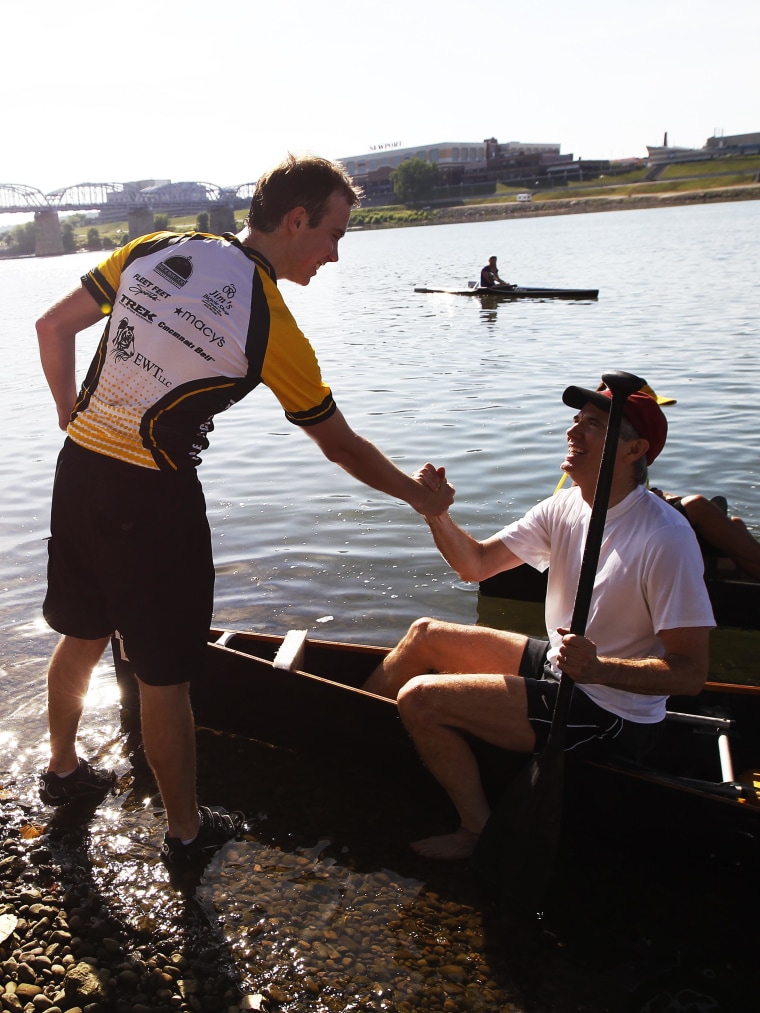 Still, the GOP field in 2016 is shaping up to be a crowded one, and Portman has indicated he would not run both for president and re-election to the Senate. Returning to Congress would be the safer path, but Democrats are expected to put forth a strong candidate in the key swing state.
What could be a bigger concern for Portman than a primary challenge is that some of the conservative groups he counted on to help turn out the vote in his 2010 general election, when he beat his Democratic opponent by 18 points, are now are adamant about sitting on the sidelines.
Tom Zawistowski, a tea party leader in Northeast Ohio, said his supporters knocked on 40,000 doors for Portman in 2010. It is unlikely that any of the state's 233 tea party-affiliated groups will do the same in 2016, he said, since many feel like the senator lied to them when he ran in support of traditional marriage as a candidate and then switched his position.
"You completely betrayed us and now you're not going to even talk about it?" Zawistowski said of Portman. "I'm not hopeful that we can support Rob Portman, but I'm open to it."
Despite being one of the first Republicans to be open about the issue, Portman has hardly been an outspoken advocate for gay marriage since announcing his support in March 2013. He believes same-sex couples shouhld be allowed to marry but "change should come about through the democratic process in the states" and not the courts.
Still, former supporters like Lori Viars, a political organizer in southwest Ohio who said she has worked on every one of Portman's campaigns, said the senator's "influence to promote gay marriage" means she will never again support him -- even if it increases the likelihood of Democratic victory.
"I will not cross that moral line to vote for him," she said.
Viars is helping to lead the charge to find a conservative candidate to defeat Portman. She is hoping to coordinate with the National Organization for Marriage and other national groups to pool resources. Viars, who serves on the central and executive committees of the Warren County Republican Party, said social conservatives are well organized and could move enough votes for Portman to lose a GOP primary decided by a smaller, more conservative electorate.
Faith-based voters have proven to be a force in American politics, especially in Republican primaries. They catapulted former Pennsylvania Sen. Rick Santorum's 2012 presidential campaign, motivated by a desire to prevent Mitt Romney, seen as weak on social issues, from capturing the nomination. Santorum mounted an aggressive challenge to the well-funded Romney campaign, but ultimately fell short after losing a number of primaries – including Ohio – to the eventual GOP nominee.
But Viars said she remains confident Portman can be defeated.
"If we can attract a good candidate, there will be a very contested primary and I think Portman, with all his money, can still lose," Viars said.