As many as 20 Republicans have floated the idea of a potential presidential run. That's a lot of people jockeying for votes, staff, advisers and perhaps most importantly – donors.
Politics experiences no shortage of money with both President Barack Obama and Republican Mitt Romney and the main super PAC backing each having spent a combined $2 billion in the 2012 presidential race. But with a slew of potential candidates to choose from in the primary season, the competition for precious donors is stiff. That's why some political high rollers who shun the more conservative potential candidates are worried about a crowded crop of moderates.
"If you have three or four people in the center-right, that money is going to be dispersed and that's going to give someone from the far right the ability to walk in," Kilberg said.
"In the gubernatorial arena, you have five, six, seven or eight top-notch candidates," said Bobbie Kilberg, a long-time Republican donor and bundler who raised more than $4 million for Mitt Romney. She is one of several donors who said they prefer a governor for the next president because they have executive experience.
She said that "at least three" potential candidates have already approached her gauging her loyalties. She said she'll announce who she supports once the candidate announces and that the conversations she's had with each doting candidate is "between me and them."
But her experience is reminiscent of many conversations taking place. This is the critical time in the presidential race, even though not one person has officially jumped in on the Republican side. Before someone declares a bid, financial support is critical. When candidates say they are "thinking about it" or "discussing it with their family," that also means they are determining what sort of financial support they'll receive.
To run, they'll need plenty of it. "Many of these candidates are dealing with the reality that they have to raise $80 million to compete in the primary contests," said one Republican strategist who has worked on several Republican presidential campaigns.
It's a tricky dance between politicians and those with the means to give. Potential candidates want the guarantee of a donor's support, but as Kilberg noted, donors want to see commitment before they pledge support. "It's a stare down," the strategist added.
Kilgore said donors aren't pledging their early support of candidate because there are too many potential options. "I don't think there's a large cadre of donors who are lining up given the fact that there are so many good candidates," she said.
That's why the donors interviewed, who have long been involved with the Republican establishment, are wary about a crowded field. Kilberg said she is concerned about too many "center-right," candidates, which the label includes former Florida Gov. Jeb Bush, Wisconsin Governor Scott Walker, New Jersey Governor Chris Christie, and long-shot candidate Mitt Romney.
"If you have three or four people in the center-right, that money is going to be dispersed and that's going to give someone from the far right the ability to walk in," Kilberg said. "I think the center-right needs to clear the field" and run just one candidate.
In a post-Citizens United era of campaign fundraising, candidates with niche appeal have are able to wage a viable challenge as one wealthy donor can bankroll a candidate.
For instance In the 2012 Republican primary, entrepreneur Foster Friess, who supports Christian conservative causes, floated nearly all of Rick Santorum's campaign. Sheldon Adelson, Las Vegas casino mogul, kept Newt Gingrich's campaign alive. While neither won the nomination, they forced Romney, the eventual nominee and favorite among the donor class, to spend a lot of money fighting.
David Beightol, another Romney bundler who raised nearly $2 million for the former Massachusetts governor, said the single-big-donor-backed candidates can "do damage," but argues they won't win. That's why he and fellow donors and bundlers he speaks with wants the center-right to coalesce around one candidate.
If too many moderate candidates run, "they cancel each other out," Beightol said.
For him, he also wants to see also a governor gain the nomination, preferably Bush or Romney.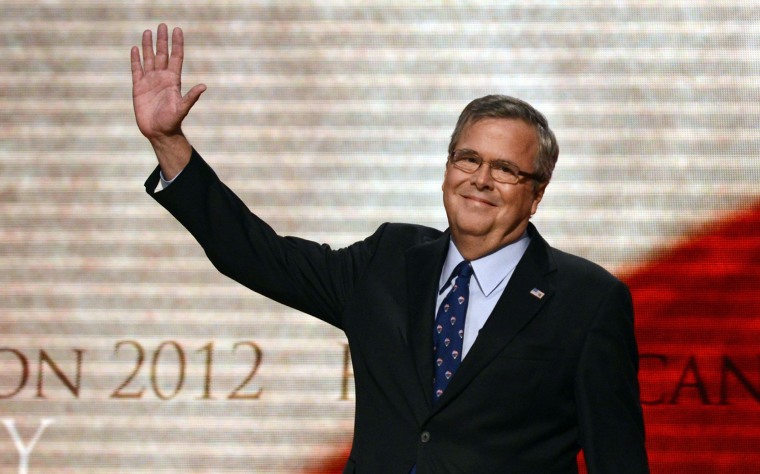 "I think he helps clear the field," Beightol said of Bush. "He can almost flip a switch and put it together. The only other person that can do that is Mitt."
While these donors and bundlers want to ensure that their money is well spent by backing what they see as the most electable candidate that can run a national organization and appeal to a moderate electorate in the general election, campaign watchdogs decry the notion that donors try to shape the field.
"What's interesting is the notion that a small group of big money people are trying to limit the field," Kathy Kiely, managing editor of the Sunlight Foundation. "There's a lot to be said for having a robust debate."