For Democrats, 2016 is the year they hope to shatter the nation's highest and toughest glass ceiling. But so far, the party's self-declared glass ceiling cracker has the party's other women waiting on her.
While Hillary Clinton makes up her mind about whether to make another White House bid, other Democratic women with presidential ambitions aggressively insist they're not running this time around. They've signed a letter encouraging Clinton to jump in. They've gone to early nominating states to tout her candidacy — while sometimes turning down their own invitations to those same states for fear of sending signals that they're eyeing a bid.
The result, some operatives privately say, is that Democratic women not named Hillary are falling further behind in the so-called "invisible primary"— potentially forsaking an opportunity to develop a national profile, build a fundraising network, hire key strategists, make high-visibility media appearances, and establish beachheads in early voting states like Iowa and New Hampshire, moves that could help in 2016 and in future election cycles.
"We talk about [Clinton] as: 'Oh, well, of course. She's the women's candidate,'" said Kelly Dittmar of the Center for American Women and Politics at Rutgers. "But she has this resume that no other woman can replicate. If you set that as the precedent for what it takes for a woman to run for president, we've really negated what other women could accomplish."
There's also wide consensus that Clinton would be unlikely to choose another woman as her running mate, eliminating another high profile slot for a woman pol.
"Everyone says, we're going to bust the glass ceiling — but it's Hillary or bust," said a Democratic operative close to one of the other candidates who's frequently mentioned as 2016 hopeful.
And there's the irony: In a presidential cycle in which Democrats have the strongest field of potential women candidates ever, their strongest one could make it more likely that the party ends up, yet again, with a man at the top of the ticket. By standing aside until Clinton makes her intentions clear — as late as the fall of next year — seemingly strong female candidates could be missing a chance to make themselves ready to step in, and step up, if she passes.
But so far, Democratic men have shown more willingness than women to publicly consider the presidential spotlight — or at least make the argument, why not me?
For all of the also-named women on 2016 hopeful lists, the early stages of the presidential race have been all about making sure everyone knows they're waiting on Hillary.
The first presidential nominating contests won't take place for two years, but there's no time to waste — four years ago, 2012 hopefuls were already traveling to key early voting states and using political action committees to help themselves and other candidates. (In February 2006, the same period before the last open presidential race, one day saw Clinton, John Edwards and John McCain all in Florida making speeches and raising money.)
This election cycle is already an improvement for women Democrats. At this point in 2006, Clinton was the only woman on most lists of likely presidential contenders. (Other hopefuls included Edwards, Joe Biden and Mark Warner, with freshman Senator Barack Obama sometimes listed as an aside.)
This time, the list is about half female — though aside from Clinton, the women are relatively new to the national stage. Still, they seem in some ways just as well-positioned to launch a bid as any of the men who are mentioned as potential 2016 presidential hopefuls.

Sen. Elizabeth Warren of Massachusetts is beloved on the progressive left and can raise oodles of cash online. Sen. Kirsten Gillibrand of New York is building a national fundraising network with a focus on electing women candidates and burnishing her reputation as a bipartisan advocate for military women who've suffered sexual assault. Sen. Amy Klobuchar of Minnesota has worked the Democratic Jefferson-Jackson dinner circuit and hails from a state that just happens to border Iowa, where the presidential race kicks off.
"Now, more than ever before, our country is ready to make history and elect its first 'Madam President.' Voters across the nation want to elect someone with the right values, judgment and priorities to put families ahead of politics," said Stephanie Schriock, the president of EMILY's List, a group that works to elect Democratic women.
But for all of the also-named women on 2016 hopeful lists, the early stages of the presidential race have been all about making sure everyone knows they're waiting on Hillary.
All 16 Democratic women members of the Senate — including Klobuchar, Gillibrand and Warren — signed a secret letter urging Clinton to run in 2016.
Warren has been the focus of intense media speculation and a November profile in The New Republic that echoed a laudatory American Prospect profile of Barack Obama in early 2006. But all the attention prompted Warren to tell Massachusetts reporters: "I'm not running for president, and I plan to serve out my term."
While Klobuchar did go to Iowa to attend an August "wing ding" at the famed Surf Ballroom — an event John Edwards and Barack Obama headlined in 2006 and 2007, respectively — she used the occasion to insist: "Right now I'm focused on this job and I think a lot of the work I'm doing in the Senate has national implications."
Gillibrand has launched a PAC called "Off the Sidelines," aimed at empowering women and raising money to help, in particular, female congressional candidates. She's building a national fundraising network: The PAC raised more than $2 million in 2013.
But Gillibrand brokers no debate about whether she would be on board with Clinton. "My view is that Hillary is the most qualified in all of the country to run and be our next president. So I am eagerly urging her to run and I will be supporting her candidacy when she runs," she told NBC News.
Sen. Claire McCaskill of Missouri, another high profile Democratic woman, became possibly the first member of Congress to endorse a super PAC when she jumped on board with "Ready for Hillary" in June. She went to Iowa last year as a Clinton surrogate, part of an EMILY's List "Madam President" event.
"She freezes out men and women," said Sen. John McCain, the 2008 Republican nominee for president. "Hillary's the clear frontrunner and men and women who want to take her on are automatically underdogs."
And at least one potential woman candidate has turned down multiple requests to appear in early nominating states like Iowa and New Hampshire, a source familiar with the person's thinking said, for fear of making it appear as though she was running and potentially stepping into Clinton's way.
"If you go too much it makes you look like you want it when in fact you've said you won't," the source said.
That's not to say the men aren't also seeing their prospects dimmed by Clinton's star. New York Gov. Andrew Cuomo has all but removed himself from consideration as a potential candidate, and former Massachusetts Gov. Deval Patrick has said he won't run.
"She freezes out men and women," said Sen. John McCain, the 2008 Republican nominee for president. "Hillary's the clear frontrunner and men and women who want to take her on are automatically underdogs."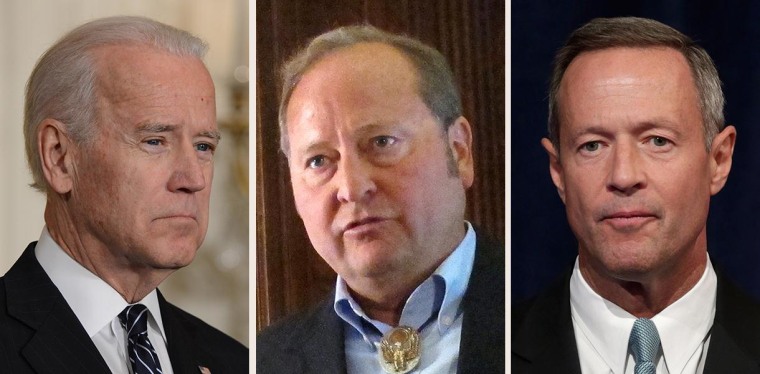 But some male Democrats have moved ahead, and some of them have long-standing political brands that allow them to do spadework more quietly than those who are newer to the national stage.
Biden — at 71, the one Democratic hopeful who would likely be too old to run again if he skips 2016 — has discussed hiring a national fundraising hand to help build and maintain his national donor network, according to a source familiar with the plan. He headlined Iowa Sen. Tom Harkin's annual steak fry earlier this year. And he has been publicly coy about his presidential plans, not yet saying "no."
"There's no obvious reason for me why I think I should not run," Biden told CNN's "New Day" this week. He continued: "Doesn't mean that I'm the only guy that can do it, but if no one else, I think, can, and I think I can, then I will, and if I don't, I won't."
Former Montana Gov. Brian Schweitzer is going further, traveling to Iowa in late 2013 and taking a thinly veiled swipe at Clinton's Senate vote in favor of going to war in Iraq. "George Bush got a bunch of Democrats to vote to go to that war," he said, according to Radio Iowa.
Maryland Gov. Martin O'Malley, meanwhile, has traveled to Iowa and New Hampshire in the past two years and has hosted fundraisers for senators from both of those early states. He took a trip to Israel, a move cast as a chance to burnish his foreign policy credentials.
And he's openly acknowledged his presidential ambitions, even saying that this period is critical for laying the groundwork for a presidential campaign. "I have a great deal of respect for Hillary Clinton," O'Malley told The Washington Post. "But for my own part, I have a responsibility to prepare and to address the things that I feel a responsibility to address. . . . To squander this important period of preparation because of horse-race concerns and handicapping concerns is just not a very productive use of energy."
"The men are at their own folly if they go too far because then they would piss off all the women in the party," said one Democrat.
The chatter, of course, could end up backfiring. "I think that the men are at their own folly if they go too far with it because then they would piss off all the women in the party," said one Democrat with ties to a potential female contender.
And it's also true that there's a collective interest in seeing a woman win the nomination — and an understanding of what it takes to rise in what's still a male-dominated profession.
"Women who are in politics who know the difficulty it takes to get there — that this may actually be the time when we could get a women president, and they're willing to put all their eggs in that basket," said Rutgers' Dittmar.
Still, it's clear that the specter of a Clinton candidacy is looming over both men and women Democrats who might otherwise be more aggressive in preparing a run. And that's prompted some to worry that the party will be in real trouble if she ultimately decides not to do it.
"You're going to see more and more Democrats out there. I heard Gov. O'Malley for example the other day, someone asked him a question, asks him if Hillary gets in. He says, well, what if she doesn't?" Harkin, the longtime Iowa senator, said in an interview.
A Clinton "no" would upend the field and prompt many of those who've ruled out a bid to reconsider, Democrats of all stripes said. Warren, one of the stronger potential female candidates and one whose progressive profile aligns with restive elements of the Democratic base, could find herself under particular pressure to reevaluate a bid.
Not that she's willing to engage on that point. Warren, walking alone in the Capitol last month after a Senate vote, refused to say a word when approached by a reporter and asked if Clinton was freezing the presidential field and whether she would reconsider if Clinton decided against a run. How about a straight "no comment?" the reporter asked.
Warren, staring straight ahead, power-walked away.