MIDDLEBURY, Vt. — How does the most liberal state in the country end up with a Republican governor apparently cruising to re-election this year?
Ask his Democratic opponent, Christine Hallquist — she voted for him in 2016. "So I get it," she said in an interview over lunch in this quaint college town.
But Hallquist, who would become the nation's first transgender governor if she wins Tuesday, says she now realizes Gov. Phil Scott is "a wolf in sheep's clothing" who doesn't live up to the independent image he projects, citing his vetoes of bills to raise the minimum wage and enact paid family leave, and alleged outsourcing of political dirty work to others.
The only problem with that message may be getting her fellow Democrats to listen. In a state that voted for Hillary Clinton by an almost 2-to-1 margin, a recent poll shows the Republican incumbent leading Hallquist 42 percent to 28 percent, with 22 percent undecided.
"Phil is distancing himself from the Republican Party because he won't get elected if he gets tied to the Republican Party, but he's following the exact same tactics as the Republican Party," Hallquist said. "That's what I keep telling folks — stop listening to his words and look what he's doing."
Even if the "blue wave" materializes on Election Day, it appears unlikely to wash out popular GOP governors in some of the bluest states in the country. That's because they have effectively used both their overwhelmingly Democratic legislatures and President Donald Trump as foils.
Political handicappers now give Democrats a better chance at winning governor's races in Oklahoma, South Dakota and Georgia than they do in states like Vermont, Massachusetts and Maryland.
"Republicans cracked the formula for winning in and successfully governing blue states," said Jennifer Duffy, an analyst with the Cook Political Report.
But Vermont may end up with one of the oddest results anywhere Tuesday night by simultaneously re-electing its Republican governor and a self-described Democratic socialist senator in Bernie Sanders with many voters likely opting for both.
And a state that prides itself on being the first to enact civil unions and gay marriage by legislation might miss a chance to make the next chapter of LGBTQ history after Hallquist struggled to even raise enough money to run a TV ad.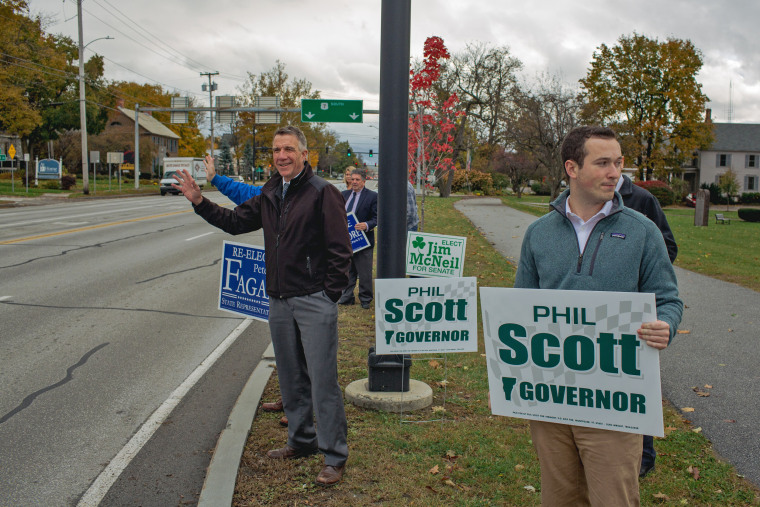 Mr. Rogers in a race car
"Come meet the governor!" a Republican state senator announced as he threw open the door of a sandwich shop in downtown Rutland for Scott, the state's race-car-driver-turned-chief executive.
Scott raced snowmobiles and worked on cars before becoming one of the all-time winningest stock car drivers in Vermont (he even won a race while in office).
But as he wandered Rutland's main drag with just a few aides and zero fanfare, it's easy to see why Scott's brand is more Mr. Rogers than Dale "The Intimidator" Earnhardt.
He's seen as a sensible man in the surreal world of Vermont politics, where his other potential opponents this year included a 14-year-old and several candidates to the left of Hallquist who are running on single-payer health care. The pony-tailed lieutenant governor can be found at the Burlington Farmers Market selling veggies from his organic farm.
"Sometimes, we can point out the rocks when the majority is sailing the ship," said Butch Shaw, a Republican state representative on why many Vermonters like to have a check on the liberal Legislature.
The state has a history of electing moderate governors from both parties. Vermonters, as everyone here will tell you, tend to vote for whom they know and like personally, and everyone seems to know and like Scott. It's a tiny state with less than half the population of neighboring New Hampshire and anyone can drop by the governor's weekly open door coffees.
So what about Trump?
Mary Zullo, who at 86 still runs her Rutland sandwich shop, tends to vote Republican and was thrilled to see Scott walk in. But she also says "I love Bernie." Why? Because the future senator once patronized her store nearly every day one summer some 20 years ago.
"I like Trump all right, but if he would just shut his mouth, you know?" she continued, unprompted. "Because we bring up our children to not be bullies and to not swear and I'm telling you, he just drives me nuts."
Scott, who sat next to Mitt Romney at John McCain's funeral, didn't vote for Trump and says he's unlikely to in 2020. "I like leaders who unite," he said.
"The Vermont brand of Republican is very different from the national brand," said Janssen Willhoit, a former convict who became a public defender and is now the GOP nominee for attorney general.
It's a familiar script to the one employed by other blue-state Republican governors, including Charlie Baker in Massachusetts and Larry Hogan in Maryland, who is on a campaign swing with Democrats who support him.
"In a counterintuitive way, the polarized national environment accentuates the very things that make these figures appealing," said Liam Donovan, a Republican consultant. "Moderate sensibility focused on local policy issues rather than political wedges, capacity (indeed, necessity) to work in a bipartisan way, and a tone that resonates regardless of party."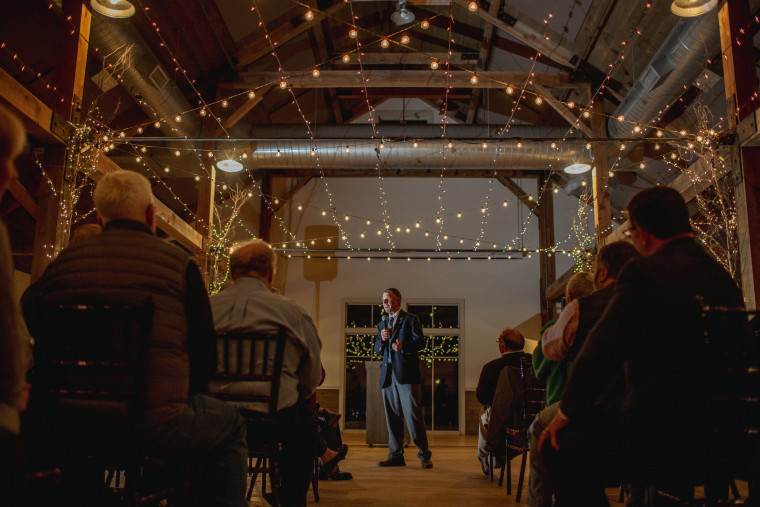 "Traitor"
Vermont may the very last holdout of liberal Republicanism — but the conservatives are rattling the gates.
Infringing on guns right has long been a third rail of Vermont politics for Republicans and Democrats alike. But two days after the February school shooting in Parkland, Florida, authorities in Vermont uncovered a plot by an 18-year-old to commit a mass shooting at his school.
Scott decided to not only defy the gun lobby by signing new gun restrictions put forward by Democrats in the state Legislature, but to hold a public bill signing — in an election year — on the steps of the state Capitol, knowing it would provoke fervent protests from both sides.
Scott's approval rating plummeted 38 percentage points as many Republicans abandoned him and gun rights groups called him a traitor. The NRA, he told NBC News, "in some respects, they've lost their way." A conservative challenged Scott in the GOP primary, largely on guns.
"I did what I thought was right. I chose action over inaction. I faced up to it. I know I've angered a lot of people in the state," Scott told a questioner who asked a pointed question on guns at a meet-and-greet in a barn on a mountaintop. "And if it comes down to it and I lose this race over it, I can live with that."
"We created Phil Scott"
Scott still has plenty of support in his party, and said he has no interest in switching sides, but the GOP base is clearly divided.
So now more than ever, Scott can only win if Democrats help him.
"We created Phil Scott," lamented one former party official, who requested anonymity to speak candidly about the party's missteps.
That reality can drive Democrats crazy. They may like Scott personally and applaud his stand on guns, but point to the mountain of bills he's killed on everything from labor to the environment that could become law overnight with a friendlier governor.
"It is very frustrating," said Becca Balint, the majority leader of the Vermont State Senate. "People are not making that connection between those things that Bernie is talking about on the national level and the things that we're trying to do right here on the state level."
She recalled a recent conversation she had with a friend who just shrugged after Balint reminded her of all the progressive policies Scott has blocked in Vermont. "You tell me these are your core values," Balint recalled the friend saying. "But they're like, 'Yeah, but he's a nice guy.'"