WASHINGTON — Most Americans think Democrats will try to impeach President Donald Trump if they retake the House, but the issue, which once seem destined to play a starring role in the midterm elections, has been surprisingly absent from the campaign trail.
An NBC News review of campaign advertisements, fundraising emails, websites and press reports found close to zero Democratic congressional candidates who are actively campaigning on removing the president, while Republicans have only occasionally invoked the "I-word" as a warning to their base of the dangers of staying home on Election Day.
Data from Google also shows there was intense interest in "impeach Trump" and related searches throughout 2017, while 2018 has been significantly quieter.
It hasn't been for a lack of trying by some to put the issue front and center. The liberal billionaire Tom Steyer has sunk $50 million on a national campaign promoting impeachment, while Trump has said the midterms are "a referendum about me." And the topic has been frequent fodder for cable news pundits.
But despite the initial fervor, impeachment never really took off among Democrats, making it more difficult for Republicans to sell it as a credible threat and reason to keep the GOP in power — even if they're convinced Democrats are plotting to depose Trump (and they are).
For instance, in an ad that featured the billionaire George Soros, anarchists burning a limousine, illegal border crossers and comedian Kathy Griffin, Arizona Republican congressional candidate Wendy Rogers warned that "radical left extremists ... want to impeach our president" and will get their way if her state's voters re-elect Democratic Rep. Tom O'Halleran.
But O'Halleran, a member of the moderate Blue Dog Caucus who has sided with Trump more often than Republicans in his state's congressional delegation, told NBC News, "There is only one candidate in this race who is talking about impeaching the president, and it is not me."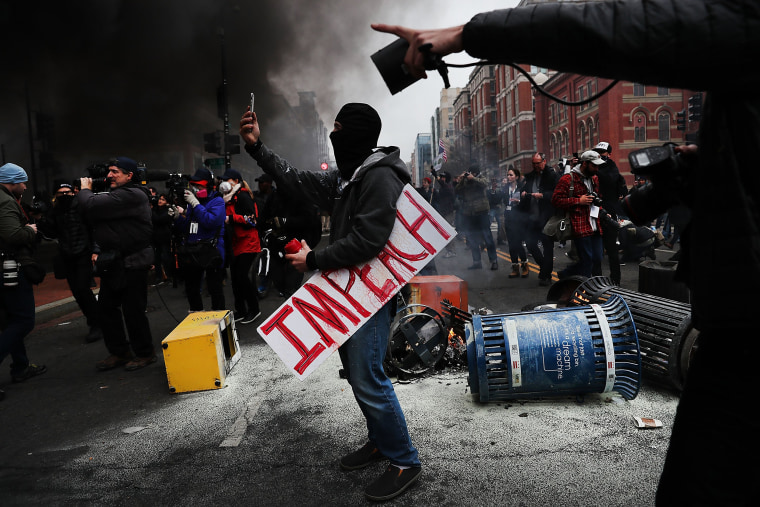 Democratic leaders, keenly aware of how Bill Clinton's impeachment backfired on Republican lawmakers, have tried to squash any talk of impeachment on Capitol Hill and discouraged campaigns from talking about it.
Meanwhile, the hard-left has been more interested in pushing the Democratic establishment on policy, like "Medicare for All," than fighting Trump.
Corbin Trent, a spokesperson for the liberal group Justice Democrats, which backed insurgents like Alexandria Ocasio-Cortez in this year's primaries, said impeachment was "neither a priority nor a litmus test" for the group.
Heidi Hess, the co-director of the online organizing group CREDO Action, suggested that while most of her group's members might want to see the president impeached, they're more compelled by other topics. "It resonates at the level of 'this should clearly happen,' but in terms of competing priorities at this moment, I don't think it's at the top," she said.
Impeachment may pack less emotional punch than it once did since Senate Republicans have shown little willingness to stand up to the president, making his removal from office a nonstarter. It takes a majority of the House to impeach, but 67 senators to depose a president, and there are only 49 Democrats in the chamber right now.
"No one in Youngstown, Ohio, is talking about impeachment," Rep. Tim Ryan, D-Ohio, said of his hometown on MSNBC this week. "They're talking about how they're going to make ends meet."
A search of Facebook's database of political ads turned up only a few Democratic campaigns that ran digital ads on the issue — and most of them lost their primaries, like former Florida Rep. Alan Grayson and New York gubernatorial candidate Cynthia Nixon.
Nor has advocacy for impeachment helped Maine Democrat Zak Ringelstein climb out of the single digits in his long-shot campaign against Sen. Angus King, an independent who caucuses with Democrats.
"I always talk about how I am the only person in this race who is willing to talk about impeachment and removal from office," Ringelstein told NBC News.
There are some notable exceptions, however, including Texas Senate candidate Beto O'Rourke, though he has not made impeachment a focus of his campaign, and Florida congressional candidate Mary Barzee Flores, who cut a straight-to-camera ad on impeachment, but appears to have given it only a limited run on TV and Facebook.
The most vocal high-profile Democratic candidate on impeachment is Andrew Gillum, the party's nominee for governor in Florida who also happens to be the candidate most closely associated with Steyer, the party's biggest donor. Gillum was the only candidate Steyer endorsed in a Democratic primary this year, and the billionaire pledged to spend $5 million supporting Gillum.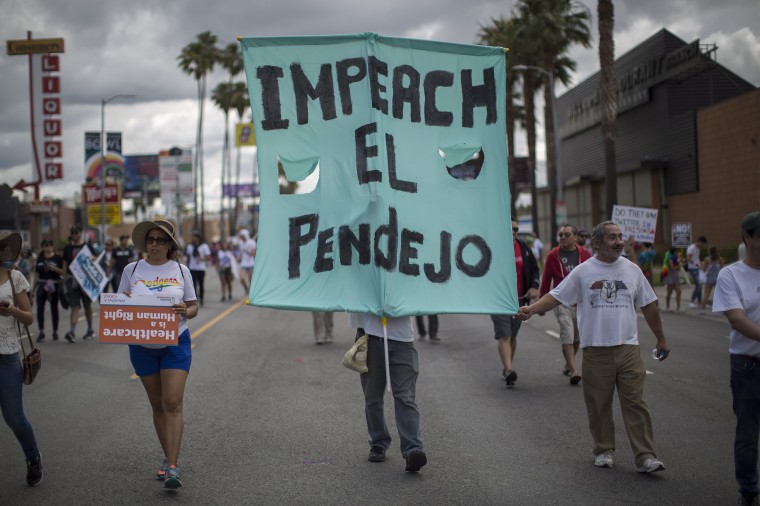 "We don't actually go to candidates and ask where they stand on impeachment," said Kevin Mack, the lead strategist for Steyer's Need to Impeach campaign. "Our goal is to make sure they hear about it on the stump so that once they get elected, they'll hold the establishment accountable and make sure they do their constitutional duty."
While Mack acknowledge there are a limited number of candidates running on the message, he noted that the group's supporter list is 6 million strong and that support for impeachment has ticked up in polls.
But if you do see an ad or a fundraising email mentioning impeachment, and it's not from Steyer, it's almost certainly from a Republican.
"It's a motivator for our base," National Republican Congressional Committee chairman Steve Stivers said at a breakfast hosted by The Christian Science Monitor last month.
A recent NBC News/Wall Street Journal poll found that while 62 percent of Democrats were more likely to vote for a candidate who favors holding impeachment hearings, a significantly larger portion of Republicans — 80 percent — said they were less likely to vote for that candidate.
Robert Blizzard, a GOP pollster at the firm Public Opinion Strategies, said that Republicans needed to "raise the stakes of this election," noting that some had feared a "lethargy among some parts of the Republican base."
Indeed, Republicans seemed to be ramping up their messaging on impeachment in September, with an uptick in the number of fundraising emails and digital ads mentioning it. Trump told supporters at a rally in Montana that if he is impeached, "It's your fault, because you didn't go out to vote."