U.S. intelligence officials have seen no evidence that any nation state is attempting to tamper with voting systems or election infrastructure ahead of tomorrow's midterm election, intelligence officials told NBC News Tuesday.
"There's a lot of noise — we see the typical scanning and probing — but we can't attribute it to any bad actors," said one official briefed on the intelligence.
U.S. officials also told NBC News that last week the White House was sent a top secret assessment of election security produced by a newly created interagency task force.
The assessment, created by NSA and U.S. Cyber Command specialists, also found no evidence that any foreign actors were working to infiltrate election infrastructure in the run up to Tuesday's midterms, according to two sources with direct knowledge of the assessment.
White House spokeswoman Sarah Sanders declined comment.
In addition to reviewing possible threats, the task force members are taking an offensive posture, secretly communicating to known operatives in Russia and elsewhere that they are aware of their activities, sources said.
A senior U.S. official described the communications with the suspected hackers as: "We know that you're going to do this. Don't do it!"
The task force, which was created in May, has built a database of hackers and trolls, as well as Russian government institutions and private entities that have been involved in the U.S., a senior intelligence official said.
The assessment on potential election system tampering is consistent with what American officials have been saying publicly all year. They have sounded the alarm about foreign influence campaigns on social media — led by Russia, China and Iran — but they have seen no evidence that any foreign actor was gearing up to hack the vote.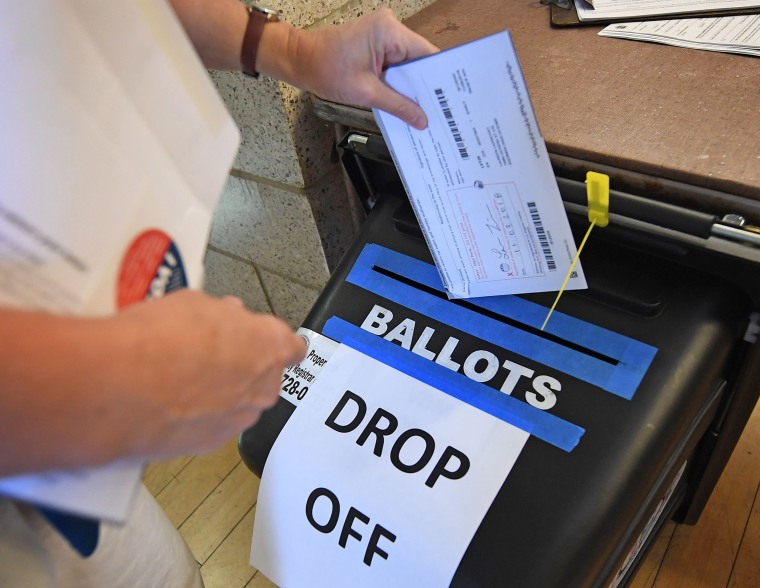 While experts have found vulnerabilities in state voting machines, the diffuse nature of American's county-by-county election system makes it extremely difficult for cyberattacks to have a meaningful impact, U.S. officials have told NBC News.
The director of national intelligence, Dan Coats, said in July, "We are not yet seeing the kind of electoral interference in specific states and voter databases that we experienced in 2016." That could change quickly, he said at the time, but U.S. intelligence agencies have not seen any move in that direction, officials say.
The biggest worry continues to be misinformation online, the official said, including attempts to sow chaos and manipulate public opinion.
Just last month, federal prosecutors charged a Russian woman who works for an oligarch closely aligned with Russian President Vladimir Putin with trying to meddle in the 2018 midterms.
The woman, Elena Khusyaynova, was accused of acting as an accountant for a multimillion-dollar operation built to "sow discord in the U.S. political system" through divisive social media posts.
An analysis from the Center for Strategic and International Studies found that "known vulnerabilities have been demonstrated in many of the most widely used voting systems in the U.S."
"Cyberattacks on voting systems could be used to disrupt the voting process, or even to directly manipulate votes, perhaps the most widely feared form of election manipulation," according to the analysis.