BROOKLYN, Iowa -- Democratic congressman Bruce Braley is behind the wheel of his black Chevy SUV, pointing out landmarks in the town where he grew up.
There's the field where he played high school football on Friday nights, right near the baseball diamond, where he was the catcher.
There are the plastic mailboxes for the Des Moines Register; the weekday edition was called the Des Moines Tribune back when he delivered the paper to his neighbors starting in the third grade. And on the horizon is the grain elevator where he once loaded corn into dryers so it could be processed and sold.
"I still have the names of all the farmers I baled hay and shelled corn for," says Braley, three-term member of the House who's lived most of his adult life working as an attorney in Waterloo. It's early Saturday morning, and the spring sun is shining on corn fields that are still barren from winter. "I spent my whole life working jobs that taught me the dignity of work."
This small-town, working-class Iowa background was supposed to help Braley win a relatively easy victory over whoever his Republican challenger turned out to be. And it was supposed to help keep Iowa off the list of states Democrats had to worry about as they try to retain control of the Senate in 2014.
But a leaked videotape of Braley standing in front of a cart full of booze and telling a group of Texas trial lawyers that popular Republican Sen. Chuck Grassley was just a "farmer from Iowa who never went to law school" has cast doubt on all that. And on the ground, it's clear the remark has helped make the race more competitive.
"People say things they regret," Braley said during in an interview at his mother's kitchen table, wearing an orange polo shirt and looking slightly nervous. "The important thing is to accept responsibility for it, which I did. I apologized to Sen. Grassley, I apologized to farmers in Iowa."
"All I was doing was contrasting our backgrounds; it was not intended in any way to be disparaging to Sen. Grassley or to farmers," he added.
Suddenly, national Democrats are worried, spending hundreds of thousands of dollars to air an ad highlighting Braley's small-town roots.
Braley is running to replace Sen. Tom Harkin, a well-loved populist Democrat who's known as an architect of the landmark Americans with Disabilities Act -- and is also an Iowa institution famous for hosting an annual steak fry that's a must-stop for any Democratic presidential hopeful in the state. Iowa is considered a swing state, but President Barack Obama carried it in 2008 and again in 2012.
As the Senate race took shape, Democrats united early behind Braley, who campaigns on bread-and-butter Democratic issues like raising the minimum wage, defends the health care law and even says he'd be happy to have the president, who's unpopular here, come campaign for him.
Meanwhile, Republicans had to scramble to try to find a strong candidate to take him on -- and their recruiting efforts largely failed. The field of five that eventually emerged was largely unknown, short on governing experience and long on flaws. The state Republican Party has been in disarray, and the chances that a right-wing or Ron Paul-style conservative would win the nomination seemed high.
It was the best-case scenario for Braley. But then came the video--and suddenly, national Democrats are worried, spending hundreds of thousands of dollars to air an ad highlighting Braley's small-town roots. Braley's campaign trucked to Marcia Braley's home in Brooklyn and moved all her living room furniture around to shoot an ad showcasing her son's small-town background.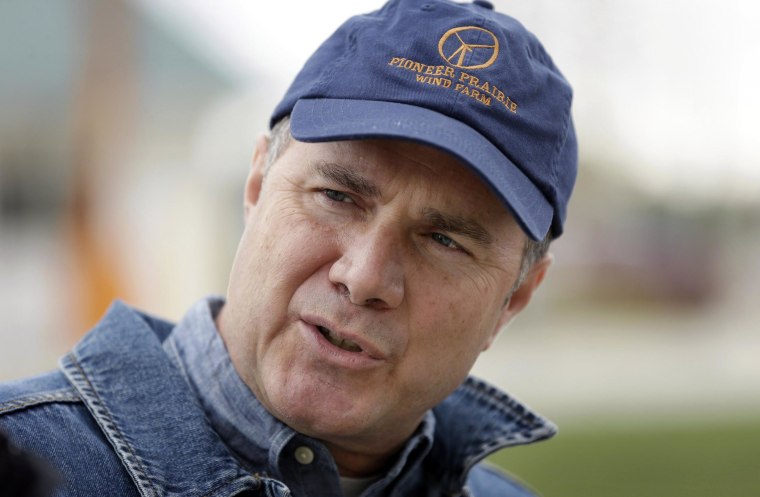 And on the ground, Republican despair has morphed into cautious excitement. Of all the GOP candidates, state Sen. Joni Ernst -- a Harley-riding, pistol-carrying, combat veteran lieutenant colonel in the Army Reserves -- has seemed to reap the benefits.
Ernst, who's married to an Army ranger, grew up on a farm in far southwest Iowa. She is so proud to have grown up on a farm, in fact, that she released an ad declaring: "I grew up castrating hogs on an Iowa farm, so when I get to Washington, I'll know how to cut pork."
How does one castrate a hog, exactly?
"Ah, a very delicate hand," she said in an interview. "Let's put it like that."
Making the ad helped her catch the eye of former Alaska Gov. Sarah Palin, another Republican woman candidate who takes an in-your-face approach to politics. Ernst's campaign asked for Palin's endorsement, and the self-declared "mama grizzly" and "pit bull with lipstick" promptly gave it to her after she saw the campaign spot.
"She's going to set 'em straight. She's a soldier. She's a hard-working farmer; she's a pistol-packing Harley rider, and I don't think Harry Reid is going to start talkin' down to her," Palin declared at a rally in West Des Moines late Sunday afternoon. The ballroom at the HyVee Center was only half full; about 300 people showed up, braving torrential rain, hail and thunderstorms to see the pair campaign together.
Ernst only mentioned the former vice presidential nominee once in her speech at Sunday's rally--but she seemed ready to embrace Palin's style. Her campaign RV is plastered with images of hogs and asks followers on the highway to "Honk if You Want to Make Washington Squeal." At the rally, Ernst noted Democrats have attacked her for carrying a weapon.
"I do have a permit to carry, and I do carry. And because I do carry, the Iowa Democratic Party, they have called me, pistol-packin' Joni - I love it!" she said to cheers.
So far, though, Ernst has struggled to raise money. An early endorsement from former Massachusetts Gov. Mitt Romney helped some; Ernst endorsed Romney for president twice, in 2008 and 2012, and some of his former aides are helping her campaign.
In the primary, her strongest opponent is business executive Mark Jacobs, the only other Republican who's polling above 20 percent in most surveys.
The clean-cut Jacobs once worked for Goldman Sachs and made millions running a Texas power company. He moved his family back to his home state of Iowa two years ago to run for Senate. Since then, he's spent over $1.65 million on his campaign -- the most any Iowa candidate has ever contributed to their own race, according to a Des Moines Register analysis.
He's running as a businessman with the know-how to clean up the nation's finances -- as CEO of Reliant Energy, he took the company through bankruptcy and a restructuring that he says saved thousands of jobs.
"I know what it's like to inherit a fiscal mess, and I've learned how to work with people to get things done," he says. "And I'd put my track record of success and accomplishment up against anybody."
It's a message remarkably similar to the one former Republican presidential nominee Romney relied on during his unsuccessful 2012 bid for president. Their political resumes are similar, too: Romney also made millions running a company before going on to run for office. And there might be another, less welcome category of similarity: Romney made plenty of mistakes as a politician, becoming known for making tone deaf remarks about his wealth.
In an interview, Jacobs came across as similarly prone.
Would he, for example, forfeit his taxpayer-funded salary as a U.S. senator if elected -- as Romney did when he served as governor of Massachusetts?
"I don't think U.S. senators make that much money, but again, you know, I'm willing to make significant investment of my time and energy here to help solve the problems we have in this country," Jacobs said.
U.S. senators make $174,000 per year; fewer than 10 percent of Iowans make that much. (Jacobs' campaign later clarified that he wasn't aware of how much senators made, wasn't doing it for the money, and was instead focused on public service.)
"She's a hard-working farmer; she's a pistol-packing Harley rider, and I don't think Harry Reid is going to start talkin' down to her."
There's just over a month left before the June 3 primary; if no Republican wins more than 35 percent of the vote, the race will be decided at an unpredictable convention. That could elevate one of the lesser-known candidates; many evangelical conservatives have coalesced around Sam Clovis, a mustachioed activist with a large personality and waistline to match.
But a convention would require lesser-known candidates to collectively win 30 percent of the vote or more, and polls show they're well short of that mark.
Jacobs is all but guaranteed to outspend Ernst on the airwaves--and that will matter in a race where all the Republican candidates are largely unknown. And there are policy distinctions between them that could give Jacobs an edge in a general election. Ernst, for example, is concerned about Republican Rep. Paul Ryan's controversial budget because it doesn't balance fast enough; Jacobs, on the other hand, has concerns about its deep cuts to Pell Grants, which he thinks help lower-income Americans get better jobs.
"One of the real problems we have in the country today is the skill gap," he said. "I do support the idea of providing a helping hand for those who need it that are looking to acquire new job skills."
If Ernst were to win the primary and then go on to beat Braley, she would become the first-ever woman elected to federal office from the state of Iowa.
"I would just give anything to be there," Palin told the crowd that gathered to see her campaign with Ernst, "when Harry Reid runs into Joni for the first time in the Senate."