ANCHORAGE, Alaska -- Republican Senate candidate Joe Miller is standing in the pouring rain in the far corner of a mostly empty Sears parking lot, surrounded by about two dozen supporters waving signs and yelling at passing cars.
"Hey, alright!" hollers Miller, who's right on the curb of a bustling four-lane road running through a commercial district dotted with strip malls. He flashes the thumbs up.
"Our supporters really shine in bad weather," one volunteer tells him. "Freedom is worth going out in the rain."
Another honking car flies by, with the driver gesturing at the volunteers. "Was that positive, or negative?" someone asks. Miller, who's a distant third in Republican primary polls, responds with enthusiasm, like a coach pumping up his team: "Definitely positive!"
The Aug. 19 Alaska primary will determine who takes on Sen. Mark Begich, one of the half dozen vulnerable Democratic incumbents whose fates will decide which party controls the Senate. For Miller, it's an attempt at a second act; with Sarah Palin's endorsement, the Fairbanks lawyer beat Sen. Lisa Murkowski in her 2010 GOP primary, only to lose the general election to her write-in campaign.
Since then, Miller's become much more unpopular, and the campaign feels more like a personal vendetta than a tea party crusade. Polls show him trailing Lt. Gov. Mead Treadwell and former Alaska Attorney General Dan Sullivan. Palin has stayed out of it.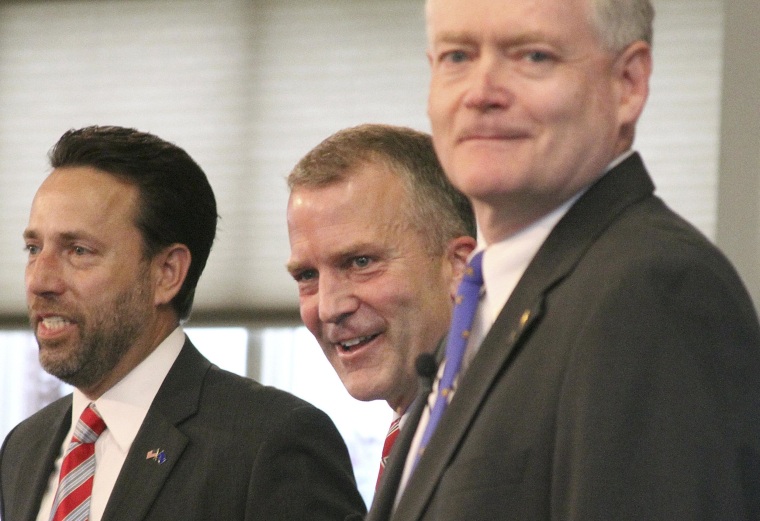 But the conservative, sometimes inflammatory Miller is still casting something of a shadow over the race -- and by extension, over Republican hopes of taking back the U.S. Senate.
"The majority of Americans believe that neither party properly represents them. The majority of Republicans want a new party. This is about dissatisfaction with the political system," Miller said in an interview last week at his Anchorage headquarters, not far from the Sears store parking lot he was working.
Great unknown
Joe Miller is such a wild card partly because the Alaska primary electorate is so small and so unpredictable. Then, there's the lingering bitterness over his 2010 general election loss. No one yet knows what his intentions are should he lose the 2014 primary.
Miller says that no matter what, he will refuse to back Treadwell or Sullivan, who both backed Murkowski's write-in campaign in 2010. And he's not ruling out running under a third party or independent banner if he loses. Such a move could split the conservative vote and throw the race to Begich.
"I fully expect to win the Republican nomination," Miller said when asked directly if he would commit to not running as a third-party candidate in the fall.
National Republicans have been working for months if not years to try to ensure Miller isn't a problem, and at this point they're fairly confident he won't be. Their choice is Sullivan, who personally knows Republican uber-operative Karl Rove from Sullivan's time spent working for Condoleezza Rice in the White House and at the State Department. The Rove-linked group American Crossroads has spent heavily to boost Sullivan, and Rice cut an ad for Crossroads on Sullivan's behalf.
"The central issue in this race is the country has been heading in the wrong direction. What we need to do is reverse what has become an agenda by this administration to overregulate every aspect of our lives in Alaska and this country," says Sullivan who espouses a broad message focused on economic liberty and opportunity. While President Barack Obama lost Alaska by 14 points in 2012, it still swings in statewide elections; Begich won narrowly in 2008 after GOP Sen. Ted Stevens was indicted, and Murkowski is one of the GOP senators who most often votes with Democrats.
But as the primary closes, Miller is busy pushing the primary field to the right. He's warning about the militarization of the Postal Service and the IRS, accusing the Republican establishment of supporting "amnesty," and raising the specter of impeaching the president -- forcing his opponents to weigh in on the subject during a recent debate.
In interviews less than two weeks before the primary, neither Treadwell nor Sullivan ruled out impeachment, even though House Speaker John Boehner has declared the idea a "scam" perpetrated by Democrats.
"You're asking a guy who could actually be a judge in a Senate chamber on a bill coming forward from the House that hasn't been written yet, and I haven't read it yet," said Treadwell, who spoke to NBC News during a "Taco Tuesday" volunteer night he was hosting at his Anchorage headquarters.
"Articles of impeachment would come to the U.S. Senate; according to the Constitution, the U.S. Senate stands as jury. If that happens I would of course take that very seriously, look at that," said Sullivan, "but right now what we need to do is roll back this Obama administration agenda which is crushing the life out of our economy, opportunities in Alaska."
In the final weeks, the polls show the primary race tightening, with Sullivan's lead over his two rivals shrinking. The Democratic super PAC Put Alaska First has aired over $4 million in ads against Sullivan; this week they aired their first ad that also attacks Treadwell. In campaign materials, Begich's campaign is attacking both of them, too, a shift from a few months ago.
Those materials focus on casting Treadwell and Sullivan as out of the mainstream on women's issues in an attempt to stoke the gender gap, a familiar tactic for Democrats across the map this year. In interviews, both Treadwell and Sullivan said they'd consider voting against the Violence Against Women Act if elected, even though the entire Alaska delegation (two Republicans and one Democrat) voted in favor of the bill in 2013. Murkowski was a lead co-sponsor.
"I'll look at it," Sullivan said when asked if he would vote to reauthorize it.
"I had some problems with the act itself," Treadwell said, noting that "when Washington tries to impose solutions on a state without talking to the people who live there, I think you've got a real problem."
Democrats privately say they'd rather run against Treadwell than Sullivan, citing Sullivan's well-formed campaign infrastructure and outside backing. About a week out, observers expected Sullivan to prevail.
Democrats privately say they'd rather run against Treadwell than Sullivan, citing Sullivan's well-formed campaign infrastructure and outside backing. About a week out, observers expected Sullivan to prevail.
"Ten thousand door knocks, 120,000 phone calls," says Sullivan. "I'm hitting it all over the state."
"True Alaska"
Kodiak Island has 40 miles of road and one grizzly bear for every two people, but Sen. Mark Begich is campaigning here anyway.
"Wow," he says as the owner of the commercial fishing vessel, who's explaining that the boat pulls more than $25 million worth of fish out of the sea in an average year.
"Wow," he says to the cannery worker who explains they can pump up to 12,000 pounds of salmon per minute from the water into the cannery to be processed.
And when he arrives at the small Alaskans for Begich campaign office that he's opening, he tells the group of supporters crammed inside that the conservative third-party groups pouring millions into the race just don't understand Alaska.
"These people do not care about what Alaska cares about," Begich says. "These people do not care about about the fishing industry. If they came to Kodiak -- if they could find Kodiak, because I'm not sure they know where it is -- they would have no idea what our issues are."
Being Alaskan is Begich's central pitch. This race might be at the center of national politics in 2014, but in a state where most of the land is owned by the federal government and opaque regulations govern day-to-day life in critical industries like oil and fishing, all national politics is local.
"You betcha I'll run on my Alaska record, because my Alaska record is solid," says Begich, whose father was serving as Alaska's lone congressman when he was killed in a plane crash when his son was 12 years old.
It's also his central attack on his Republican opponents, all of whom were born out of state. (In Alaska, the rest of the world is the "Outside" while the rest of the U.S. is the "Lower 48.")
"I'm from Alaska," Sullivan insists when asked about the charge. "I'm an Alaskan. Like hundreds, thousands, tens of thousands of my fellow Alaskans I'm American by birth, Alaskan by choice." (Sullivan is originally from Ohio.)
Still, Sullivan is married to a Native Alaskan -- one of the groups Begich is counting on in 2012. National Democrats are helping build a turnout operation in the tiny, remote villages scattered across the state's vast wilderness.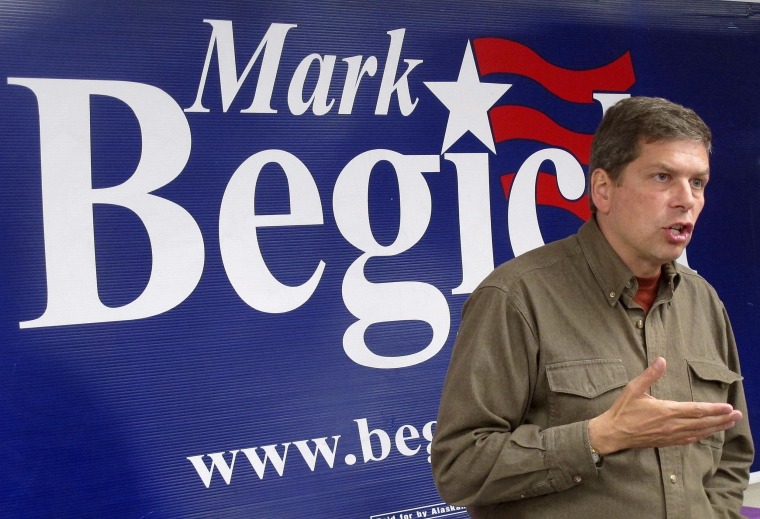 "They won it for me last time," Begich says when asked about how the tribes figure into his electoral strategy.
For Begich, the challenge is distancing himself from an unpopular president who's out of step with Alaska on a host of issues, from health care to the National Security Agency mass collection of cell phone calls records. To counter the ads that highlight how he votes with Obama 97 percent of the time, he's airing his own saying he votes with Republican Sen. Murkowski 80 percent of the time, even ignoring a cease-and-desist letter from his home state colleague demanding that he take the ads down.
Begich also hasn't been shy about his feelings for the president; in an interview with the Washington Post, he declared himself to be a "thorn in the president's a**," and he told CNN that if Obama came to Alaska, he would "drag him around" to show him how his policies were hurting the state.
"If I get him up here, the goal is to get him up here to see what Alaska's about, help him change some of his policies, help him get moving forward on some of the issues that have been stalled out," Begich said in an interview at Potter's Marsh, a wildlife preserve outside Anchorage overlooking the Cook Inlet. "I don't need folks like that to campaign for me. Alaskans want to see me."
Ben Mayer of MSNBC's "Morning Joe" contributed to this report.