PHOENIX — The death of Sen. John McCain is roiling Arizona politics just one day before a GOP primary here for another critical U.S. Senate seat that Republicans are hoping to hold on to.
Just hours before news of McCain's passing on Saturday, GOP candidate Kelli Ward claimed Friday's announcement that the ailing senator had ended his medical treatment for cancer was aimed at damaging her candidacy because he "wanted to have a particular narrative" in place ahead of Tuesday's primary.
"I think they wanted to have a particular narrative that they hope is negative to me," the former state senator asserted in a Facebook comment made public by a local GOP activist.
Ward deleted the comment after it began to circulate and blamed the press for the attention it had received, writing an additional comment that said, in part, "it's not the McCains creating a narrative — it's the media making something out of nothing." She added, "I feel compassion for him and his family as they go through this."
Monday morning, Ward posted a message on Twitter without any further context, saying "Political correctness is like a cancer!"
And on Monday afternoon, Ward insisted that her comments were aimed at the media, not Sen. McCain. "To be clear, my comments were in no way directed at senator McCain or his family or his team," Ward told reporters.
"I do understand how many could have misconstrued my comments as insensitive," she added, "and for this, I apologize."
But Ward has been a frequent harsh critic of McCain, including attacks on his health and age. In 2016, she ran against McCain in the primary and suggested in an interview with MSNBC that the senator had "gotten weak" and "old" and was "at the end of life." When McCain made his cancer diagnosis public last year, Ward called for him to "step away as quickly as possible."
Following news of McCain's death, Ward did praise the senator's "decades of service" on Twitter.
Ward is trying to upset U.S. Rep. Martha McSally, the party-backed candidate and noted favorite, while controversial former Maricopa County Sheriff Joe Arpaio continues to campaign around the state by bus in the waning days.
The three are vying to become the GOP nominee in the race to succeed Sen. Jeff Flake, who is not seeking re-election.
Arizona Gov. Doug Ducey, another Republican, announced this weekend that he would name his choice to replace McCain in the Senate for the next two years at some point after McCain's burial.
But it's this November's general election contest, and the messaging of the GOP nominee, that will likely be a defining moment for the direction of the party.
All three Republicans have embraced President Donald Trump on the campaign trail over Flake and McCain, two vocal GOP critics of the president who have represented Arizona for a combined 50 years.
"Are we going to elect another senator in the mold of Jeff Flake and John McCain?" Ward, a physician, asked a crowd last week in Scottsdale. "No, no." She went on to call Flake a "disgrace."
Appearing on "Meet the Press" Sunday, Flake declined to say who he intended to support in the primary with his vote, and he laughed at the suggestion that one of the candidates would like his endorsement.
"Nobody would be asking for it in the Republican primary, I can tell you that," he said. "I'm not happy about it, but this is the president's party right now," Flake added. "I think that we'll be sorry for that in the future, but that's the case right now."
Earlier this month, McSally left out any mention of McCain in her tweets or press release after she attended a ceremony in which President Trump signed a key military spending bill named after the longtime senator, but she repeatedly praised the president.
And this summer, in opposition to the past immigration reform efforts of McCain and Flake, McSally removed her name from legislation in the U.S. House that would have granted protections for Dreamers. But the congresswoman did praise McCain as an "American hero" Saturday night on Twitter:
The Arizona Secretary of State's office estimates that 75 percent of the expected votes have already been cast in early voting, but the candidates continued to hit the trail over the weekend.
In the final days, Ward has courted media attention, inviting Mike Cernovich, an alt-right provocateur, to join her on the campaign trail over the weekend.
"We need to have a hook to get you guys interested in seeing the bus tour," Ward told NBC News about her decision to invite Cernovich, who propagated the false "pizzagate" conspiracy and has suggested "diversity is code for white genocide."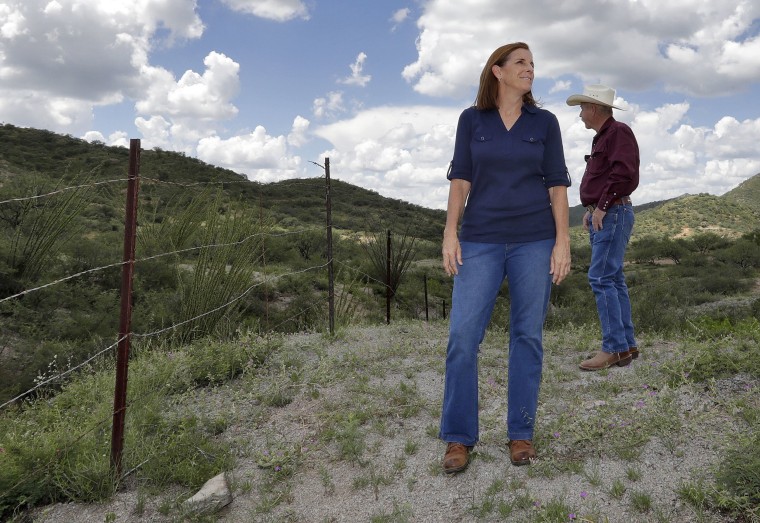 Ward's early candidacy is credited for leading Flake to retire, and she was viewed as a potent opponent to McSally after she lost by 12 percentage points in her 2016 primary challenge to McCain.
But Arpaio's surprising decision to enter the race in January has eaten into Ward's position as a challenger to the establishment.
The pardoned former sheriff has run a light campaign operation that has sought to capitalize on his near-universal name recognition in the state. He has not spent any money on television ads.
He turned to two ex-Ward campaign staffers in this final month to try to stimulate his campaign. Those staffers — Dustin Stockton and Jennifer Lawrence — have used their partnerships with Arpaio as platforms to personally attack Ward.
At the outset of his campaign, Arpaio also acknowledged a lack of understanding of key issues that he never overcame. "Instead of looking at the sports page, I've got to start looking at the newspaper," he told NBC News at the time.
Instead, he welcomed Courtland Sykes, a former Missouri Senate candidate who called feminists "she devils" with "nasty, snake-filled heads," onto his campaign bus for the final two weeks.
McSally shifted her attention this week away from Ward and Arpaio and directed it toward U.S. Rep. Kyrsten Sinema, the expected Democratic Senate nominee.
Sinema has already established her candidacy on the airwaves, placing ads through the summer that market her as "independent, just like Arizona." And she said in a statement Sunday that serving with McCain has been "the greatest honor of my life."
"He stood up for freedom, for honor, and for the truth," she wrote. "It's our responsibility to live up to his legacy of integrity, character, and putting country over party, service over self."
With just over two months before the general election, the McSally campaign has released its first TV attack ad on Sinema, using old footage of her at an anti-war protest in the early 2000s wearing a pink tutu.
"While we were in harm's way in uniform, Kyrsten Sinema was protesting us in a pink tutu and denigrating our service," McSally, a veteran Air Force fighter pilot, says in the ad.
Sinema, a former social worker and state legislator, would go on to join the Blue Dog Coalition after her election to Congress in 2012, taking a notable turn toward the political center.
Last week, Sinema told reporters in Phoenix that she opposes the proposal of Medicare for all, distancing herself from the position that has received a burgeoning level of support across her party.
"What I'm really grateful is my interest and willingness and capacity to learn and grow and those who know me know I'm a lifelong learner," Sinema said when asked about her shift.