WASHINGTON — Democrats have nearly stamped out opposition to abortion rights in their party, but there's a big exception in a tiny state in their own backyard.
The last stronghold of anti-abortion Democrats is not in the conservative South or moderate Midwest, but in the true blue New England state of Rhode Island, where Democrats control every major political office and outnumber Republicans 8-to-1 in the state Senate.
Rhode Island received an "F" grade from NARAL Pro-Choice America in 2016 and has a General Assembly run almost entirely by Right to Life-backed Democrats.
"It's very bizarre," said Craig O'Connor, director of public policy and advocacy at Planned Parenthood of Southern New England. "When I talk to my national colleagues, I have to explain that just because we're a state where Democrats have 85 percent of our legislature, it does not mean we are state where reproductive freedom is safe."
The Roman Catholic Church has long played an outsize role in the most Catholic state in the country (42 percent of residents are Catholic, with Massachusetts, New Jersey and New Mexico tied for second at 34 percent, according to Pew). But progressives, animated by President Donald Trump's election, are hoping to overthrow the long-reigning moderate Democratic power structure.
It won't be easy.
The General Assembly concluded this year's legislative session Saturday without passing a bill to enshrine the protections of Roe v. Wade in state law in case the Supreme Court overturns it. Neither did it advance any of the eight bills that came out of a special committee on sexual harassment, and nor did it approve a gender pay equity bill that observers had once thought was a shoo-in.
The only recourse now, critics say, is the ballot box, and particularly the Sept. 12 primary, which is arguably more important than the November general election in this one-party-run state.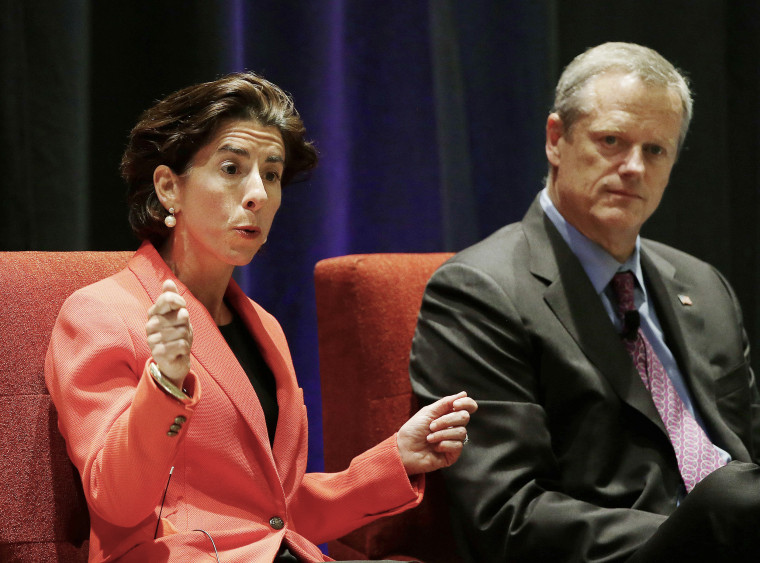 Gov. Gina Raimondo and Lt. Gov. Dan McKee, both Democrats who identify as supportive of abortion rights, face spirited primaries on their left this year, as do several anti-abortion legislators, with the challengers making abortion rights one of their top priorities.
State Rep. Aaron Regunberg, who is challenging McKee, said "there's a fundamental disconnect" between the electorate and the "conservative Democratic machine."
Six-in-10 Rhode Islanders think abortion should be legal in most or all cases, according to a Pew survey of all 50 states — a higher percentage than Washingtonians, New Jerseyans and even Californians.
But progressives do not anticipate serious challenges to the powerful speaker of the State House, nor several other leading Democrats who hold more conservative views on abortion, guns and gay rights.
"I would have liked to see more people step up to run," said Hilary Levey Friedman, the president of Rhode Island chapter of the National Organization of Women. "The 2016 election felt like an attack on women's rights, so as many more women became politically activated, this will became a cornerstone issue."
Rhode Island stands out especially as the national Democratic Party becomes an increasingly inhospitable place for those who oppose abortion rights.
Kristen Day, the executive director of Democrats For Life, said, "It's a sad state of affairs right now."
"They're trying to redefine what it means to be a Democrat," she said. "And if it means that you have to support abortion to be a Democrat, a lot of people will walk away."
In March, party-aligned groups poured millions into a primary against one of the most prominent anti-abortion Democrats in Congress, Rep. Dan Lipinksi of Illinois. And Democratic National Committee Chair Tom Perez said "every Democrat" should support abortion rights after an uproar over an Omaha mayoral race. Even Alabama elected a proudly pro-abortion rights Democrat to the U.S. Senate.
So what's different about Rhode Island, which has not voted for a Republican president in over three decades?
"While the state as a whole is very pro-choice, districts are small enough that people frequently get elected by leaning on local bases that are parochial — figuratively and literally. That skews governance in a direction that is more socially conservative," said David Segal, a progressive former state representative who now runs the group Demand Progress.
In addition, outside interest groups don't have as much sway as they might in other places, said Barth Bracy, the executive director of Rhode Island Right to Life.
"Everybody kind of knows each other. It's not six degrees of separation, it's one degree," Bracy said. "I know the other side is recruiting candidates, but it's hard for someone to come from outside the district and tell people how they should vote."
The Roman Catholic Diocese in Rhode Island is unusually active in state politics. Its lobbyist, the Rev. Bernard Healey, is a regular sight in the Capitol. And the church is not afraid to throw its weight around or even dole out old-school retribution.
It once excommunicated the head of the state's Planned Parenthood chapter and barred then-Rhode Island Rep. Patrick Kennedy, a scion of the most famous Catholic family in America, from receiving communion. In 2014, a vote for same-sex marriage cost the speaker of the State House his leadership role at his local parish.
And in 2016, Raimondo's portrait was removed from the wall of notable alumni at her Catholic high school after she spoke to Planned Parenthood.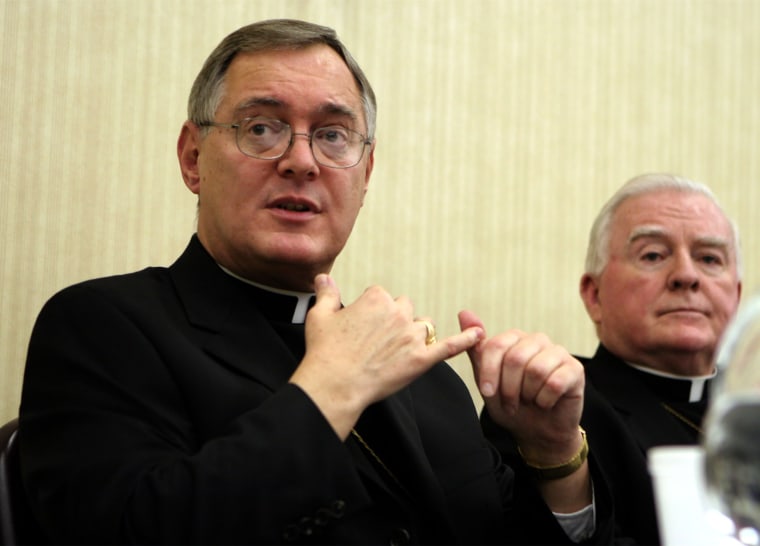 "It is always disappointing when a Catholic candidate for political office abandons the teaching of the church on the dignity of human life for the sake of self-serving political gain," Thomas Tobin, the powerful bishop of Providence said after the governor's portrait was removed. "Such actions demonstrate an inexcusable lack of moral courage."
Tobin, who is active on Twitter, once hit back at Pope Francis for saying church leaders should not be "obsessed" with abortion and gay marriage. "If it's an obsession to protect unborn life, then it's a very important obsession," Tobin responded to the pontiff.
Progressives in the state think they would win if the issue ever came to a head, but leaders in the legislature intentionally keep abortion rights bills from coming up for a vote, rather than openly opposing them. So, liberals say, many voters just assume the "D" next to their lawmaker's name means they support abortion rights.
"It's something that people don't really know and something that these conservative Democrats don't want people to know," said Jocelyn Foye, the co-creator of the Woman Project, which started in response to Trump's election to push for change in the state.
House Speaker Nicholas Mattiello does not apologize for keeping abortion off the agenda.
"I just remind folks that this is a very divisive issue on both sides," he told Rhode Island Public Radio in May. "And you know, it is an issue that would utilize all of the oxygen in the room. ... We've got important bills that are of concern to a lot of people."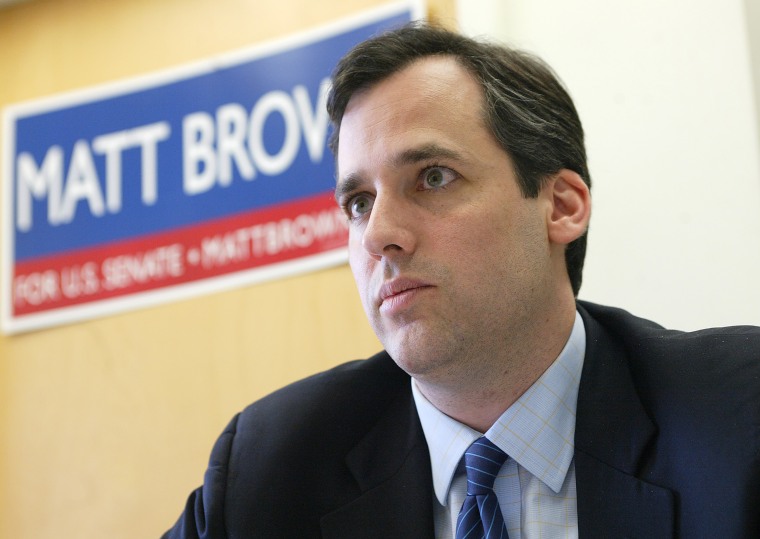 Raimondo, who was knocked by pro-abortion rights activists in her first term for changes regarding abortion coverage in the Obamacare healthcare exchanges, has increasingly been speaking out in favor of abortion rights and a spokesperson said she's always supported them.
Still, a group of prominent women's rights advocates, including Gloria Steinem, signed an open letter endorsing her Democratic rival, Matt Brown, and saying Raimondo "campaigns as pro-choice but governs as anti-choice."
Activists say the state is moving in their direction, with 11 Planned Parenthood-backed candidates winning state legislative elections in 2016 or special elections since then. But they acknowledge they're fighting an uphill battle, even with the national wind at their back.
"We have to align the stars," Foye said.