WASHINGTON — Alabama Democrats have a message for out-of-state allies eager to help in the state's Senate race: Thanks, but no thanks.
"I tell them to stay home," said Giles Perkins, the former executive director of the Alabama Democratic Party. "This is an Alabama race, and we will decide it here."
Allegations of sexual impropriety against Republican Senate candidate Roy Moore may have created an opening for Democrats. But the scandal has also blown up Democrat Doug Jones' strategy of keeping the race under the radar in the overwhelmingly Republican state — and out of the national partisan fray.
"I've been nervous about this hoopla involving Roy Moore because of the danger of sucking out the issues — kitchen table issues — that Doug needs to focus on," said Bob Vance, a Democrat who came within striking distance of beating Moore in the 2012 race for chief justice of the Alabama Supreme Court.
Jones has been trying to avoid polarizing the race along party lines, since that would spell doom in one of the reddest states in the country, and that means keeping national progressive groups and personalities on the sidelines.
"The ideal case for Democrats is if this is purely a referendum on Roy Moore — that is a very winnable race," said Alabama Democratic pollster Zac McCrary. "What you do not want is anything that pushes voters to go to their partisan corners."
That puts Alabama Democrats in the awkward position of trying to do two contradictory things at the same time — both harness and tamp down the groundswell of activism that has sprung up since President Donald Trump's election.
Anthony Daniels, the House minority leader in the Alabama state legislature, said the only thing he's asking out-of-state volunteers to do is urge Democrats they know in Alabama who might otherwise sit out the race to vote next month.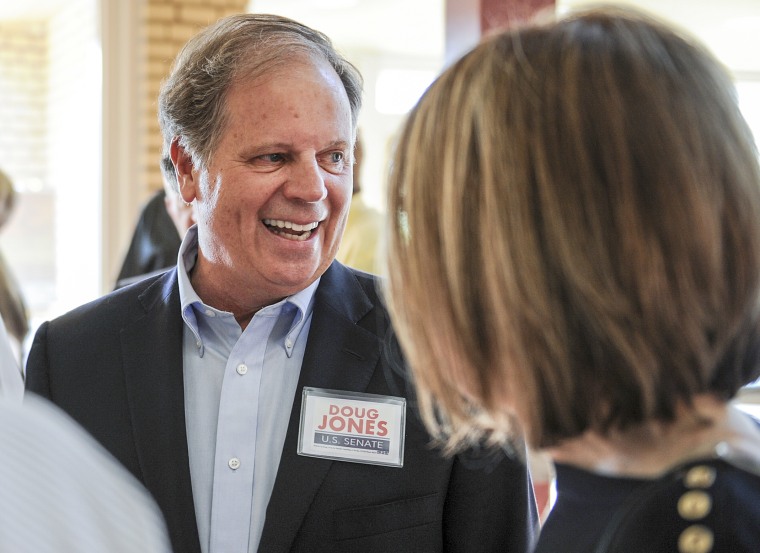 "I don't think it requires any boots on the ground from the outside," Daniels said. "Alabama is a state where they're not too fond of outsiders coming in and telling them what to do and how to do it."
Since the allegations against Moore were first reported in The Washington Post last week, some Republicans voters have rallied to the candidate's defense, with GOP strategist David Ferguson saying the effect of the report could be like "hitting the beehive with a baseball bat."
Moore has denied any sexual misconduct and said he plans to sue The Washington Post.
Jones has maintained a low profile on the controversy, issuing a one-sentence statement last week that avoided any mention of the election, giving clipped answers to questions on the matter, and putting out a brief statement Monday after another accuser came forward.
"We applaud the courage of these women," Jones said. "Roy Moore will be held accountable by the people of Alabama for his actions."
Turnout will be key in the Dec. 12 election, whose unusual date two weeks before Christmas may keep many voters away. Democrats are hoping their energized base, combined with a GOP base that was dispirited and divided even before the allegations, will lead to victory.
But that only works if Republicans let it happen by either staying home or breaking ranks to vote for Jones.
Their cautionary tale is the June special congressional election in a conservative-leaning Georgia district, which snowballed into the most expensive House race in history as Republicans energized their base with millions of dollars in TV ads portraying Democrat Jon Ossoff as a pawn of out-of-state liberals.
"As money pours into a race, it makes the race bigger than the two candidates on the ballot — it becomes a proxy war for the national parties," said Jon Vogel, a Democratic strategist who worked on both Ossoff's race and that of Ralph Northam, who last week won the Virginia governor's mansion.
The Alabama contest hasn't gained that kind of altitude yet. And Jones, a former U.S. attorney who prosecuted two Ku Klux Klan members for the 1963 16th Street Baptist Church bombing, would be somewhat insulated by his deeper roots in Alabama.
David Mowery, an Alabama Democratic strategist, said Jones "needs to send a message of 'radical moderacy' — 'I'm a normal dude who used to be a U.S. attorney and lawyer, but I'm not a radical.'"
If nothing else, the Moore dust-up will keep Republican money out of Alabama and encourage Democrats to open their own wallets, which should make it harder for the GOP to run the same playbook against Jones that they used on Ossoff.
And that is the clearest place outside Democrats can help.
Some of the party's biggest stars have sent fundraising emails on Jones' behalf — including Sens. Elizabeth Warren of Massachusetts, Kamala Harris of California and Chris Murphy of Connecticut — which are expected to rake in hundreds of thousands of dollars, according to people familiar with the race.
Jones had been expected to attend a fundraising event in Washington this week organized by the Democratic Senatorial Campaign Committee, but he decided to stay in Alabama, his campaign said Monday night.
Jones already has a cash advantage over Moore, according to the most recent disclosure reports, and has had the TV airwaves all to himself for the past four weeks, where he's been running positive spots about working with Republicans and trying to fix Washington.
But so far, Jones has only campaigned with a small number of national Democrats with appeal to relevant groups in Alabama, including former Vice President Joe Biden (white working-class voters) and the civil rights icon Rep. John Lewis of Georgia (African-Americans).
The rest of the party, meanwhile, has been kept outside the state's borders.
Alex Seitz-Wald and Mark Murray reported from Washington, D.C., and Vaughn Hillyard from Alabama.