It hasn't been easy being a Republican running for statewide office in Virginia over the past decade.
And this year, Ed Gillespie's run for governor could be even harder.
How difficult? For starters the GOP has won just one major statewide political race in Virginia (for president, governor or Senate) since 2005.
Additionally, with just one exception, the party controlling the White House has lost every gubernatorial race in the state since the 1970s — a sign of backlash against the new or re-elected president.
Then there's the Trump Factor in the general election, with the president's job-approval rating sitting at just 36 percent in the state, according to a recent Quinnipiac poll. Hillary Clinton defeated Donald Trump in Virginia in 2016, 50 percent to 44 percent.
"Virginians are focused on Virginia," Gillespie told NBC News in a recent interview, signaling his preference to run his campaign apart from national politics.
But if Gillespie — who narrowly lost a Senate race in 2014 to Democrat Mark Warner — wanted to distance himself from Trump, he faces a primary challenge from a pro-Trump Republican who has been campaigning on immigration and protecting Confederate monuments.
Add it all up — history, Trump, a primary fight — and Gillespie has a difficult, but still winnable, path to the governor's mansion.
"He's a good candidate with a tough job," says Jennifer Duffy, who monitors gubernatorial and Senate races for the nonpartisan Cook Political Report.
Duffy adds that one of the biggest lessons of the race, assuming Gillespie wins the GOP nomination on June 13, will be if he can avoid being attached to Trump.
"If somebody like Gillespie can't avoid being tagged to Trump, how does any Republican do it?"
"This Election's About Virginia"
In an interview with NBC News, Gillespie — a former counselor to George W. Bush, the former head of the Republican National Committee and a former prominent Washington lobbyist — said his attention in the race is on Virginia.
"As I travel Virginia, Virginians are very focused on Virginia," he said. "And I'm very focused on Virginia."
Indeed, when asked if he would campaign with Trump if he wins the GOP nomination in Virginia, Gillespie didn't directly answer the question.
"Look, a lot of Virginians voted for President Trump. And a lot did not," he replied. "This election's about Virginia and the future of the commonwealth we love."
Gillespie did answer other Trump-related questions. The president's biggest achievement so far? (Answer: Supreme Court pick Neil Gorsuch.) His biggest mistake? (Trump not initially exempting green-card holders from his original travel ban.) Other disagreements? (The White House's budget eliminating funding for cleanup of the Chesapeake Bay.)
But he was more comfortable turning the conversation back to his plans for Virginia.
"I've put forward policies that would provide much-needed tax relief," Gillespie said of his tax plan. "It's a 10 percent across-the-board cut… So it's time for us to bring down those rates, so we can be more competitive as a state with surrounding states."
Democrats: "He Doesn't Know How to Handle Trump"
Democrats argue that Gillespie won't have an easy time navigating Trump questions in a general election.
"He doesn't know how to handle Trump," says Ian Sams, communications director to Democratic gubernatorial candidate Tom Perriello, who has made opposition to Trump a central part of his candidacy. "Trump is very real to Virginia voters, and if Ed Gillespie doesn't realize that, it shows how out of touch he is."
Perriello's Democratic primary opponent, Lt. Gov. Ralph Northam, has a new TV ad criticizing Trump. "We're not going to let Donald Trump take us backwards," he says in the ad.
An adviser to Gillespie stresses that, traditionally, gubernatorial races don't hinge as much on national issues as Senate races do. And the adviser says that Gillespie's plan is to run on what's in his control — his policies and his ideas.
"No candidate wants to run a campaign where they're at the mercy of external events," the adviser says while still admitting: "The national political environment will always influence this race."
Gillespie's Challenge From the Right
But Trump isn't the only obstacle standing in Gillespie's way; he also has to defeat Prince William County ChairCorey Stewart and state Sen. Frank Wagner in the June Republican primary.
Stewart, who has made protecting Confederate monuments a pillar of his campaign, has referred to Gillespie as "Establishment Ed" for his days as a Washington lobbyist.
Democrats also have hit Gillespie for his establishment ties. "He's a Washingtonian with a Virginian address," Northam told NBC News in an interview back in March.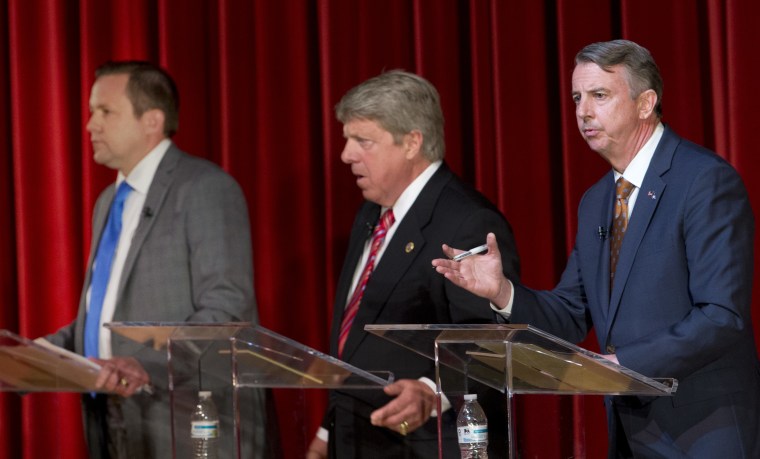 Perriello's added, "The … problem that Ed Gillespie has is that he's almost everything that Trump voters hate about their own party." (Gillespie fired back, "Congressman Perriello is obviously a creature of Washington — in a think tank and being a [former] member of Congress.")
"Gillespie's background will put him in the establishment box, and he'll have to work to overcome that," says Nathan Gonzales, editor of Inside Elections
But so far, Gillespie holds a double-digit lead over Stewart in the GOP contest, 28 percent to 12 percent, with more than 50 percent undecided, according to this month's Quinnipiac poll.
And Gillespie has united many of Virginia's key Republicans. "Virginia Republicans get that we need to win this year," the adviser to Gillespie says.
The GOP's Rough Record in Virginia Over the Last 12 Years
After all, the GOP has enjoyed little statewide success in the state over the last 12 years:
In 2005, Democrat Tim Kaine won the gubernatorial contest;
In 2006, Democrat Jim Webb defeated incumbent Sen. George Allen, R-Va.;
In 2008, Democrat Mark Warner took the state's other Senate seat, while Barack Obama won it in the presidential race;
In 2012, Kaine beat Allen in another Senate contest, and Obama won it in the presidential;
In 2013, Democrat Terry McAuliffe won the gubernatorial race;
In 2014, Warner barely beat Gillespie, 49 percent to 48 percent;
And in 2016, Hillary Clinton bested Donald Trump in the state.
The one exception here was in 2009, when Republican Bob McDonnell easily won Virginia's gubernatorial race. That's a 1-9 record for the GOP in presidential, Senate and gubernatorial races in the state.
"Virginians know that this next governorship is a critically important one for us," Gillespie told NBC News. "People know we can do better," he added, referring to the state's economic growth compared with other states (even though its unemployment rate stands at just 3.8 percent). "But if we don't make a change, then nothing will change."
In addition to that recent electoral history is the fact that the party controlling the White House has lost every gubernatorial contest in Virginia since the 1970s — with the one exception being McAuliffe's victory over Republican Ken Cuccinelli in 2013.
"The Republican nominee, likely Ed Gillespie, would probably be in better shape if Clinton was in the White House," says Kyle Kondik of the University of Virginia's Center for Politics. "It's easy to imagine that Clinton's approval numbers would be relatively poor given her low favorability during the campaign, and Gillespie could have nationalized the race."
"It is an impossible task to separate the national political climate, which in Virginia is just across the river," explained Sams, the Perriello aide.
But the events of last year — including Trump's victory in November — prove that historical norms and trends might no longer apply, Gillespie says.
"The Cubs won the [World] Series," he mused.