SPRINGFIELD, Ill. — Two years after foreign hackers broke into the Illinois state voter database, the FBI still hasn't told the state's top election official who is responsible — even though special counsel Robert Mueller has indicted 12 Russian agents on charges that include their role in the attack.
"It's considered an ongoing investigation," said Steve Sandvoss, executive director of the state Board of Elections.
NBC News reported in February that top secret intelligence requested by President Barack Obama in his last weeks in office identified seven states, including Illinois, where there was substantial evidence of compromise by the Russians.
Two years ago, said Sandvoss, "We determined that approximately 76,000 voter records were accessed."
The hackers took addresses, birthdates, gender, party affiliation and even the last four digits of some voters' social security numbers.
In Mueller's July indictment of a dozen Russian intelligence officers for interfering in the 2016 election, the Illinois intrusion is described in detail — but the state is never explicitly named.
Whether or not the feds are willing to say "Russia" and "Illinois" in the same sentence, Springfield is the front line in the war between foreign hackers and U.S. election officials. Sandvoss is hardening the state's cyberdefenses in case hackers come back to meddle in the upcoming midterms.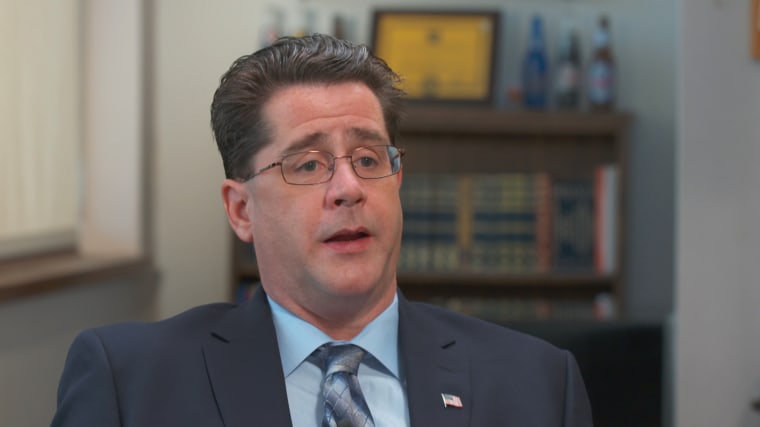 There is no evidence that any of the intrusions stopped anyone in Illinois from voting or changed the election results in any way. But intelligence sources tell NBC News the mere fact that the Russians have the ability to get "inside" causes worry they may create more problems this November.
From a strip mall office here in the state's capital, Sandvoss and his team are coordinating staff training in more than 10,000 voting precincts on how to implement a new Cyber Navigation Program meant to strengthen defenses, including a multistate information sharing program.
Illinois Board of Elections IT Director Matt Emmons also said cooperation between the FBI and the Department of Homeland Security and his state has improved greatly since the last federal election.
"Nobody in this job would ever give you a 100 percent guarantee about anything," said Emmons, "but I will tell you we are in a much better position that we were in 2016 — both internally, and I believe, as a country."
Right now, however, only about 25 percent of the state's more than 100 voting districts and 10,000 precincts are fully signed on to the Cyber Navigation Program, according to Emmons.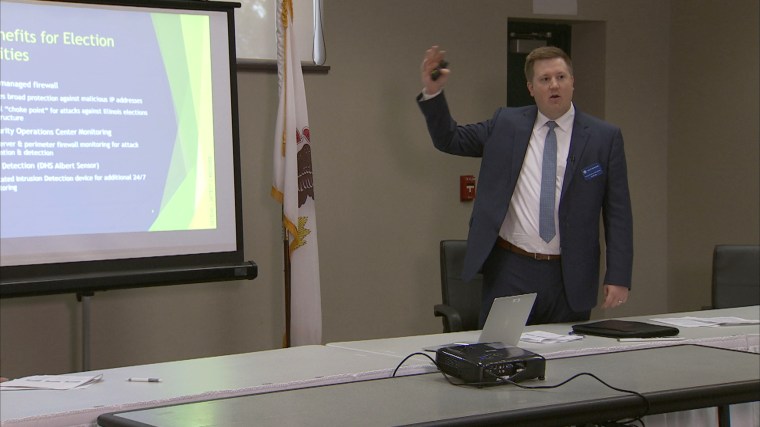 Will it be 100 percent by the election?
"Well, that's our goal," said Emmons.
As of January 2017, Illinois was one of the seven states where the intelligence community believed there was significant evidence of compromise prior to the 2016 election. The other states were Alaska, Arizona, California, Florida, Texas and Wisconsin, said three senior intelligence officials.
The officials say systems were compromised in a variety of ways, with some breaches more serious than others, from entry into state websites to penetration of actual voter registration databases.
While officials in Washington informed several of those states in the run-up to the election that foreign entities were probing their systems, none were told the Russian government was behind it, state officials told NBC News.
All state and federal officials who spoke to NBC News agree that no votes were changed and no voters were taken off the rolls. Officials in Wisconsin deny that their election systems were compromised in any way.