MIDLAND CITY, Ala. — On the eve of this state's special Senate election, Republican Roy Moore returned from a six-day campaign hiatus on Monday to attack the women who have accused him of sexual misconduct.
Speaking in a barn-style event center here in "The Wiregrass," the rural and heavily conservative southern tier of the state, Moore portrayed the multiple women as attention-seekers who, he said, "had not come forward" for 40 years but "waited until 30 days before this general election to come forward."
And he asked voters to judge his record against their claims.
"If you don't believe in my character," he said, "don't vote for me."
Earlier in the evening, Rep. Louie Gohmert, R-Texas, had put a finer point on the line of argument.
"If you wait too long to tell people, our judicial system says, 'Probably not true,'" Gohmert told the crowd before employing the Biblical story of Jezebel — whose false accusations led to a man's execution and who is often referred to as a prostitute — to underscore his point.
The allegations of sexual misconduct with teenagers, have turned what should have been an easy victory for Republicans into a competitive race, and they have made Alabama a focal point for political observers across the country.
Many national Republicans, afraid that a Moore victory could damage their brand heading into next year's mid-term elections and beyond, rescinded their support for him weeks ago. But his base has stuck with him, as have President Donald Trump and Steve Bannon, the Breitbart News executive and former White House chief strategist.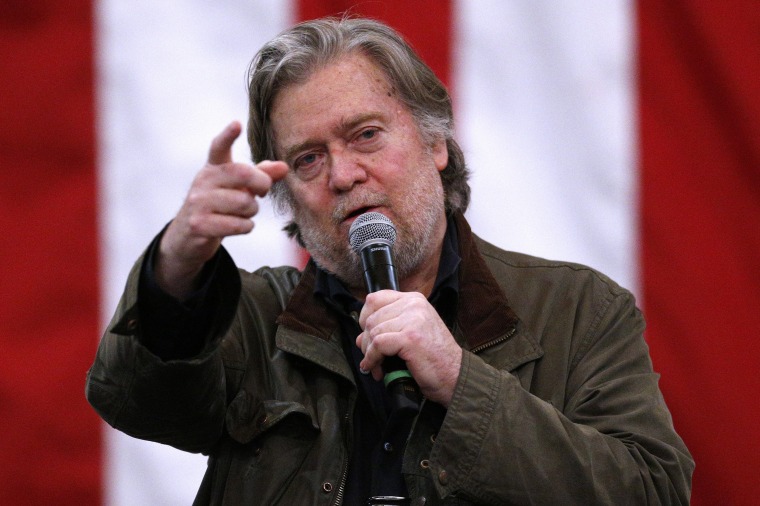 Bannon spoke here Monday night before Moore, calling out four establishment Republicans for criticizing Moore: Senate Majority Leader Mitch McConnell; Alabama Republican Sen. Richard Shelby; former Secretary of State Condoleezza Rice; and Tennessee Sen. Bob Corker.
"There's a special place in hell for people who should know better," Bannon said. "They're trying to shut you up."
His remarks about Republicans were harsher than his criticism of Moore's opponent, Democrat Doug Jones.
But it was Moore's return to the campaign trail for a last-minute pitch to the faithful here that electrified the crowd. After Bannon spoke, he entered the room to Lynyrd Skynyrd's "Sweet Home Alabama," with his wife, Kayla, at his side.
Kayla Moore sought to assure voters that her husband doesn't have anything against women, African Americans or Jewish people — noting that she is president of her husband's foundation, that he appointed the first black marshal at the Alabama Supreme Court, and that "one of our attorneys is a Jew."
When he took the microphone, Moore appealed to his base of white evangelical Christian voters by casting himself as a man beset by forces who don't share their religion.
"My opposition has always been about my acknowledgment of God," he said.
Similarly, Bannon had invoked God in a set of remarks that largely sought to demonstrate the importance of religious Republicans sending Moore to Washington to help implement Trump's agenda.
Trump's victory, he said, was delivered "by the hand of divine providence."
Trump won Midland City's Dale County with 74 percent of the vote in the 2016 presidential election, and the 46 percent of the GOP primary electorate he took in this county was more than twice the share that went for second-place finisher Sen. Ted Cruz of Texas.