PROVIDENCE, R.I. — Democrats have a very rare opportunity coming up to win when it matters most — if they can get their base to pay attention.
The upcoming slate of governors races combines an unusually favorable map for Democrats with a strong chance to influence the once-in-a-decade congressional redistricting process. That process helps determine how many seats each party holds in the House, and Republican success at controlling the process has helped the party achieve dominance in Congress.
Washington politicos and grassroots activists alike often overlook governors races, and that's especially true in the Democratic Party, which is years behind the GOP when it comes to investing in state races.
The party is down to just 16 out of 50 governors, the fewest in recent decades. It lost nearly 1,000 state legislative seats during President Barack Obama's eight years in the White House.
"We've been annihilated at the local level," Virginia Gov. Terry McAuliffe, a former national party chairman, told NBC News at the National Governors Association conference here last weekend. "My problem with the party is, we raise billions of dollars in the presidential year and then go away for four years until the next one."
McAuliffe, like other Democratic governors, has been traveling the country to preach about the "existential" importance of these races to the survival of his party to any officials and donors who will listen.
"We need to get in the game and build our bench because the governors are the future of the Democratic Party," McAuliffe said. "If we don't have them, [Republicans] are going to roll us in redistricting, and then it doesn't matter."
A well-timed wave in 2010 gave Republicans control over the last round of redistricting, which they used to draw congressional districts that have helped lock out Democrats from the House, even in years when Democrats win more votes.
Democrats have vowed not to lose another decade, and Obama has asked former Attorney General Eric Holder to lead a major redistricting project ahead of the 2020 Census that centralizes the party's beefed-up electoral, legal, and technical strategies, taking a page from the GOP's highly effective REDMAP program.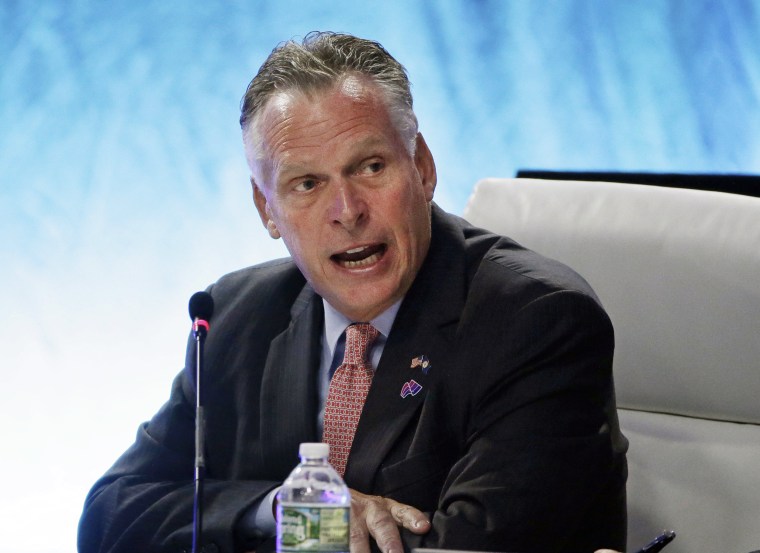 Connecticut Gov. Dan Malloy, the chairman of the Democratic Governors Association (DGA), said his party's leaders and operatives are increasingly aware of the importance of state races.
"People have tended to take their eye off gubernatorial races," Malloy said in an interview. "I don't think that's going to happen now. We're getting participation and support from corners of the party that historically have not invested in state races... and from people whose primary contributions have been to presidential or Senate campaigns."
The DGA enlisted the man who ran the campaign arm of House Democrats, former Rep. Steve Israel of New York, to explain to donors that no matter how much money his committee he had for House races, they were always disadvantaged by gerrymandering.
"I think the 2016 election was kind of a rude awakening for a lot of people that have focused primarily on the presidential and on Congress," said Elisabeth Pearson, the DGA's executive director.
And with durable gridlock in Washington, Democrats are playing catch-up with conservatives like the Koch family's political network and the American Legislative Exchange Council in turning to the states to advance their policy agenda.
"I hope that both Washington and folks around the country are focusing on these governors races, because they're what is even more tangibly going to be making a difference in people's lives," said Montana Gov. Steve Bullock.
That includes issues like voting restrictions, which can impact federal elections too, he noted.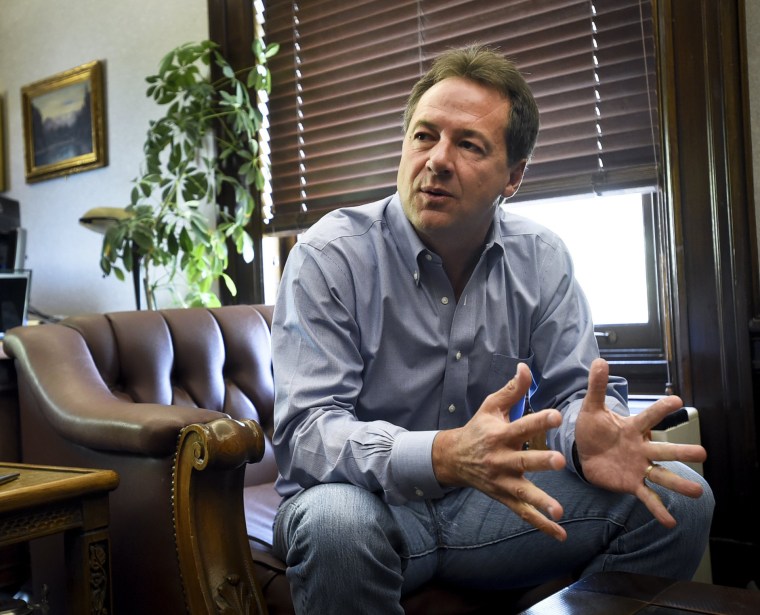 From Democrats' losses over the past decade comes an opportunity over the next two years, because Republicans may be overextended. Of the 38 governorships at stake, including two races this year, Democrats have to defend just 10, mostly in safe states, while Republicans have to defend 28, including in some of the bluest states in the country like Illinois and Maryland.
And 14 Republican incumbents will be leaving office, mostly because of term limits, creating more vulnerable open seats. That's an advantage for Democrats, because it's hard to knock off incumbents: 53 of the last 57 have won re-election.
Democrats have a good shot at winning both of this year's gubernatorial elections, in New Jersey and Virginia. And in 2018, they're eyeing pickups in blue states like New Mexico and Maine, and have recruited strong candidates in tossup states like Ohio and Florida.
With nine of the 10 biggest states in the county electing governors in 2017 or 2018, the cycle is expected to be most expensive in history. Spending in Illinois alone could top a quarter of a billion dollars.
But as Hillary Clinton learned, no amount of money can make up for a lack of enthusiasm, which has often crippled Democrats in non-presidential races, when their younger and more diverse base turns out less reliably.
Officials are counting on President Donald Trump to solve that problem by motivating their rank-and-file, just as a backlash to George W. Bush in 2006 gave Democrats their only midterm wave this century.
"I think it's going to be very straightforward to get people engaged, because they're watching Donald Trump," Democratic National Committee Chairman Tom Perez said after meeting privately with Democratic governors here.
Officials point to record-breaking turnout in Virginia's Democratic gubernatorial primary in June as proof that liberal voters are unusually active — but they worry openly whether that enthusiasm will sustain itself.
Persuading voters, which is crucial in down-ballot races outside blue states, will be difficult but crucial in contests where there are not enough reliable base voters alone to win. The DGA hopes new data it collected before and after the election on late-deciding voters will help.
"Large swaths of the country have been written off. And that's no way to win elections," said Bullock, who won relection in Montana last year as Clinton lost the state by 20 percentage points.
And North Carolina Gov. Roy Cooper, who also won re-election last year in a state Clinton lost, said Democrats in the states can help show Americans that the party is about more than just opposing Trump.
"We have to have a credible alternative for people," he said. "Because I believe that a lot of people voted for Trump not necessarily agreeing with him or believing his ideas, but simply because they wanted to shake things up in Washington."