WASHINGTON — The South is often viewed as a conservative monolith, but the region's political views are more nuanced — and moderate — than many might expect, according to new NBC News |SurveyMonkey polls.
The region's solid support for Donald Trump helped put him in the White House, but Southerners have cooled a bit on the president, with less than half saying they approve, 48 percent, and 51 percent disapproving.
Still, that's better than Trump's approval ratings nationwide, which stood at just 43 percent in the poll. And he remains popular in several of the Deep South states the polls examined in depth, with his strongest ratings coming from Mississippi, where 57 percent approve.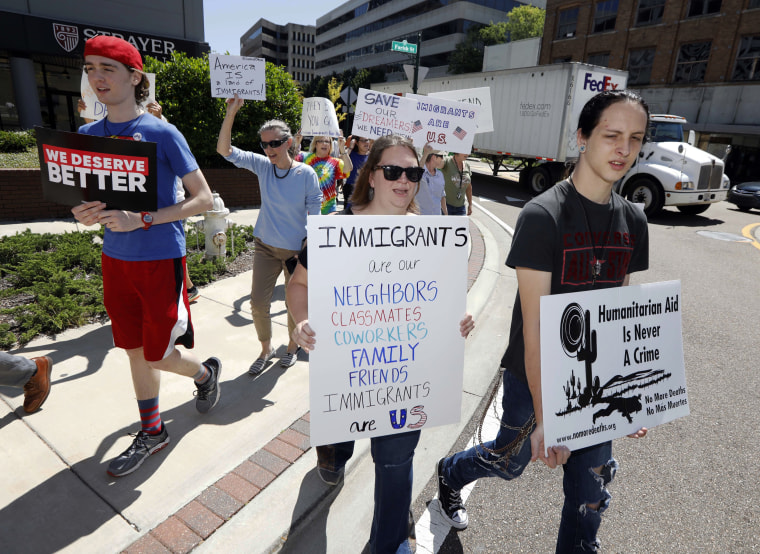 NBC News conducted the extensive surveys of the South in order to capture residents' attitudes in the fast-changing region of the country.
Overall, the polls found voters in Alabama, Arkansas, Florida, Georgia, Louisiana, Mississippi, North Carolina, South Carolina, Tennessee, Texas, and Virginia to be optimistic about the economy, amenable to immigration, approving of same-sex marriage and open to paying higher taxes to fund education and infrastructure.
At the same time, the polls found Southerners to be deeply distrustful of the federal government (only 2 percent said they "just about always" believe Washington will do what's right), opposed to the removal of Confederate monuments from public areas, and committed to the GOP.
Immigration
While Trump's hardline policies on illegal immigration may appeal to his base, Southerners are in line with the rest of the country on the question of whether undocumented immigrants in the U.S. should be offered a chance to apply for legal status.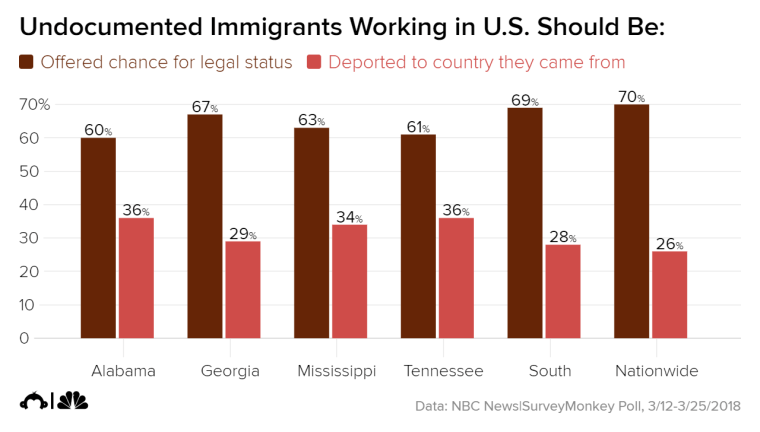 Seven-in-10 adults nationally and 69 percent in the South think migrants should be given a chance at attaining legal status, while 28 percent said they should be deported. And in the states polled individually —Alabama, Georgia, Mississippi and Tennessee — at least six-in-10 adults said they favored giving migrants a chance to attain legal status before deportation.
LGBT rights and 'religious freedom'
Less than three years after the Supreme Court legalized same-sex marriage nationwide, a majority of Southerners — 55 percent — say they support allowing homosexual couples to marry legally.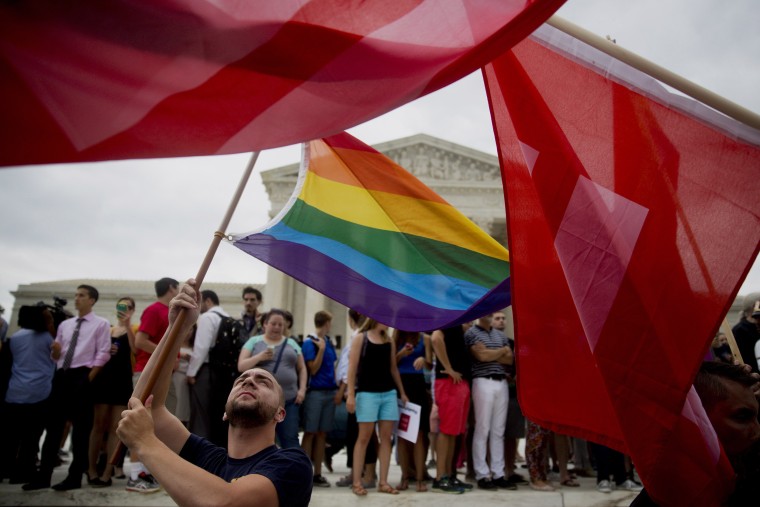 That's below the national rate of 64 percent, but nonetheless a drastic turnaround for a region that strongly opposed gay marriage not long ago.
Still, other LGBT rights and "religious freedom" issues remain thornier.
For instance, in Mississippi, 65 percent of adults think business owners should be allowed to refuse wedding services to same-sex couples if doing so violates the owners' religious beliefs. Just 30 percent of Mississippians said vendors like caterers and florists should be required by law to provide those services.
The Supreme Court is currently considering a case looking at that question.
Surprising finding on taxes
The polls also challenged conventional wisdom about taxes in conservative states.
On the heels of teacher protests in conservative West Virginia and Oklahoma, the poll found that a majority of Southerners are willing to pay more in taxes to fund education and infrastructure.

Interestingly, Southerners were actually slightly more willing to raise taxes on themselves than Americans overall, though the difference was within the poll's margin of error.
On education, 57 percent of Southerners — including as high as 60 percent in Mississippi — said they would pay higher taxes to improve public schools, compared to 55 percent of all Americans. The numbers were virtually identical when it came to taxes for infrastructure spending, with 62 percent of Mississippians agreeing.
Race relations, Confederate monuments
Across the board, Americans have a fairly dim view of the current state of race relations. Only 15 percent of Southerners think race relations are improving.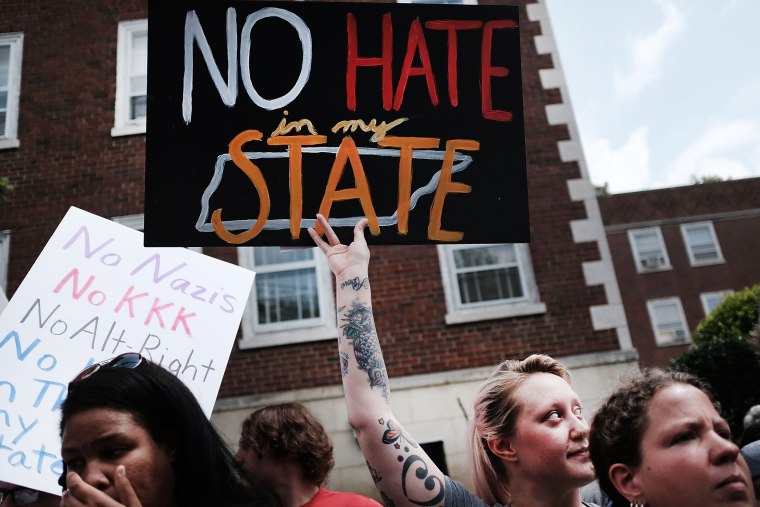 Meanwhile, a strong majority of Southerners — 61 percent — oppose removing Confederate monuments and statues from public spaces, while just 36 percent support their removal. That number is even higher in some Deep South states, with 65 percent of Alabamians and Mississippians opposing removal.
2018 midterms
None of these findings, however, suggest the region is ready to throw off the GOP and return to its Democratic roots.
Only a little more than a third of adults in Alabama, Mississippi, and Tennessee — where Democrats are hoping to contest a Senate seat — said they would consider voting Democratic in this year's midterm elections.
Nationally, the picture was reversed. Americans overall said they were more likely to vote Democratic (44 percent) than Republican (38 percent) this year.
Georgia
In all the data, one state stood out: Georgia. The economically booming and rapidly diversifying state has long been on Democrats' over-the-horizon wish list, and the poll gives them some cause for hope.
Unlike residents of other Deep South states, Georgians were split about evenly on whether they support Trump and whether they would vote Democratic or Republican this year.
Compared to residents in other Southern states, Georgians were more likely to trust the federal government, give undocumented immigrants a chance to stay, support LGBT rights, favor removing Confederate monuments from public places, and pay higher taxes to fund infrastructure and education.
And while most Southerners were bullish about the economy, a whopping 74 percent of Georgians rated their state's as good.
Still, Georgians overwhelmingly approved of their Republican governor and senators, which could be a bad sign for Democrats hoping to win the governor's mansion this year.
Alabama
About four months after his upset election in the deeply conservative state, Sen. Doug Jones remains popular.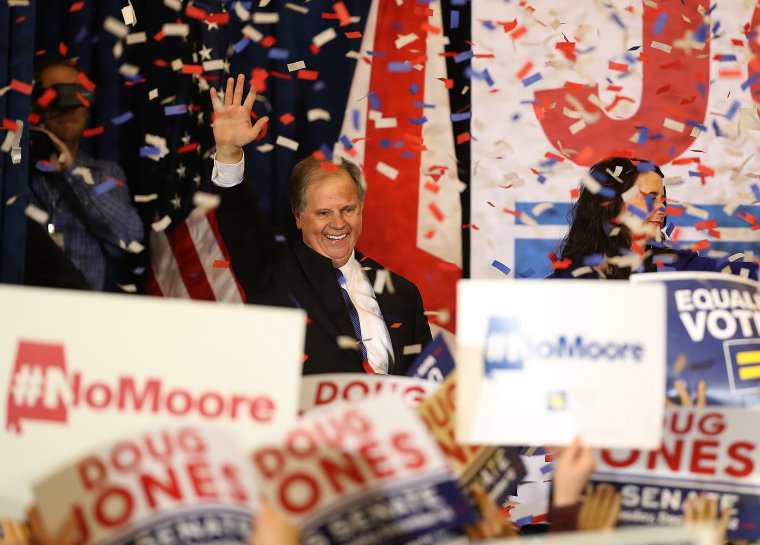 Fifty-two percent of Alabamians approve of Jones, while 40 percent disapprove — giving the Democrat nearly identical ratings to those of the state's other senator, Republican Richard Shelby.
Meanwhile, Gov. Kay Ivey, who took over after a sex-and-corruption scandal ousted the previous governor, is overwhelmingly popular, with 75 percent approving of Ivey, a Republican, and only 19 percent disapproving.
Mississippi
Mississippians are far less optimistic about the state of their economy and government than the rest of the South.
A plurality of Mississippians rate the economy as "very" or "fairly bad," while only 36 percent think the Mississippi state government is doing a good job at maintaining roads, bridges and other infrastructure. Those numbers are higher in other Southern states.
Nonetheless, Mississippians hold individual political leaders in high regard, with strong majorities approving of Gov. Phil Bryant (67 percent), Sen. Roger Wicker (61 percent) and Thad Cochran (59 percent), who resigned from the Senate this month, all Republicans.
Wicker is also up for re-election, setting up an unusual "double-barreled" Senate race this year that Democrats hope they have an outside shot at contesting.
Tennessee
Retiring Sen. Bob Corker, a Republican and frequent Trump critic, is barely above water in his home state. Forty-eight percent approve of him, while 47 percent disapprove.
That's notably weaker than the support enjoyed by his fellow Republicans, Sen. Lamar Alexander and Gov. Bill Haslam, whose approval ratings outstrip their disapproval ratings by double digits.
Former Gov. Phil Bredesen, a Democrat, is running to replace Corker and was ahead in a recent poll, but his party affiliation will probably be a drag. Just a third of Tennesseans said they would vote for a Democratic candidate this year, while half said they would vote Republican; 14 percent said they wouldn't vote at all.
The NBC News|SurveyMonkey polls were conducted March 12-25, 2018, among a national sample of 15,238 adults (+/- 1.1); a regional sample of 4,132 adults who live in Alabama, Arkansas, Florida, Georgia, Louisiana, Mississippi, North Carolina, South Carolina, Tennessee, Texas and Virginia (+/- 2.4); a sample of 1,486 adults who live in Mississippi (+/-4.6); a sample of 1,498 adults who live in Alabama (+/- 4.5); a sample of 2,209 adults who live in Georgia (+/- 3.4); and a sample of 1,710 adults who live in Tennessee (+/- 4.1). For full results and methodology, click here.