No Republican presidential contender has done more at this stage to woo Silicon Valley and the tech community than Rand Paul has.
The Kentucky senator – who is expected to announce his presidential bid this week – opened an office in Austin and has plans to open another in San Francisco; he's courted big-wig tech names like Sean Parker, the creator of Napster; and he even attended last month's hip South By Southwest convention.
Given his libertarian leanings, Paul's focus on the tech world makes perfect sense. "It is a no-brainer," says Tom Ross, a California-based Republican strategist. "There's a certain constituency that's really attracted to his message."
But besides his party label, there's one problem with Paul's message when it comes to winning over this traditionally Democratic-leaning community – he opposes net neutrality.
In February, the Federal Communications Commission announced rules to regulate the Internet as a public utility, barring service providers from charging companies different (and thus higher) prices for certain access. President Barack Obama publicly announced his support for net neutrality last fall, calling for impartial treatment by providers, but some Republicans say involving the federal government will only overregulate the system.
Yet being on the wrong side of net neutrality is a no-no in Silicon Valley, say some observers of the tech community. The reason: Tech companies believe that they should have equal access to the Internet.
"It's such a fundamental issue for the Internet," Paul Sieminski, a Republican who works at the firm Automattic, told the Los Angeles Times. "I guess it is a proxy on where a candidate may stand on a lot of issues related to the Internet."
In an interview, California-based Democratic strategist Chris Lehane agreed, calling net neutrality a "litmus test" for the tech industry. Lehane says Paul's opposition against the FCC ruling places him against the core spiritual values many in Silicon Valley hold.
But for Paul and other opponents of net neutrality, the free market – not the federal government – should determine access.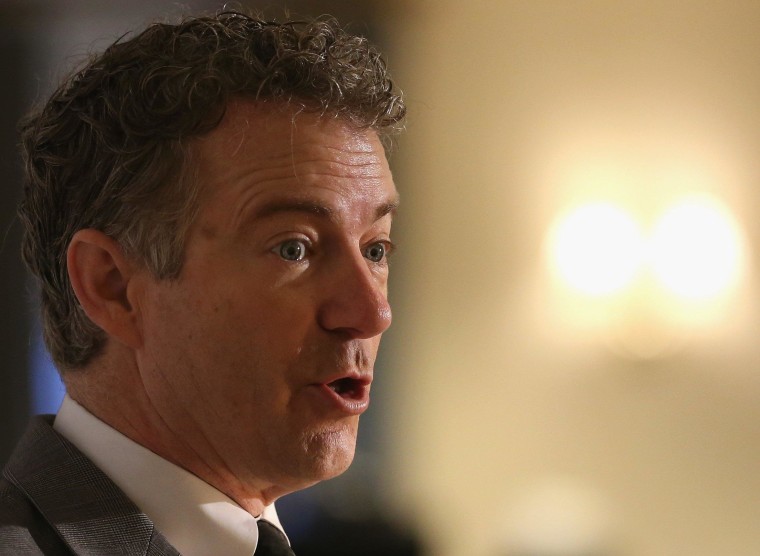 Sergio Gor, the spokesman at Paul's political action committee, says the senator won't support any proposition that provides the federal government with more power. A lot of tech companies have a "libertarian streak," Gor says, and they believe that Congress shouldn't stick their hands in the market.
(Other major Republican presidential candidates – including Jeb Bush, Ted Cruz and Marco Rubio – also have opposed the Obama administration's net-neutrality rules. Cruz even labeled it "Obamcare for the Internet.")
Margaret O'Mara, an associate history professor at the University of Washington who studies Silicon Valley, says she doesn't see net neutrality as "do-or-die" issue when it comes to a politician winning over the tech community. In reality, she says, there isn't a single issue that will be the deciding factor to gain support from the tech industry.
But, O'Mara adds, Silicon Valley has often gravitated toward outsiders disrupting the establishment – playing into support seen for Paul and Sen. Elizabeth Warren (D-Mass).
To gain support from Silicon Valley, it's not enough to promise change – President Barack Obama did that back in 2008, said Jim Greer, former CEO of Kongregate and co-founder of CounterPAC. A candidate needs to show the exact plans to change the system.
"The tech industry is only going to be relevant if someone can get the tech industry to believe," Greer said.
If that starts to happen, any time spent on the West Coast could help candidates brand their campaign with the mantras of Silicon Valley – young startups filled with fresh ideas, a perfect combination in the race for 2016.
"People want a bit of its magic," O'Mara said.