WASHINGTON — New York Gov. Andrew Cuomo easily fended off a challenge from actress Cynthia Nixon in a Democratic primary Thursday, following clashes between the two candidates that challenged his progressive credentials and her readiness for office.
The Associated Press projected Cuomo the winner just 30 minutes after polls closed. With more than 90 percent of precincts reporting, Cuomo led Nixon 65.3 precent to 35 percent, or 894,142 votes to 474,350 votes.
That puts Nixon on track to finish at almost exactly the same level of support as progressive insurgent Zephyr Teachout recieved in her 2014 challenge to Cuomo's re election. But with more than 1.3 million voting in this year's primary, turnout has more than doubled the 575,000 who voted four years ago.
Teachout's underfunded campaign surpassed expectations at that time, but anti-Cuomo forces had expected to do better this year as progressive insurgents scored upsets across the country, including New York City.
"He fought hard and he took nothing for granted in this race," Nixon said about Cuomo in her concession speech. "And when others were underestimating us he did not and he spent accordingly."
Republican Marc Molinaro will challenge Cuomo in November, but the incumbent is heavily favored to win a third term in Albany.
Nixon, the "Sex and the City" star, made a splash when she first got in the race and wasted no time throwing elbows at the governor. She ran hard to Cuomo's left, adopting every item on the progressive policy fantasy draft, from abolishing ICE to single-payer Medicare for All health care. She also landed some blows on Cuomo on more bread-and-butter issues, blaming him for the mounting problems of the New York City subway system.
But any momentum she had seemed to stall over the summer as Cuomo's poll numbers proved more durable than many had expected.
Despite her celebrity, Nixon struggled to raise the money needed to compete seriously in a large and expensive state like New York. In the final poll of the race, more than a quarter of likely Democratic voters said they didn't know enough about Nixon to form an opinion.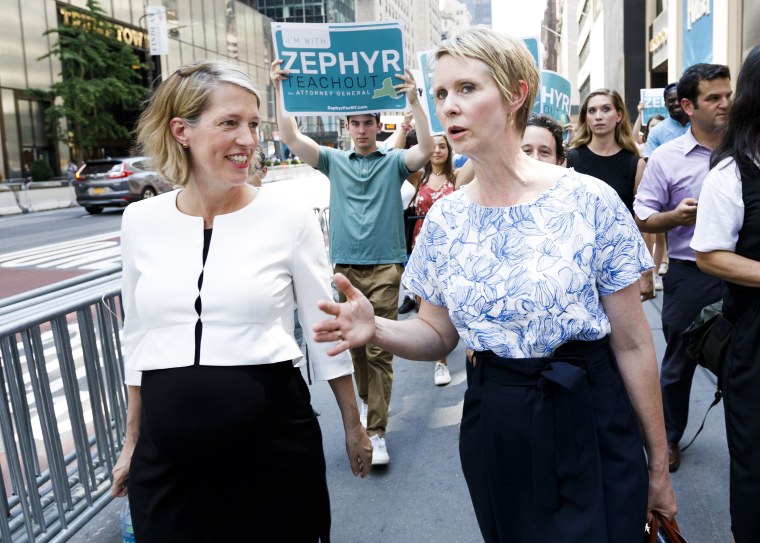 She also faced persistent questions about her qualifications to run the third most populous state in the country. The New York Times editorial board, for instance, took no pleasure in endorsing Cuomo, whom it has tangled with, but it concluded "Nixon's lack of experience in government or management of any sort do not inspire confidence."
Cuomo has never been a favorite of his party's left flank, perhaps made most clear by his very public feud with New York City Mayor Bill De Blasio, who has positioned himself as a national liberal leader and did not endorse in the gubernatorial primary.
Cuomo appeared somewhate vulnerable after Teachout's challenge and Alexandria Ocasio-Cortez' victory in a Queens primary. But Cuomo is nothing if not a skilled political operator, and he's used his control of the state Democratic Party and, critics say, the state government, to shore up his position.
The son of the late and legendary Mario Cuomo has plenty of friends in high places, calling in favors from Joe Biden, Hillary Clinton and others, who traveled to state party convention to endorse Cuomo in person. Even Democratic National Committee Chairman Tom Perez, who pledged he would remain neutral in primaries appeared at the convention to endorse the governor, prompting a rebuke from his own deputy chairman.
In the race for New York attorney general, New York City Public Advocate Letitia James beat Teachout and two other candidates, the AP projected, including Rep. Sean Patrick Maloney, D-N.Y.
House Democrats will likely be happy to have Maloney run for reelection, since it leans slightly Republican and he's proven he can win it.
Nixon's running mate, Jumaane Williams, who is African American, did better than she did, but Lt. Gov. Kathy Hochul still won renomination, 53 percent to 47 percent. It's another example of minority insurgent candidates performing better than their white counterparts.
Further down the ballot, progressives cheered as they ousted members of the recently disbanded Independent Democratic Caucus (IDC), a breakaway group of Democratic lawmakers that caucused with Republicans to give the GOP control of the state Senate.
Challengers are leading six of the eight members of the IDC and only one has so far secured renomination.
Meanwhile, Julia Salazar, a member of the Democratic Socialists of America, appears to have easily defeated New York State Sen. Martin Dilan, despite a string of tabloid stories about Salazar allegedly fabricating her Jewish and working-class roots, among other issues.
"New York politics changed forever tonight. The IDC is dead. The center of gravity has shifted, and Andrew Cuomo will face a radically different Albany," said Bill Lipton, who runs the New York Working Families, a liberal party that backed Nixon and has fought a longrunning war with the IDC.