For the second time in 18 years, a pivotal election may be slipping away from Democrats in Florida thanks to an unlikely culprit: the design of a ballot.
That possibility now looms over the Senate contest after machine recounts were ordered Saturday in that race, as well as the battle for governor.
If a recount leaves the Democratic incumbent, Sen. Bill Nelson, on the wrong side of the ledger, Democrats will be left to grapple with a major issue in what is supposed to be one of their most reliable vote-producing counties.
Broward County, just north of Miami, is home to nearly 2 million people, making it one of the largest counties in America. For Democrats, it is also a vote-producing behemoth, typically accounting for more than 10 percent of all of the votes they receive statewide. Not surprisingly, based on the ballots counted from Broward so far, Nelson is crushing his Republican opponent, Gov. Rick Scott, 69 percent to 31 percent.
But that's where the ballot issue comes in. While there have been a lot of votes cast in Broward in the Senate race, there were more cast in the governor's race. As of Saturday, the gap stood at about 26,000.
This means that on about 26,000 ballots, voters registered their choice in the governor's race, which pitted Democrat Andrew Gillum against Republican Ron DeSantis, but not for Senate. That adds up to about 3.7 percent of all ballots cast in Broward. To put it mildly, that number is radically higher than anything found in any of Florida's 66 other counties, where votes cast in the Senate and gubernatorial races have tracked about evenly.
Clearly, something is up in Broward — but what? The Nelson campaign's attorney, Marc Elias, is suggesting that there is a machine issue that somehow resulted in votes from the Senate race not registering from some ballots. Broward's election supervisor, Brenda Snipes, meanwhile, is insisting there is no technical issue. If there is one, the recount will presumably catch it.
But the other possibility here is one that will evoke long-suppressed unpleasant memories for Democrats of a certain age: Did the design of Broward's ballot cause a small but critical chunk of voters to miss the Senate race?
There is some compelling evidence for this theory. A look at the Broward ballot shows that the Senate race occupies a lonely corner, buried in the left column under a lengthy set of instructions. The governor's race, meanwhile, is perched prominently atop the middle column, with wide spacing between the names of all six candidates who qualified to run. There's no question where the eye is more easily drawn.
Then there is this: On the Broward ballot, the Senate race is paired in that lower left column with one other contest, for the House. Broward contains parts of four congressional districts — all of them safely Democratic — so voters in different parts of the county had different House races on their ballots. But in one of those districts, Rep. Frederica Wilson's 24th Congressional District, there was apparently no House race listed at all. That's because Wilson was running unopposed and Florida law mandates that the race simply not appear on the ballot in such a case, with the sole candidate simply being deemed the winner.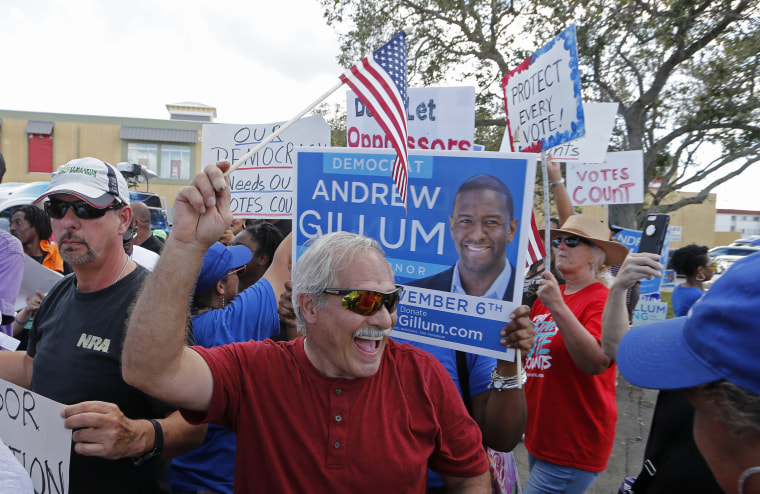 And, as political cartographer Matthew Isbell discovered, in the small portion of Broward County that is part of the 24th District, the number of ballots that contained no vote in the Senate race exploded. Patrick Murray, director of the Monmouth University Polling Institute, also examined results from precincts around the county and found that the number of non-votes in the Senate race was significantly higher than the statewide average everywhere — and particularly in the 24th District.
These findings strongly suggest that a small share of Broward voters simply missed the Senate race. The consequences could be enormous.
If most of those 26,000 had voted in the Senate race, and if they'd done so at the 69 to 31 percent rate for Nelson seen countywide, Nelson would have earned a plurality of about 8,000 from them. Scott is leading by about 12,000 votes as of this writing, but if the final statewide margin is trimmed to less than 8,000 votes after the recount, the Broward ballot could have ended up being the difference.
This is trauma that Democrats in Florida — and across the country — are only too familiar with.
Back in 2000, when George W. Bush claimed the presidency with an official victory margin of 537 votes in Florida, it was the ballot of another giant and heavily Democratic county that helped to doom Democrats. Then, the culprit was Palm Beach County and its infamous "butterfly ballot," which produced widespread confusion and a fateful anomaly, with Pat Buchanan receiving nearly four times as many votes in Palm Beach than in any other Florida county. Even Buchanan would later say that he believed the bulk of those 3,411 votes were intended for Al Gore.
There were, of course, other factors at play in Florida in 2000. Democrats maintain that a recount under a certain set of conditions would have given the state to Al Gore, while Republicans insist that the TV networks' early call of the state for Gore — when polls were still open in the strongly Republican Panhandle region — led dejected Bush voters to go home without casting ballots. It's impossible to pinpoint one factor that made all the difference.
But it's also impossible for Democrats to forget that Palm Beach ballot, just as this year's Broward ballot may end up etched into their memories forever.