Voters will pick who they're sending to Congress and to their statehouses on Tuesday, but many will also get to weigh in on issues like abortion, gun control, marijuana and the minimum wage.
In more than 40 states, voters' ballots will include statewide measures on important issues. Here are a few of the hot button topics you'll see on state ballots across the country this fall.
Abortion
Colorado, South Dakota and Tennessee are all considering measures that would have a possible effect on the states' abortion practices. The initiatives on the ballots in Colorado and South Dakota in particular are drawing national attention.
In South Dakota, voters will decide on an amendment that would define life as the beginning of conception, and establish the "unalienable right to life" during every stage of development.
This fall, Colorado is considering a so-called "personhood" amendment to its constitution that, if approved, would modify the state's criminal code to include unborn human beings under the terms "person" and "child" in legal statutes. Coloradans soundly rejected similar measures in 2008 and 2010 by more than 70 percent, but supporters of the 2014 initiative say this is a fresh take on a personhood amendment.
Preview the NBC News Midterm Election Book HERE
In South Dakota, voters will decide on an amendment that would define life as the beginning of conception, and establish the "unalienable right to life" during every stage of development.
Opponents of the Colorado and South Dakota amendments argue the measures could restrict access to birth control and potentially lead to a sweeping ban on abortion.
Marijuana
Two more states (plus the District of Columbia) may join Colorado and Washington in legalizing marijuana following major ballot initiatives this fall.
Voters in Alaska and Oregon will consider proposals to legalize marijuana for recreational use for those 21 and older. If approved, the Alaska statute would allow those of legal age to possess up to one ounce of marijuana and up to six plants. It would also allow the state to tax and regulate pot production, sale and use.
The Oregon measure is similar, but would allow for possession of up to eight ounces. Like the Colorado and Washington laws, neither the Alaska nor Oregon law would allow for individuals to sell or dispense marijuana without obtaining a license (the District of Columbia measure is the only one that does not establish a system for managing sales of the drug).
The New York Times recently reported that Colorado collected about $18.9 million in revenue from taxes on marijuana between January and June of this year.
Gun Rights
In Washington, two ballot measures involving gun rights are garnering major support around the state. Ironically (or perhaps not), the two are actually counter-measures.
Washington Initiative 591 would prevent the government from requiring statewide background checks for gun purchases until a federal standard is established (which is unlikely to happen anytime soon after the U.S. Senate rejected a bipartisan attempt to expand background checks in 2013). The measure would also prevent the state from confiscating firearms without due process.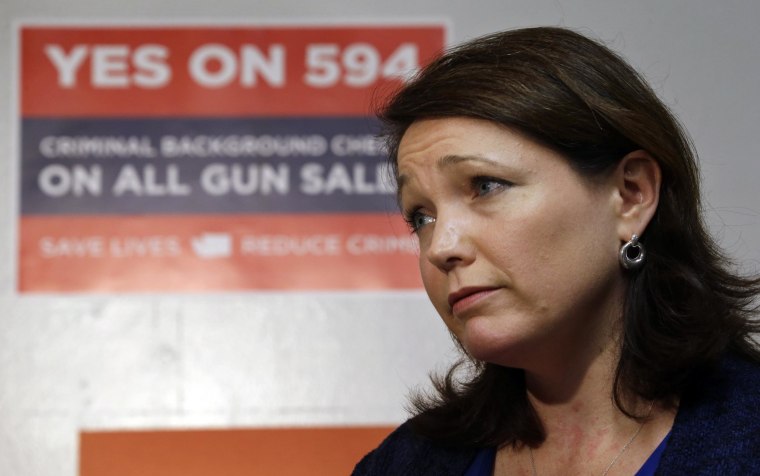 Initiative 594 would do essentially the opposite, and if approved would implement statewide background checks In this Oct. 10, 2014 photo, Atlee Breland, president of Parents Against Personhood, speaks during a news conference and rally against Amendment 67, the so-called personhood measure, at Planned Parenthood of the Rocky Mountains, in Denver. Colorado voters will see a third attempt to extend rights to unborn children on ballots this year. But it's not clear what exactly this year's so-called "personhood" measure would do if it's approved.for all gun purchases in the state, including private sales.
If both were to pass, which according to the Ballot Initiative Strategy Center is a real possibility, it is unclear how Washington courts would rule to solve the matter.
Healthcare
Surprisingly, only one healthcare ballot issue this fall is making waves, and it involves one of the hottest issues around the country right now – birth control.
The state of Illinois is asking voters in a non-binding ballot question whether prescription birth control should be covered under health insurance plans that provide coverage for prescription drugs. Illinois Republicans have claimed that all three ballot questions this fall are a ploy by Democratic lawmakers to beef up the party's ticket.
Although research has shown ballot initiative spill-over has little impact on final elections results, according to the Initiative and Referendum Institute, it is likely that this issue will get women voters' attention this fall.
Minimum Wage
No ballot measure has been as consistently successful at the polls lately as those increasing the minimum wage.
Since 2000, all 10 state proposals to raise minimum wages have been approved by voters by an average margin of 65 percent, according to the Initiative and Referendum Institute.
Democrats in particular are hoping votes on wages in Alaska, Arkansas, Illinois, Nebraska and South Dakota will energize their voting base and increase turnout this fall. Among those five states considering new minimums, three have contentious Senate midterm races that could determine which party controls the majority of the U.S. Senate come next year. Additionally, three sport close contests for the governor's seat.
GOP-friendly Alaska is considering incremental changes that would raise the state's current $7.75 minimum by one dollar for each of the next two years. With Democratic senator Mark Begich fighting for his political life, anything motivating left-leaning voters to show up to the polls will only help his chances of holding onto his seat. Republican Gov. Sean Parnell is also trying to fend off an independent challenger in the state.
Sen. Mark Pryor, another Democrat, is struggling in Arkansas where there is also a tight race for the opening in the governor's office. Voters in the Natural State are considering a one-time hike that would increase the minimum wage more than 25 percent to $8.50.
In one of the three advisory questions on the ballot this fall, Illinoisans will look at on a one-time increase to boost the state's minimum wage to $10 before Jan. 1, 2015. State Gov. Pat Quinn is locked in a tight contest with GOP businessman Bruce Rauner and a vote on wages could provide a slight boost to the struggling incumbent.
Like Alaska, Nebraska and South Dakota – where independent Larry Pressler is shaking up the Senate race -- are also considering incremental minimum wage increases. The Cornhusker State will vote on increasing the $7.25 minimum by a dollar a year over the next two years, while South Dakotans will look at an interesting proposal that will raise the minimum to $8.50 in 2015 and then adjust the rate annually based on increases to the cost of living.
Political Reforms
This fall, Oregon could become the latest state to introduce the so-called top-two candidate primary election system.
Also known as a Louisiana primary, it is an open system of voting that groups all candidates on the same primary ballot regardless of party. The top-two vote-getters from the open primary then move on to the general election. Other states that currently have a two-top primary include California, Louisiana and Washington.
In 2008, Oregon attempted to pass a similar measure, but it was defeated by voters 66 to 34 percent. Like in California and Washington, both the Republican and Democratic Party of Oregon have come out against the initiative and said that it limits choices and does not increase voter turnout.