At the urging of President Donald Trump, CIA Director Mike Pompeo met last month with a former U.S. intelligence official who advocates a fringe theory that the hack of the Democrats during the election was an inside job and not the work of Russian intelligence, the former official told NBC News.
"He's trying to find some factual evidence," said Bill Binney, a former code-breaker at the National Security Agency.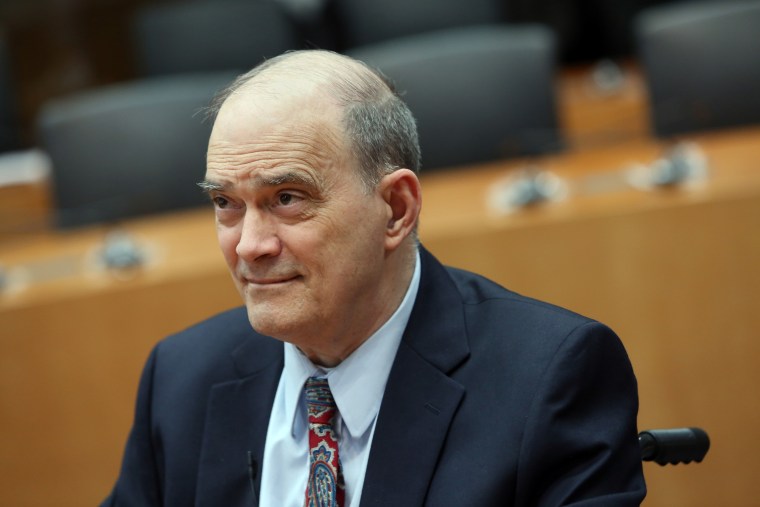 Binney left the agency in 2000 and has become a self-styled whistleblower, making unsupported claims that the NSA is collecting and storing nearly every U.S. communication. His meeting with Pompeo was first reported by The Intercept, an internet news site.
Binney told NBC News that Pompeo informed him that the CIA director took the meeting at the urging of the president.
In a statement, a CIA spokeswoman did not dispute that, but declined to comment.
"The Director stands by and has always stood by the January 2017 intelligence community assessment," on Russian election interference, spokeswoman Nicole de Haay said.
She added, "The director has been adamant that CIA officers have the time, space and resources to make sound and unbiased assessments that are delivered to policy makers without fear or favor."
The intelligence assessment concluded with high confidence that Russia sought to interfere in the 2016 presidential election, in part by hacking computers at the Democratic National Committee and leaking embarrassing documents. One of the goals was to benefit Trump, the assessment said.
Trump himself has not embraced those conclusions. And Pompeo, a former Army officer and Harvard Law School graduate who gives Trump his intelligence briefing nearly every day, is clearly under pressure over the issue.
Last month, the CIA had to correct Pompeo's erroneous statement that the intelligence assessment found that the Russian interference campaign did not alter the outcome of the election. No such conclusion was made.
It is extremely unusual for a CIA director to meet with someone like Binney, who for years has accused U.S. intelligence agencies of subverting the constitution and violating the civil rights of Americans. He has been feted in Europe and elsewhere as a truth-telling whistleblower, but American officials of all political persuasions say his allegations about the NSA are false.
Making the meeting even more noteworthy is the fact that Binney, 74, has made frequent appearances on RT, Russia's state-funded broadcasting and internet news agency — which the CIA recently accused of acting as a propaganda arm for Russia, with the goal of undermining confidence in American democracy.
Binney met with the director in his 7th floor office at the CIA's original headquarters building, where the lobby includes a memorial wall carved with stars to remember fallen officers. Two CIA officers accompanied Pompeo and asked technical questions, he said.
Binney said he did not discuss with Pompeo his longstanding allegations that U.S. intelligence agencies have been acting illegally.
He has also been a frequent guest on Fox News and has often been cited by Breitbart News, two right-wing outlets to which Trump pays close attention.
Binney told NBC News he believes Trump learned about his theory by watching his recent Fox television appearances.
"I think he probably saw me on those programs," Binney said.
Binney said he voted for Trump, because he considered Democrat Hillary Clinton "a war monger."
Over the summer, Binney co-authored a memo published by members of a group of former intelligence officials calling themselves Veteran Intelligence Professionals for Sanity (VIPS). The memo argues that the DNC emails were not taken by Russian hackers, but were instead downloaded to a thumb drive, and therefore stolen by an insider.
The memo has since been disputed, even by some members of the group, including Thomas Drake, another NSA whistleblower.