A Board of Elections error in the tabulation of the early results in New York City's ranked-choice Democratic mayoral primary has thrown the race into uncertainty, prompting officials to remove preliminary numbers from the elections website hours after posting them.
The board released a statement Tuesday evening saying that when it posted the initial results from the multiple rounds of ranked-choice voting earlier, it had included 135,000 test ballots that had not been cleared from the board's management system. This happened, the board explained, despite its "rigorous and mandatory pre-qualification testing" for every election.
"Board staff has removed all test ballot images from the system and will upload election night results, cross-referencing against election night reporting software for verification. The cast vote record will be re-generated and the [ranked-choice voting] rounds will be re-tabulated," the statement said. "The Board apologizes for the error and has taken immediate to [sic] ensure the most accurate up to date results are reported."
The initial results, released Tuesday afternoon, showed Brooklyn Borough President Eric Adams and former Sanitation Commissioner Kathryn Garcia in a tight race for the nomination.
Adams, a former NYPD captain, had 51 percent of the vote to Garcia's 49 percent in the now-discredited tabulation.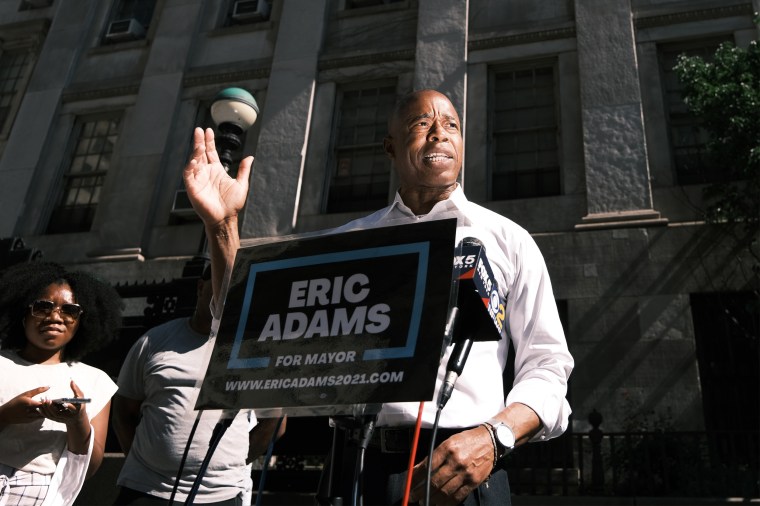 In a statement Tuesday, after the initial results were released, Adams was the first to raise concerns about the numbers.
"The vote total just released by the Board of Elections is 100,000-plus more than the total announced on election night, raising serious questions," Adams said in a statement. "We have asked the Board of Elections to explain such a massive increase and other irregularities before we comment on the Ranked Choice Voting projection."
After Adams raised questions, the board released a statement on Twitter saying it was aware of a discrepancy and working with its technical staff to correct the results on the site. By Tuesday night, the numbers had been taken down and replaced with a note saying results would be released Wednesday.
Late Tuesday, Adams called the mistake "unfortunate."
"It is critical that New Yorkers are confident in their electoral system, especially as we rank votes in a citywide election for the first time," he said in a statement tweeted by his campaign. He also praised what he called the Board of Elections' transparency in acknowledging the error.
Garcia called the release of inaccurate results "deeply troubling," and in a statement released on Twitter she called for more transparency and a "complete explanation."
"Every ranked choice and absentee vote must be counted accurately so that all New Yorkers have faith in our democracy and government," Garcia's statement said.
Voting ended June 22, and Adams enjoyed a lead of roughly 75,000 votes over civil rights lawyer Maya Wiley, who saw a boost in the polls after being endorsed by Rep. Alexandria Ocasio-Cortez, D-N.Y. Garcia was in third at the time.
Wiley excoriated the elections board late Tuesday. "This error by the Board of Elections is not just failure to count votes properly today, it is the result of generations of failures that have gone unaddressed," she tweeted. "Today, we have once again seen the mismanagement that has resulted in a lack of confidence in results, not because there is a flaw in our election laws, but because those who implement it have failed too many times."
The Board of Elections did not immediately respond to a request for comment.
Voters overwhelmingly approved a 2019 ballot measure to implement ranked-choice voting, allowing them to list their preferences for up to five candidates.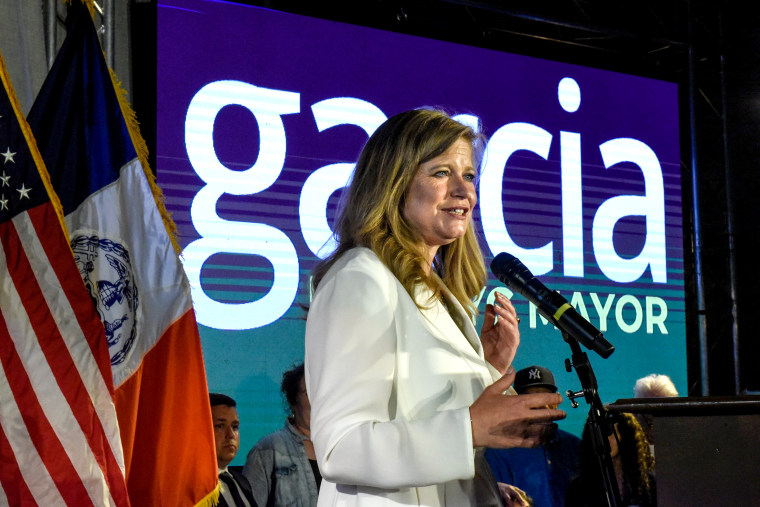 If no candidate receives a majority of first-choice votes, the one with the fewest number of first-choice votes is eliminated and their votes get redistributed to other candidates based on their voters' next choice. The process repeats itself until someone crosses the 50 percent threshold.
The board's timeline suggests all counting could be done by early-to-mid July.
Whoever wins the Democratic primary will be heavily favored in November against the Republican nominee — radio host and 1970s anti-crime activist Curtis Sliwa.