WASHINGTON — Warning that these are "extraordinary" and "dangerous" times, former President Barack Obama on Friday unleashed his most direct and forceful attack on President Donald Trump and said internal resistance within the administration is not the right way to stop him.
During a speech at the University of Illinois Urbana-Champaign, Obama slammed "crazy stuff" coming out of the Trump White House and blasted the president for trying to politicize the Justice Department.
"It should not be a partisan issue to say that we do not pressure the attorney general or the FBI to use the criminal justice system as a cudgel to punish our political opponents. Or to explicitly call on the attorney general to protect members of our own party from prosecution," Obama said, referring to tweets from Trump criticizing Attorney General Jeff Sessions for prosecuting two GOP congressmen for corruption.
And Obama took Republicans in Congress to task for being "utterly unwilling to find the backbone to safeguard the institutions that make our democracy work." Even Republicans "who know better," Obama added, "are still bending over backwards" to protect Trump.
"This is not normal," Obama continued. "How hard can that be, saying that Nazis are bad?"
Trump said later that he tried to watch the former president's speech.
"But I fell asleep. I found he's very good — very good for sleeping," Trump told reporters, adding later sarcastically, "If that doesn't get you to go out to vote (Republican) for the midterms, nothing will."
His criticisms of the president went beyond democracy issues to the economy — the strongest piece of Trump's record, which was bolstered further by favorable jobs numbers released on Friday. "When you hear how great the economy is doing right now, let's just remember when this recovery started," Obama said, noting job gains began during his presidency amid the Great Recession 10 years ago.
The speech marked a return to politics for the former president and the kickoff of his midterm election push for Democrats. Obama has intentionally kept a low profile since Trump's inauguration, sometimes to the disappointment of Democrats, who would like to see him doing more to lead the party in its fight against Trump.
"In two months, we have the chance, not the certainty, but the chance, to restore some semblance of sanity to our politics," Obama said, urging his young college audience not give up on politics. "You cannot sit back and wait for a savior. You can't opt out because you don't feel sufficiently inspired by this or that particular candidate."
Obama said he's stayed above the political fray to spend time with his family and follow the precedent set by former presidents, starting with George Washington.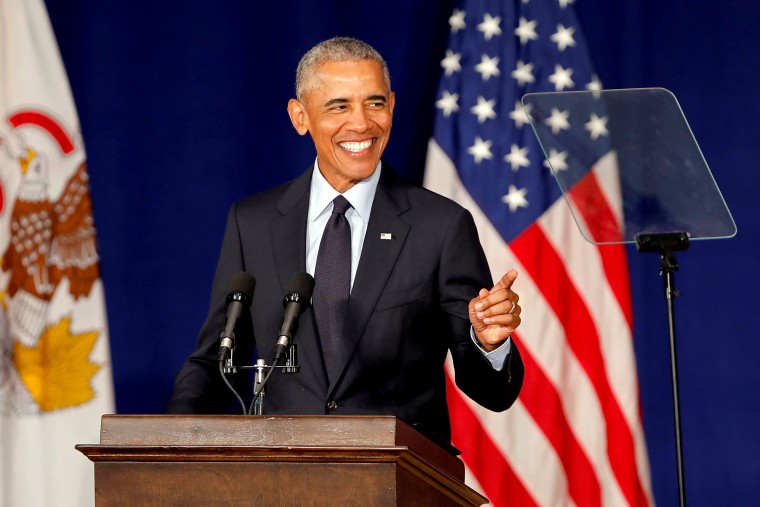 He'll campaign Saturday in Southern California for Democratic congressional candidates in some of the most competitive districts in the county. Next week, he'll hit the trail for Ohio gubernatorial candidate Richard Cordray, who previously served as head of the Consumer Financial Protection Bureau, which was created under Obama. He also recently appeared in a video for Illinois gubernatorial candidate J.B. Pritzker and will raise money for Democratic groups.
Obama said neither party has a monopoly on wisdom or virtue, noting that Southern Democrats were the staunchest opponents to the Civil Rights movement. But, he continued, "over the past few decades, the politics of division and resentment and paranoia has unfortunately found a home in the Republican Party."
"As a fellow citizen, not as an ex-president, but as a fellow citizen, I am here to deliver a simple message: You need to vote because our democracy depends on it," Obama told students. "This moment really is different. The stakes really are higher."