Ohio voters overwhelmingly rejected a Republican-backed ballot measure Tuesday that would make it harder to enshrine abortion rights in the state constitution, delivering a major win for reproductive rights supporters.
Issue 1 asked voters to decide whether to raise the threshold of support required for future state constitutional amendments to 60%. Currently, just a majority is needed. The measure also proposed toughening rules for groups trying to place future measures on the ballot by requiring them to obtain signatures from voters in all of Ohio's 88 counties, instead of the 44 now required.
In addition, the measure would have eliminated a 10-day "curing" period during which groups are allowed to gather additional signatures to replace any previous signatures that officials deem invalid.
Voters, however, resoundingly rejected Issue 1, according to an Associated Press projection.
With 97% of precincts reporting, 56.7% voted against the measure, while 43.3% voted to support it, according to the Ohio Secretary of State's office.
The defeat means a proposed amendment on the ballot in November will require just a simple majority to enshrine abortion rights in the state constitution.
The result is a clear win for reproductive rights advocates in Ohio, who'd long said that Issue 1 was designed to make it harder for their abortion measure to pass in November — an argument that  several Republican lawmakers in the state have admitted to as well.
It's also another victory more broadly for abortion-rights groups, who have enjoyed a clean sweep of victories in all seven states where, in the 14 months since the Supreme Court struck down Roe v. Wade, abortion rights were on the ballot.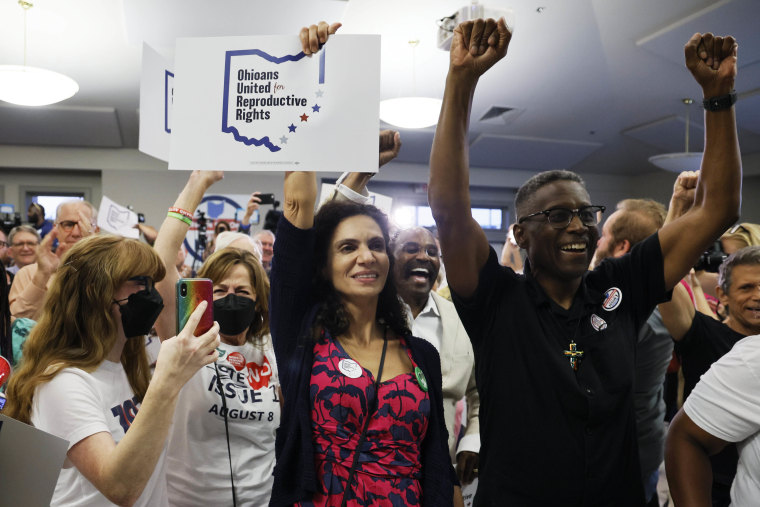 Tuesday's outcome further demonstrates how abortion remains a major liability for GOP candidates. Polling has shown that voters across the country broadly favor abortion protections — a fact that Democrats put at the center of a successful strategy last year to keep control of the U.S. Senate, fend off a red wave in the House and win several governorships. That approach has also won races for Democrats in off-year contests.
Groups that worked to defeat Issue 1, as well as Democrats at the state and national level, lauded the decisive win — with even President Joe Biden weighing in.
"Today, Ohio voters rejected an effort by Republican lawmakers and special interests to change the state's constitutional amendment process," Biden said in a statement.
"This measure was a blatant attempt to weaken voters' voices and further erode the freedom of women to make their own health care decisions. Ohioans spoke loud and clear, and tonight democracy won," he added.
Sen. Sherrod Brown, D-Ohio, whose re-election race in the state has also begun to center around the issue, tweeted, "By rejecting Issue 1, Ohioans rejected special interests and demanded that democracy remain where it belongs — in the hands of voters, not the rich and powerful."
And Rhiannon Carnes, a spokesperson for Ohioans United for Reproductive Rights, part of the coalition of groups supporting the November measure, said that "Ohioans saw Issue 1 for what it was — an attempt to deny our families a voice, even when it comes to our most personal decisions."
The proposed November amendment is designed to counteract Ohio's "heartbeat bill," which snapped into place immediately after the Supreme Court overturned Roe. That law effectively bans most abortions — with exceptions for the health of the pregnant woman and in cases of ectopic pregnancies — but it remains temporarily blocked by a state judge.
Tuesday's race, which under normal circumstances would most likely have been a sleepy, late-summer off-year special election, drew national attention and massive spending in ads from groups on both sides of the issue, because of the contest's direct ties to the topic.
Several 2024 Republican presidential candidates also expressed their support for Issue 1. Former Vice President Mike Pence released a digital video urging Ohioans to vote yes, and businessman Vivek Ramaswamy, an Ohio resident, had a video explaining why he voted for the measure.
Groups opposing Issue 1 spent nearly $15.9 million on ads, almost all of it coming from a single group — One Person One Vote — according to the ad tracking firm AdImpact. Groups urging a "yes" vote spent a combined $10.7 million on ads, many of which attempted to tie the proposals in both the August and November races to parental rights restrictions. 
The measure on the ballot Tuesday didn't explicitly mention abortion, but reproductive rights groups maintained for months that it was designed to make it more difficult for voters to pass their own proposed amendment in November. 
Those groups repeatedly accused Republicans in the state of hypocrisy over their decision to schedule the August election at all.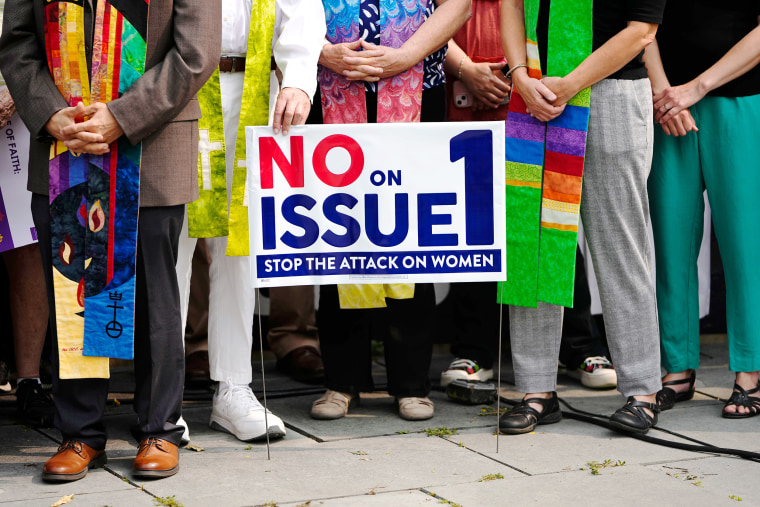 In January, Ohio Republicans enacted a law that effectively scrubbed August special elections from the state's calendar, with several GOP legislators calling them expensive, low-turnout endeavors that weren't worth the trouble.
But months later, as reproductive rights groups moved closer to placing their own proposed constitutional amendment on the November ballot, state Republicans reversed themselves and scheduled the August election.
Then, in June, local news outlets published a video of Republican Secretary of State Frank LaRose — a U.S. Senate candidate — acknowledging that the purpose of the summertime ballot measure was "100% about keeping a radical pro-abortion amendment out of our constitution."
The ads by One Person One Vote focused mainly on those comments by LaRose.
Pressed during an interview with NBC News over whether he would regret his approach if his side were to lose Tuesday, LaRose said, "No, it's better to fight and lose than never fight at all when it's a worthwhile cause."
But he also blamed groups opposing Issue 1, arguing they'd run "a very dishonest ad" that he said took his comments out of context.
LaRose's involvement also propelled the Issue 1 contest to the forefront of the Ohio Senate race.
"I'm grateful that nearly 1.3 million Ohioans stood with us in this fight, but this is only one battle in a long war," LaRose said late Tuesday in a statement issued by his Senate campaign.
"Ohioans will see the devastating impact of this vote soon enough. ... I've said for months now that there's an assault coming on our constitution, and that hasn't changed. I'm just getting started in the fight to protect Ohio's values," he added.
Some Ohio Republicans appeared to acknowledge that getting Issue 1 placed on the ballot lacked proper forethought.
"Maybe we should spend more time thinking through things before taking this step," state Rep. Jamie Callender told NBC News on Monday, responding to a question about what the lesson for the GOP would be if the measure were to fail.
"I'm not sure if I would have voted to put it on the ballot if it wasn't in that rushed format, if it wasn't a special election," he added.
Meanwhile, groups opposing the measure also frequently emphasized how passing it Tuesday would have marked a major change to the constitutional amendment process: State law has required only a simple majority to pass constitutional amendments since 1912. Several former Republican officeholders, including GOP ex-governors, publicly opposed the measure.
The proposed 60% threshold would almost certainly have complicated the prospects to pass the proposed November amendment.
Public polling has found that about 59% of Ohio voters support including abortion rights in the state constitution — just shy of the newly proposed higher threshold.
Instead, Ohio becomes the latest red state — following ones like Kentucky and Kansas — where abortion-rights advocates have won a ballot measure battle in the year since the Supreme Court's Dobbs ruling.