WASHINGTON — The first two Native American and Muslim congresswomen are headed to the U.S. House, and Massachusetts is getting its first black congresswoman, while Arizona and Tennessee are getting their first female senators in Tuesday's midterm elections.
The high-profile midterm cycle that produced a record number of women contenders and candidates of color meant a number of winners will take office as trailblazers, marking firsts for their race and gender.
What is already the most diverse Congress ever will become even more so after Tuesday's elections.
The inclusive midterm victories bode well for future election cycles, said Kimberly Peeler-Allen, co-founder of Higher Heights for America, a national organization focused on galvanizing black women voters and electing black women as candidates.
"This is going to be a long process to get us to a point of proportionate representation, but tonight is a giant step forward for what leadership can and will eventually look like in this country," Peeler-Allen said. She added that even women of color who were unsuccessful will inspire a new crop of candidates, similar to the white women encouraged to run after Hillary Clinton's 2016 presidential election loss.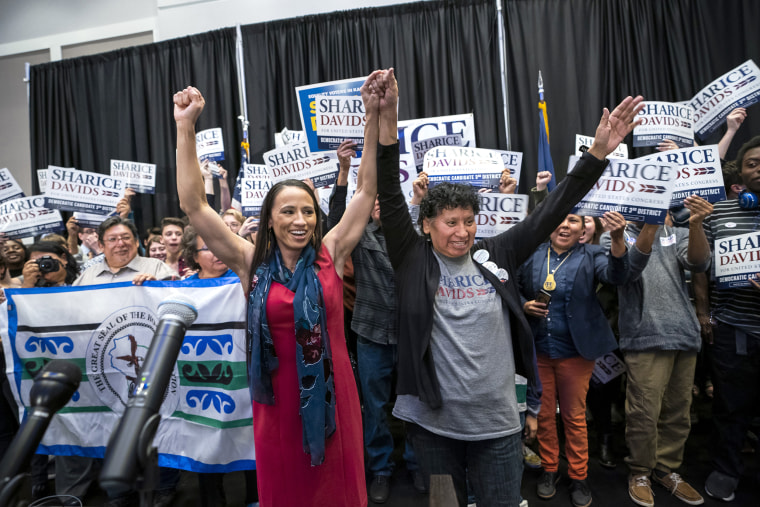 Some of Tuesday's black female pioneers, like Illinois Democrat Lauren Underwood, were first-time candidates. Others, like Massachusetts' Ayanna Pressley, were political veterans. Most were considered longshots. Some will represent districts that are majority white and that have been historically conservative, their victories a rejection of conventional wisdom on electability and the effects of gerrymandering that have historically assigned elected officials of color to represent minority communities.
Pressley, a Boston city councilwoman, will represent Massachusetts' 7th Congressional District in the next Congress. Pressley stunned the political establishment in September, defeating a 10-term incumbent in the Democratic primary, and ran unopposed in the general.
"None of us ran to make history," Pressley told supporters in her acceptance speech Tuesday. "We ran to make change. However, the historical significance of this evening is not lost on me. The significance of history is not lost on me."
Half a century ago this week, New York's Shirley Chisholm was elected the first black woman in Congress, and several of the black women elected Tuesday have said their campaigns were inspired by her example.
Also in the House, Democrats Ilhan Omar of Minnesota and Rashida Tlaib of Michigan will be the first Muslim women to serve in Congress. New Mexico Democrat Deb Haaland and Kansas Democrat Sharice Davids were elected the first two Native American women to serve in Congress.
Democrat Mike Espy, who will face Mississippi Republican Rep. Cindy Hyde-Smith in a December runoff, could become the state's first black senator since Reconstruction.
And regardless of who wins in Arizona's competitive Senate race, the state will elect either Republican Martha McSally or Democrat Kyrsten Sinema as the state's first woman to serve in the chamber. Also in the Senate, Republican Marsha Blackburn will become Tennessee's first woman senator.
Georgia candidate Stacey Abrams, a Democrat, was in a fierce battle to become America's first black woman governor, while Democrat Andrew Gillum narrowly lost his bid to become the first black governor of Florida.
In Colorado, Jared Polis will be the country's first openly elected gay governor. In New Jersey, Democratic Gov. Jim McGreevy, elected in 2001, had been outed as gay while in office.