Senators Ted Cruz and Rand Paul are aggressively angling for the support of religious conservatives ahead of their likely 2016 presidential runs, with Paul even showing short ultrasound videos of unborn children at events to emphasize his opposition to abortion.
Appearing at a conference of conservative religious activists Friday, Paul said America needed a "revival," while Cruz referred to several Bible verses in his speech without using notes.
"When anyone asks, is faith real, is a relationship with Jesus real, I can tell you, if it were not, if my father hadn't given his life to Christ, I would have been raised by a single mother," Cruz told the crowd at the Values Voters Summit in Washington D.C., describing his father Rafael's embrace of Christianity during the Texas senator's childhood.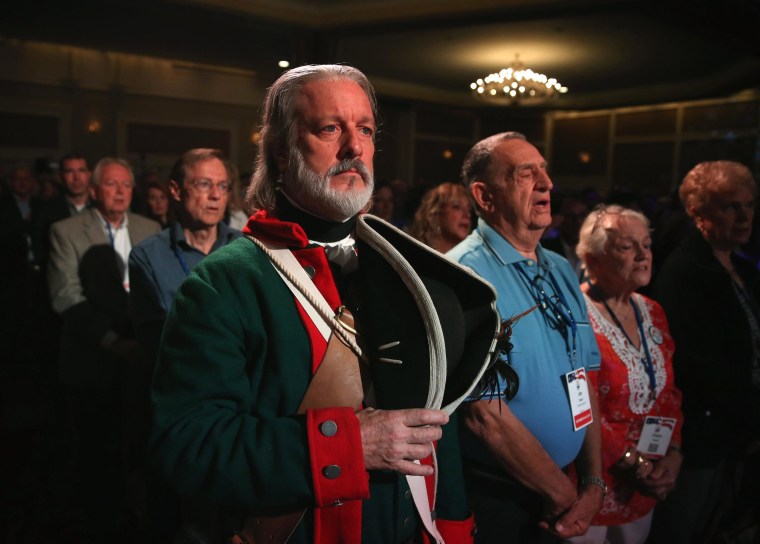 An hour later, at the same event, Paul lamented that "speaking of a revival, speaking of our values, is sadly considered non-conformist."
"I think we must do something our world often tells us not to: seek God," Paul told the crowd of more than 400 conservatives from around the country.
A number of other potential Republican 2016 candidates appeared at Friday's event, including Louisiana Gov. Bobby Jindal and former Pennsylvania Sen. Rick Santorum. Santorum, who is Catholic, proved to be a strong contender in socially conservative states during the 2012 GOP primary race because of his support among Christian conservatives.
But Paul and Cruz were given two of the prime speaking slots at the Values Voters Summit, which is put on by the conservative Family Research Council. And their prominent appearances were no accident. Some Christian conservative activists view Paul and Cruz as favored candidates who could potentially win the GOP nomination. That perceived electability sets both men apart from past contenders, like Mike Huckabee in 2008 and Santorum in 2012, who struggled to build support outside the evangelical community.
"Run, Ted, Run," said Brent Bozell, president of the Media Research Center, in introducing Cruz.
Freedom can only be realized when citizens know self-restraint, or put another way: virtue.
Cruz and Paul are in effect competing to be the candidate of anti-establishment conservatives in 2016, trying to meld more libertarian Republicans, evangelicals, conservative Catholics and Tea Party types into a winning coalition. Other potential Republican candidates, like New Jersey Gov. Chris Christie, did not appear at this event and are not as popular among Christian activists.
Since the 2012 election, both Cruz and Paul have attended small meetings with pastors in Iowa, appeared at conferences for religious organizations, and spoken in detail about their values in interviews with the Christian Broadcasting Network.
In the midst of rising public support for gay marriage, which most Christian conservatives oppose, Cruz sponsored a bill in Congress that would allow states to ban gay marriage regardless of what the federal government does. He strongly defended marriage between "one man" and one woman" at a Defense of Texas Marriage Amendment rally over the summer, even though other prominent Republicans, including Paul, rarely speak publicly about the issue.
Instead, Paul is appealing to social conservatives with stalwart opposition to abortion. At the event on Friday, as often in front of Christian conservative crowds, Paul came to the stage after organizers aired a short video (put together by the senator's staff) that interspersed clips of Paul giving anti-abortion speeches, ultrasound photos of a fetus and phrases on a blank screen like "will you speak out?"
"I promise you, I will always stand for life," Paul told the audience.
Despite their differences – most notably on foreign policy – Paul and Cruz also offer Christian conservatives many of the same policy ideas. Both criticized the U.S. government for working with foreign nations that limit the religious freedoms of Christians. And each emphasized the importance of America's relationship with Israel.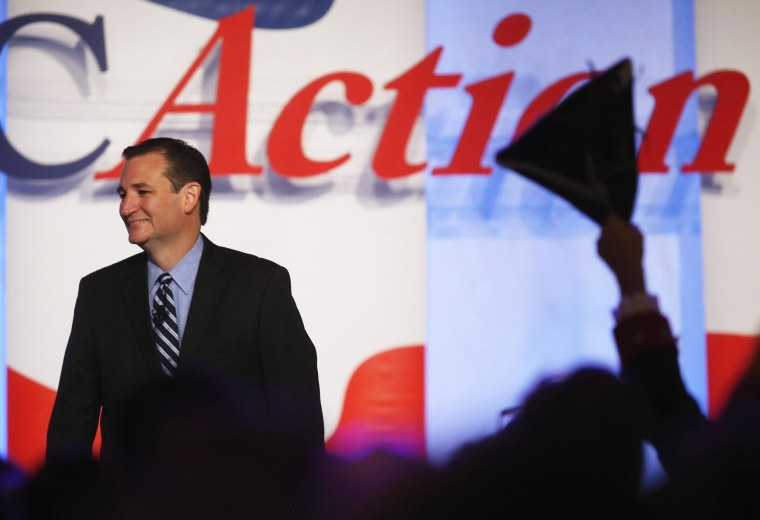 "Across the globe, Christians are under attack, as if we lived in the Middle Ages," said Paul.
But their styles are very different. Cruz, like a televangelist, rarely stands at the podium, walking instead around the stage. He uses the language of evangelical Christians, speaking about his and his father's personal relationships with Christ and connecting the persecution of modern-Christians with figures from the Bible.
"We are seeing modern-day Pauls and Silases across the world," he said Friday.
Paul lacks Cruz's oratorical talent and his willingness to speak in personal tones about his faith. Instead, the Kentucky senator wants to link his anti-government views to religious values.
"Freedom is not a license to do what you please," Paul said. "Freedom can only be realized when citizens know self-restraint, or put another way: virtue."