WASHINGTON — Democratic Sen. Claire McCaskill is tied with Republican challenger Josh Hawley, according to a new NBC News/Marist poll of Missouri, in one of the most high-profile races of 2018 that could determine control of the U.S. Senate.
Among likely voters — defined by their probability of voting in November, interest in the election and past participation — McCaskill and Hawley both get 47 percent support, with just 5 percent who are undecided. Among the larger pool of registered voters, Hawley is at 47 percent, while McCaskill is at 46 percent.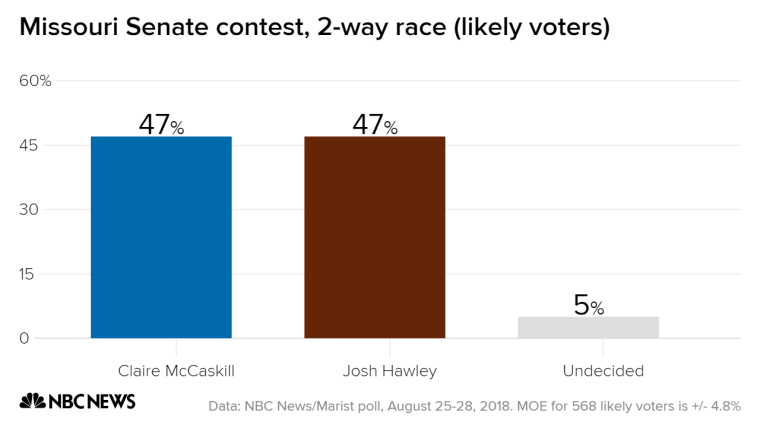 When the field is expanded to include the Libertarian and Green Party candidates in the race, McCaskill leads by 4 points among likely voters, 44 percent to 40 percent, but that's well within the survey's margin of error.
McCaskill benefits by having the more enthusiastic supporters: According to the poll, 68 percent of her backers strongly support her, compared with 46 percent of Hawley's backers who strongly support him.
But McCaskill also has a net-negative favorable/unfavorable rating, with 49 percent of likely voters having a negative view of her, versus 41 percent who view her positively.
By comparison, Hawley's fav/unfav rating is 36 percent positive, 36 percent negative — with 28 percent of likely voters who are unsure or who have never heard of the state's attorney general.
"McCaskill is not well liked, but more of her supporters are strongly committed to her than Hawley's backers are to him," said Lee Miringoff, director of the Marist College Institute for Public Opinion, which conducted this poll.
"Hawley is less well known, and the determining factor in this race is what happens when Hawley becomes better known," Miringoff adds.
Trump's job rating in Missouri is at 45 percent
Forty-five percent of likely voters in the survey say they approve of President Trump's job performance, while 46 percent disapprove.
The numbers are similar among registered voters: 44 percent approve, 46 percent disapprove.
And Trump's fav/unfav in the state among likely voters is 44 percent positive, 50 percent negative.
In addition, a near-majority of likely voters — 48 percent — say their vote for Congress in 2018 will be a signal for more Democrats to serve as a check and balance to Trump, versus 40 percent who say their vote will be for more Republicans to help pass his agenda.
Still, Republicans hold a 4-point advantage in congressional preference in the state, with 45 percent of likely voters wanting a GOP-controlled Congress and 41 percent preferring a Democratic-controlled Congress.
When asked which party's candidate they likely would vote for in their congressional district, 43 percent of likely voters said the Republican candidate, versus 42 percent who answered the Democratic candidate.
Top issues in Missouri: health care and economy
Also asked which issue will be the most important factor in deciding their vote, 25 percent of likely voters said health care, 24 percent said the economy and jobs, 10 percent said immigration, 9 percent said abortion and 8 percent said taxes and spending.
Among Democrats, the top issue was health care by a wide margin. Among Republicans, it was the economy and jobs.
And asked their opinion about raising tariffs and barriers to imports from other countries, 45 percent of all likely voters said they raise the cost of consumer goods and hurt the U.S. economy, versus 28 percent who said they protect jobs and help the economy.
The NBC/Marist poll of Missouri was conducted Aug. 25-28 of 930 adults (which has a margin of error of plus-minus 3.9 percentage points), 774 registered voters (plus-minus 4.2 percentage points) and 568 likely voters (plus-minus 4.8 percentage points). Respondents were reached by both landline and mobile phone.