AUSTIN, Tex. — Brett Kavanaugh, former Attorney General Eric Holder said, behaves "more like a political operative" than a Supreme Court nominee.
Sen. Jeff Merkley, D-Oregon, lamented the pending Kavanaugh confirmation vote, saying that "it shouldn't have to be female members of the Republican Party to get it right."
Michael Avenatti, the lawyer for one of Kavanaugh's accusers, spoke to a sold-out theater. And Sen. Amy Klobuchar, D-Minn., drew a hero's welcome, after her startling exchange with Kavanaugh about blackout drinking at last Thursday's Judiciary Committee hearing went viral.
The controversy surrounding President Donald Trump's nomination of Kavanaugh to the nation's highest court drowned out virtually every other conversation at this weekend's Texas Tribune Festival, an annual gathering by the nonprofit news site that draws a group of largely liberal-leaning officeholders and activists. And the large number of potential Democratic presidential hopefuls who trekked to Austin hoping to generate buzz and favorable tweets quickly jettisoned other talking points to focus mainly on the unfolding Kavanaugh drama.
Other possible Democratic 2020 contenders at the conference included former Secretary of State John Kerry, former New Orleans Mayor Mitch Landrieu, Colorado Gov. John Hickenlooper, former Housing Secretary Julian Castro, New York City Mayor Bill de Blasio, South Bend, Indiana, Mayor Pete Buttigieg and former Massachusetts Gov. Deval Patrick.
Texas Democratic Senate hopeful Beto O'Rourke, the party's charismatic rising star who regularly beats back 2020 chatter, was asked about Kavanaugh as well.
Kerry spoke Thursday evening, just hours after the historic Judiciary Committee hearing, where senators heard testimony from both Kavanaugh and Christine Blasey Ford, who has accused Kavanaugh of sexually assaulting her decades ago at a high school party.
Kerry, a former Massachusetts senator and the 2004 Democratic presidential nominee, called the hearing "a product of the dysfunctionality of everything else in Washington" and urged focus on the 2018 midterm elections.
He sidestepped a question about his 2020 plans, saying, "I'm not thinking about it right now. I have too much work to do."
Castro, for his part, knocked Kavanaugh for "fudging the truth" in his testimony. The former San Antonio mayor was forthcoming about his political aspirations, saying, "If I'm going to run for something, it's president." He said he would make a decision within a few months.
Hickenlooper, asked about Kavanaugh's display of emotion during Thursday's hearing, suggested that the "level of anger" the nominee had shown wasn't in keeping with the temperament expected from a judge.
O'Rourke praised Ford's testimony, noting that his opponent, Texas Republican Sen. Ted Cruz, serves on the Judiciary Committee and is an all-but-certain vote for Kavanaugh.
Holder, who as attorney general for six years under President Barack Obama had jurisdiction over the FBI, said the decision by the Judiciary Committee to request an additional FBI probe into credible allegations against Kavanaugh should have been "routine" and something done as soon as Ford's story had surfaced.
"Some of what I saw was a little troubling," Holder said, adding that an interview with Mark Judge, a Kavanaugh friend who Blasey Ford said was present at the time of the alleged assault, was essential.
As for his presidential plans, Holder said, "It's something I'm thinking about" and that he'd make a decision in the first quarter of 2019.
With their direct — but unrelated — connections to the controversy, Klobuchar and Avenatti drew lopsided attention and among the largest crowds at the festival.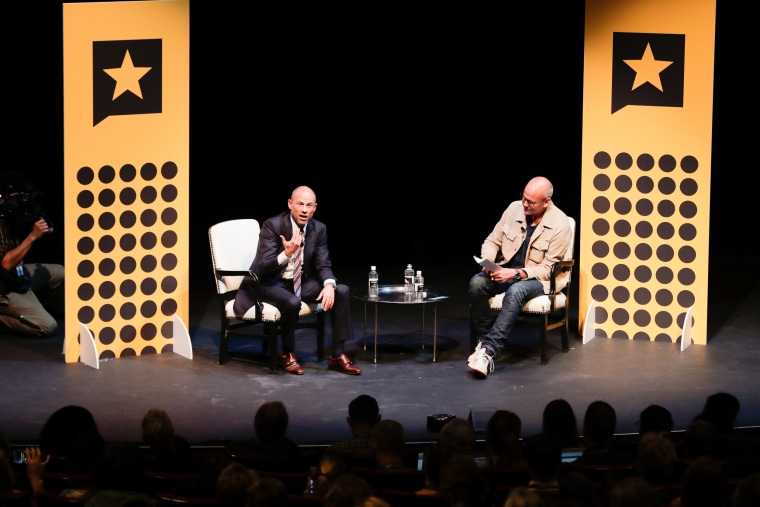 Avenatti, who is representing one of Kavanaugh's accusers, Julie Swetnick, spoke at Austin's historic Paramount Theater Friday. His appearance attracted so much interest that dozens of people had to be turned away for lack of space.
Avenatti also represents porn star Stormy Daniels, who has claimed she was paid for her silence after an affair with Trump in 2006 — an allegation the president denies. His connection to Daniels, along with his penchant for publicity, has made Avenatti a ubiquitous cable news figure and, to hear him say it, a possible Democratic presidential contender.
"It's all about matchups," Avenatti told the crowd, arguing that his brand of in-your-face personality was the only way to defeat Trump in 2020.
Klobuchar spoke Saturday morning to a large tent full of attendees, many of whom came soaked from a morning downpour to hear her.
She said she had been "stunned" by Kavanaugh's demeanor at the hearing, which many critics have called belligerent and antagonistic to Democrats, Klobuchar in particular. When Klobuchar asked Kavanaugh if he had ever blacked out while drinking — a claim leveled by his college roommate, among others — Kavanaugh shot back, "Have you?" He later apologized.
Klobuchar also knocked Republicans on the committee for "pounding their chests" during the hearing, calling it a strategy to deflect from Ford's testimony. And while Klobuchar's sudden moment in the spotlight has focused increased attention on her possible presidential aspirations, she refused to disclose her plans, saying, "I am representing Minnesota. That's what I'm focused on right now."