/ Source: Associated Press
Four-term U.S. Rep. Lou Barletta, a staunch supporter of President Donald Trump who first got national notice as a small-city mayor for his attempted crackdown on illegal immigration, on Tuesday won the Republican nomination for U.S. Senate in Pennsylvania.
Barletta had paid little attention to his Republican rival, state Rep. Jim Christiana, during the primary campaign. Instead, he focused his attacks on the candidate he hopes to unseat in the fall, two-term Democratic Sen. Bob Casey.
At his election night party in his hometown of Hazleton, Barletta appealed to the voters who helped Trump win the state in 2016's presidential election. He said Casey has tried to "resist, reject and obstruct every step this president has taken."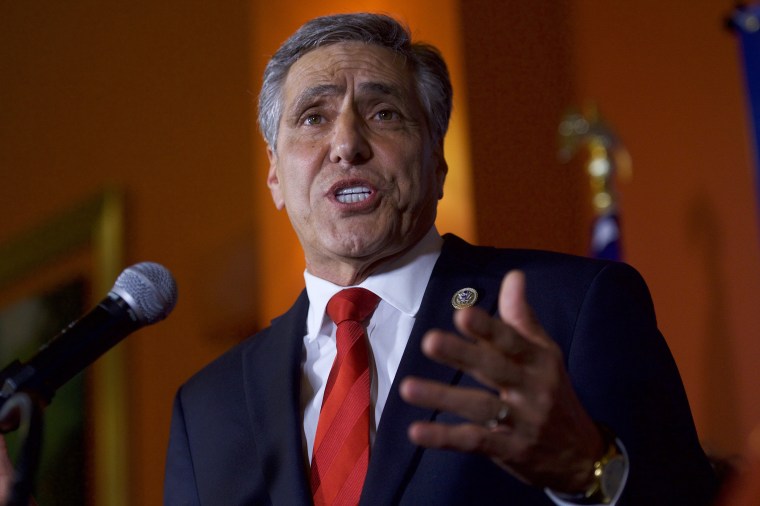 "Bob Casey has moved so far left he doesn't really represent Pennsylvania anymore," Barletta said.
The Pennsylvania Democratic Party singled out Barletta's tough stance on illegal immigration, saying Barletta "has built his long political career on spreading fear, dividing communities and scapegoating immigrants."
It also said he has backed Republican House Speaker Paul Ryan's agenda of slashing taxes for corporations and the wealthy while attacking Medicare and Social Security and trying to repeal former President Barack Obama's signature health care law.
"But most of all, Barletta has made it clear that if elected to the Senate, he would put Donald Trump's interests ahead of the people of Pennsylvania," the party said.
Barletta is a favorite of Trump, whom Barletta endorsed in 2016. Trump asked Barletta to run for Senate, and the president is expected to visit Pennsylvania to campaign for him.
Casey, who was unopposed for the Democratic nomination, has opposed Trump's Supreme Court pick, many of his highest-profile nominees and the GOP tax-cutting law while emerging as an ardent Trump critic.
Casey is among 10 Democratic senators seeking re-election this year in states won by Trump, making Casey a target for Republicans.
Trump edged Democrat Hillary Clinton by less than 1 percentage point in Pennsylvania in 2016's presidential election. Republicans control the Senate, 51-49, and defeating Casey would give Republicans one more pro-Trump vote to help advance the president's agenda.
Still, defeating Casey in November's election is a tall order.
Casey, the son of a late former governor, has strong name recognition and has won five statewide elections. He also has a huge cash advantage, with about $10 million in the bank at the end of April, compared with Barletta's $1.3 million.
Casey, 58, is popular with labor unions and backed Obama's signature policies.
Barletta, 62, won his House seat during the Republican midterm wave of 2010, catapulted by the attention he received while mayor of Hazleton for attempting to use local laws to crack down on immigrants in the city who had entered the country illegally.
State senator and waste-hauling millionaire Scott Wagner won Tuesday's three-way Republican primary contest to challenge Democratic Gov. Tom Wolf, capping a personal spending spree that helped make Wagner the front-runner and the GOP's endorsed candidate.
Wagner defeated two first-time candidates from the Pittsburgh area, Paul Mango and Laura Ellsworth, surviving weeks of Mango's attack ads that painted Wagner as sleazy, greedy and a "deadbeat dad." Along the way, Wagner pumped more than $10 million of his own cash into his campaign.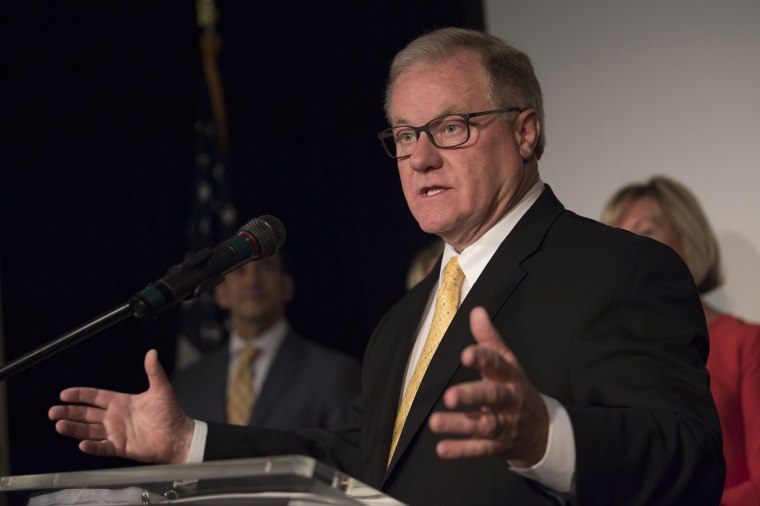 Embracing the idea he's the garbage man coming to clean up a profligate state government that chokes the economy with regulations and taxes, Wagner told the crowd at his election night party in York, "The trucks are empty, and they're ready to go." He accused Wolf of being "for sale" to moneyed campaign interests that have given him millions of dollars, such as labor unions.
"The people of Pennsylvania can and should have a governor who's on their side, someone who's a lot like them, and I'm a lot like all of you," Wagner said.
Wolf's campaign called Wagner "the very worst of Harrisburg," the state capital, saying he's blocking efforts to change Harrisburg and help families. It said Wagner has backed the state's growing natural-gas industry against Wolf's efforts to impose a severance tax on it.
Mango, a former health care systems consultant, fell short despite seizing the mantle of conservatism and spending $7 million of his own on the campaign. Ellsworth, a commercial litigation attorney, never mustered that kind of cash.
Tuesday's victory for Wagner sets up a November election between two York County residents who made millions of dollars in business before entering politics, although their similarities don't go much further.
Wagner is brash and has a penchant for off-the-cuff speaking that makes him a magnet for controversy. Wolf is soft-spoken and chooses his words carefully.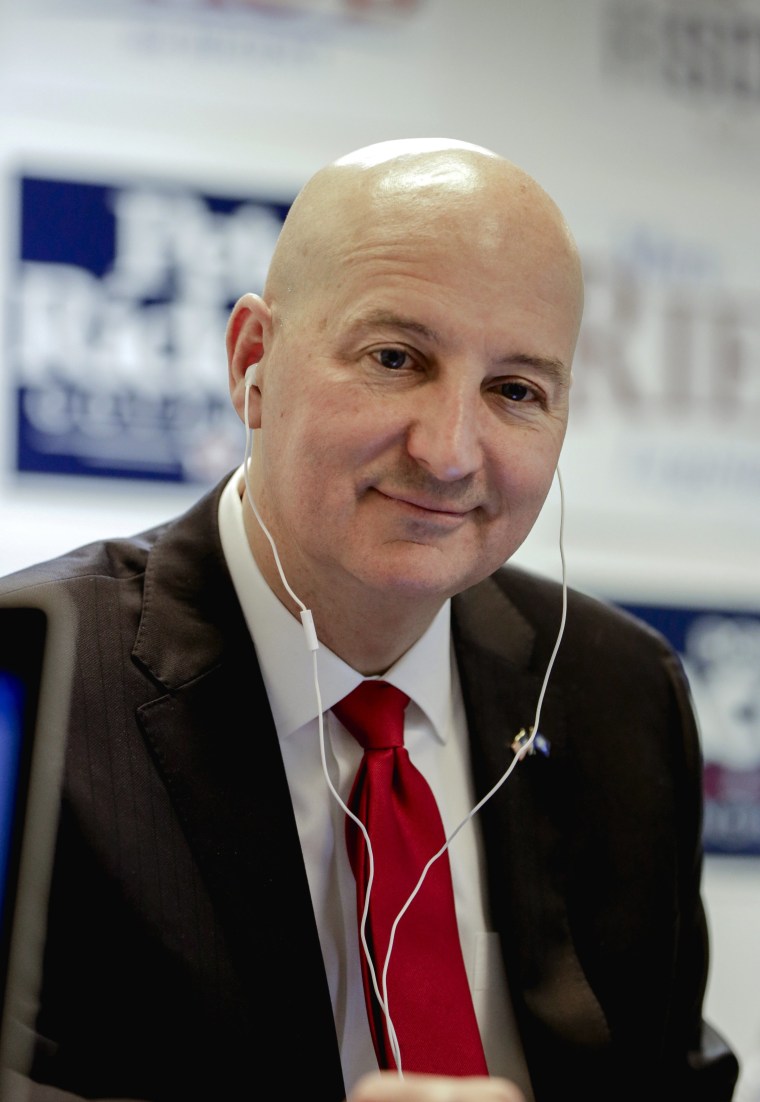 Nebraska Gov. Pete Ricketts cruised to victory Tuesday in the Republican primary for governor, setting himself up for a general election where he'll be a heavy favorite in the GOP-dominated state.
Ricketts easily fended off medical marijuana activist Krystal Gabel in the Republican race. He'll face state Sen. Bob Krist of Omaha, who defeated fellow Democrats Tyler Davis and Vanessa Ward in the statewide primary.
In an interview, Ricketts pointed to Nebraska's low unemployment rate and pledged his push to lower property taxes. Despite his party's statewide advantage, he said he'll continue to campaign aggressively.
"We've been growing Nebraska, and we've got a great record to run on," he said.
Krist started positioning himself for the general election even before the primary voting ended. On Wednesday, the retired Air Force pilot will kick off a statewide flying tour across the state with his running mate, state Sen. Lynne Walz, who joined the ticket last month.
Krist pledged Tuesday night to invest more in the state's K-12 public schools, change the tax system to benefit working people, fix lingering problems in the state prison system and work collaboratively with Nebraska lawmakers.
Sen. Deb Fischer notched an easy Republican primary victory on Tuesday over four other GOP candidates, some of whom argued she wasn't conservative enough for deep-red Nebraska.
Fischer will face Democrat Jane Raybould, a Lincoln city councilwoman who defeated three primary opponents. Fischer enters the general election as a heavy favorite to win a second term.
Fischer has focused on her first-term accomplishments, including her work to pass highway funding legislation. She also stressed her Senate experience, such as her position on an Armed Services subcommittee.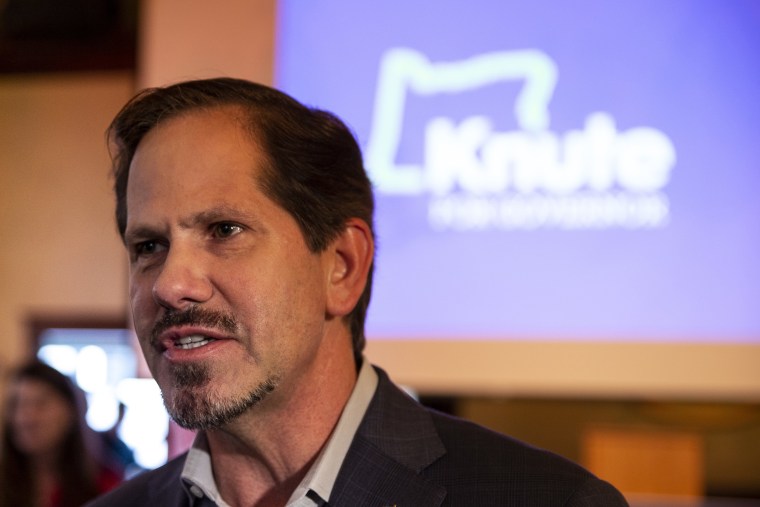 Oregon state Rep. Knute Buehler has won the GOP gubernatorial primary, besting a crowded field vying to compete against incumbent Democrat Kate Brown in November.
Buehler, who ran for secretary of state in 2012, was the most centrist of the Republican front-runners.
While skeptical of major new spending, Buehler says he is open to increased taxes on electronic and regular cigarettes to pay for budget items like health care, and also to a carbon tax.
Buehler was considered a front-runner in Tuesday's primary, along with retired Navy pilot Greg Wooldridge and businessman Sam Carpenter.