DETROIT -- Progressive Democrats like Hillary Clinton just fine for the 2016 presidential race. But they like Elizabeth Warren, the feisty populist Massachusetts Senator, a lot more as a future leader for their party.
The message from the more than 1,000 activists who attended Netroots Nation here was simple: they are okay with Clinton as the Democrats' candidate. They've read the polls showing her huge lead. They agree with her on most issues, even as many of them complain about her huge speaking fees, ties to Wall Street and occasionally hawkish views on foreign policy.
But these progressives have a dream, or really two of them. They would love to see Clinton turn into a uber-liberal like Warren who slams big banks instead of speaking at their events. Or better yet, Clinton would somehow decide not to run for president, clearing the way for their hero Warren.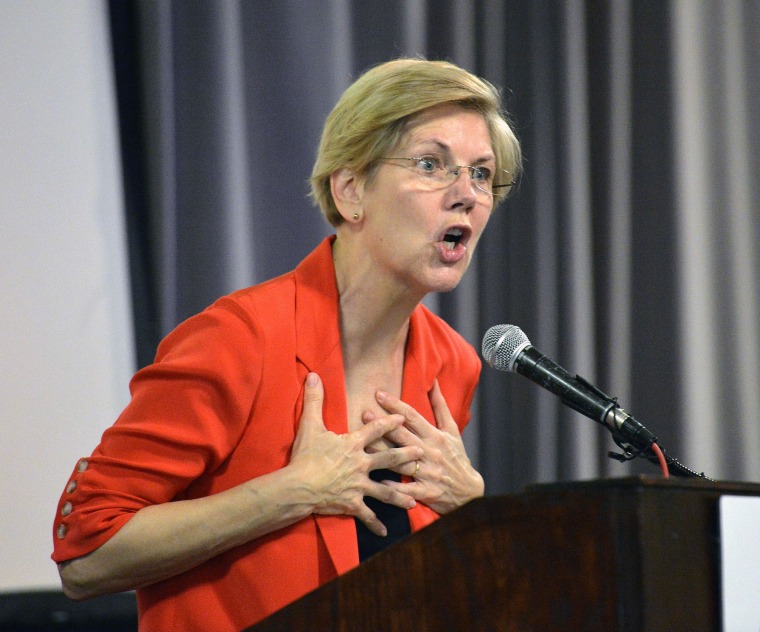 "I have a love-hate relationship with her (Clinton)," said Victoria Roush, a 60-year-old activist from Key West, Florida who manages a wine shop. "At any moment, I can love her, or be pissed. Some of the stuff she does I don't like, but I can't wait to see the first female president."
Warren, Roush said, "is her dream candidate."
"Her actions have proven she means what she says," Roush said.
This year Netroots Nation should have been dubbed Warren's World. At one panel discussion here, an activist described her goal as electing "300 more Elizabeth Warrens" to Congress.
Warren's speech was the main event of the three-day conference, with people loudly chanting "Run, Liz, Run" during her remarks. (Vice President Biden's appearance drew much less enthusiasm).
When attendees weren't raving about Warren, they were talking about how more Democrats should be economic populists like Warren.
At the same time, the people who attend this conference are political junkies. They are aware of the challenges of a political newcomer like Warren, who had never held elective office before winning her Senate seat in 2012, taking on a powerful figure like Clinton in the Democratic primary and then trying to win the general election.
"At any moment, I can love her, or be pissed. Some of the stuff she does I don't like, but I can't wait to see the first female president."
And unlike in the run-up to the 2008 election, when many here refused to back the frontrunner Clinton and opted for stronger Iraq War critics like Barack Obama or John Edwards, liberals don't have a huge quarrel on any single issue with Clinton.
"I would support her as a strong Democrat, and she's the strongest candidate in terms of winning," said Bob Fertik, a liberal blogger and longtime party activist. But he added, "she hasn't always been the most outspoken progressive champion, especially on economic issues."
David Karpf, a liberal activist who is also a political communications professor at George Washington University, described himself as "prepared and resigned for Hillary Clinton to be our next president."
"I think she'll be excellent at being president ,but I'm not particularly excited about her being president," he said. "I think Elizabeth Warren is the most exciting politician of our generation, but as a progressive, I just don't believe yet that she will run for (that) office, so I haven't gotten behind it.'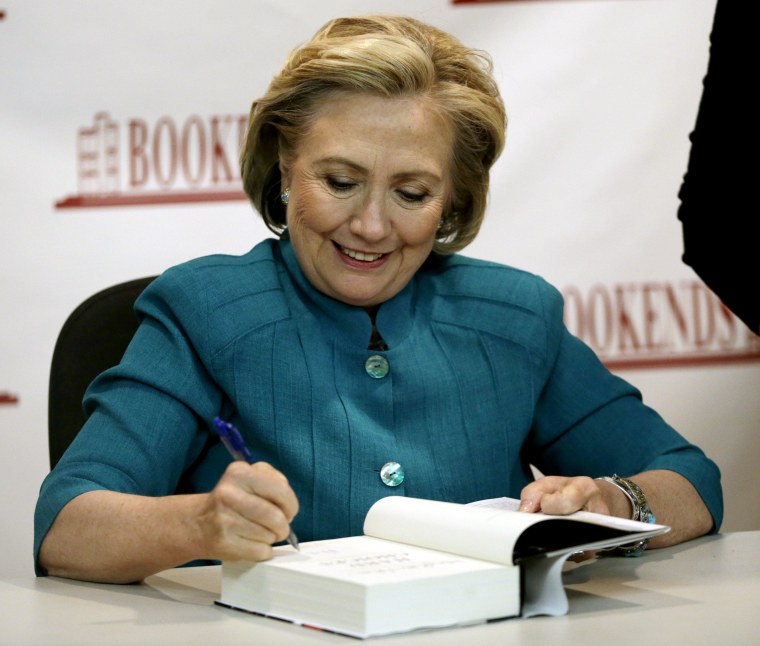 Activists here said they want to push Clinton to adopt a more populist platform, although it was not clear exactly how they can influence Clinton or in turn what would truly satisfy them. The former first lady, in her appearances over the last few months, has spoken about the problems of rising income inequality, urged a greater focus creating middle-class jobs and called for an increase in the minimum wage, in echoes of Warren.
But the "Netroots" wants to see more, like Clinton casting the American economic system as 'rigged," or opposing some international trade agreements the way the Massachusetts senator does. Former President Bill Clinton has said Democrats should not spend too much time bashing the rich, suggesting a divide between Warren-style liberals and the Clintons.
"We can't deal with the economic inequality issue without dealing with the fact that some people are making too much," said Brad Miller, a former North Carolina congressman who attended the conference.
"Whoever the Democratic Party nominee is, is going to end up running as an economic populist, because they going to look at the polling. Even if they didn't think that was how they going to run beforehand, they're going to look at the polling and the consultants are going to say, 'holy crap, you've got to talk about these issues."
He added, "The question is whether we'll have someone who will actually govern that way as president.'
Activists here say that Warren leads on populist issues, such as her recent proposal to make it easier for students to refinance their student loans. That idea was eventually adopted by the Obama administration.
Clinton, according to these activists, is more a follower in her populism.
"Someone's gotta address the disgusting greed that's happening on Wall Street. Someone's gotta address money in politics in this country."
"I would love to see her adopt Elizabeth Warren's politics, honestly," said the actor Mark Ruffalo, who attended part of this conference and rushed onto the elevator Warren was in after her speech just to speak with her for a few moments.
"Somebody's gotta address the inequality," he added. "Someone's gotta address the disgusting greed that's happening on Wall Street. Someone's gotta address money in politics in this country. This is not a Democrat or Republican issue-- this affects all of us negatively. There is a mass movement of wealth into the upper class, out of the middle and lower classes-- the wealth discrepancy. We are in big trouble, and Clintonian politics of the days of old are not gonna fly. It's not popular with people -- people want to see change. And if she (Clinton) is willing to embrace those principles, then sign me up."
Clinton declined an invitation to speak here. But the group "Ready for Hillary,' which is not officially aligned with Clinton but is advised by some of her longtime aides, was one of the main sponsors of Netroots Nation. Their presence here was the latest sign of a relative détente between Clinton and progressives, who booed Clinton when she came to this conference in 2007.
And for some activists, disagreements with Clinton on policy are not as significant as two other factors. Her polling suggests she would be a strong candidate to win the general election. And they want to see her make history.
"It's Hillary. It has to be. We have to break that ceiling. We need to break that ceiling," said Sundiata Aschenge, who came to this event from St. Petersburg, Florida.