WASHINGTON — Democrats won't take control of the House in this year's midterm elections if they don't win in places like New Jersey's 11th District, where 12-term Republican incumbent Rodney Frelinghuysen announced Monday he is stepping aside. And they won't do it without candidates like their top pick to replace him, Mikie Sherrill.
Sherrill, a retired Navy helicopter pilot and former federal prosecutor, is a throwback to the archetype Democrat recruited by then-campaign committee chairman Rahm Emanuel in the 2006 midterms: tough on crime, tough on national security, or both. In that election, Democrats netted 30 seats to wrest away a majority Republicans had held for more than a decade.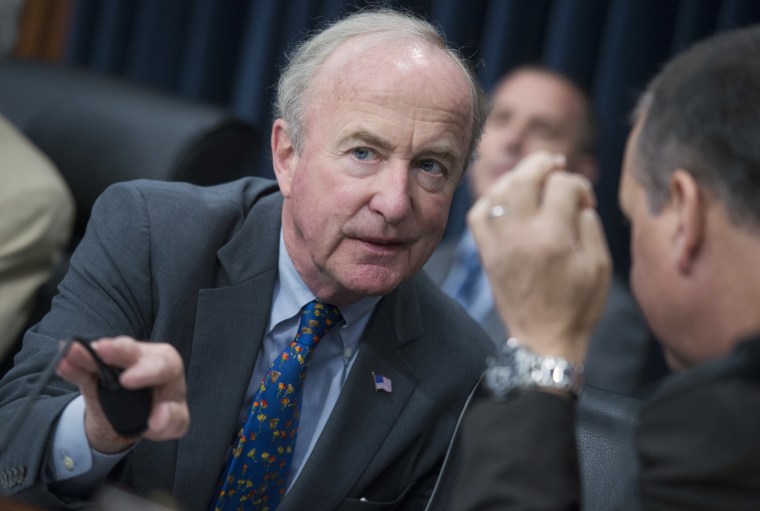 Now, Democrats must net two dozen seats to capture control of the House, and New Jersey's Morris County-based 11th District was already high on their list of takeover opportunities before Frelinghuysen, chairman of the powerful House Appropriations Committee and the scion of the state's most enduring political dynasty, said Monday that he wouldn't seek re-election.
They could win the district and still fall short of their goal. But Frelinghuysen's exit was welcome news at party headquarters in Washington on Monday.
"The name Frelinghuysen is on every park bench and road sign in New Jersey's 11th Congressional District, so his retirement dramatically improves our chances to win in November," a spokeswoman for the Democratic Congressional Campaign Committee, Meredith Kelly, told NBC News. "Combine that with veteran and former federal prosecutor Mikie Sherrill's already impressive grassroots-powered campaign and the GOP agenda that is a direct attack on suburban districts like this one, and Republicans should be seeing blue."
Sherrill, who had raised a little more than $744,000 through the end of September, still has a multi-candidate Democratic primary to get through. Tamara Harris, a businesswoman and family advocate, has seeded her own campaign with $200,000 and finished September with nearly $460,000 in receipts. Harris could be the stiffest competition for Sherrill in the June 5 primary.
Unlike some fellow Republican committee chairmen who have announced that they will retire after this year, Frelinghuysen had not hit the party's six-year term limit for holding a gavel, and he did not detail his reasons for leaving in a five-paragraph statement.
"I have worked in a bipartisan manner, not just in times of crisis but always, because I believe it best serves my constituents, my state and our country," Frelinghuysen said. "My father reminded me often that we are temporary stewards of the public trust."
But his newfound political vulnerability was clear. After a long string of easy re-election runs, Frelinghuysen won with 58 percent in 2016 in a district where President Donald Trump narrowly defeated Hillary Clinton, 49 percent to 48 percent. Frelinghuysen's constituents are wealthy and highly educated compared to the rest of the country, a combination that polling and recent election results suggests could make the district less hospitable for a Republican candidate during Trump's presidency.
The Cook Political Report, which rates competitive House races, had deemed the district a "toss-up" before Frelinghuysen's announcement on Monday.
National Republican Congressional Committee Chairman Steve Stivers vowed to fight for the district in November.
"This district has been held by a Republican since the 1980s, and we plan to keep it that way in November," he said in a statement.