News analysis
WHITE SULPHUR SPRINGS, W.Va. — No one knows how to run against House Minority Leader Nancy Pelosi better than Rep. Steve Stivers, R-Ohio.
In 2010, he made her the central figure in his campaign to win a rematch against Mary Jo Kilroy, the Democratic incumbent who had defeated him by little more than 2,000 votes in 2008.
"Her record mirrors Pelosi's," Stivers said back then. "Really, my focus is going to be on Pelosi and Kilroy."
Across the country that year, anti-Pelosi ads were a fixture in Republican campaigns, and Stivers, who ended up winning Round 2 by a whopping 13 percentage points, became part of a freshman class that delivered the House back into GOP hands after Pelosi's four-year run as speaker.
Now, as chairman of the National Republican Congressional Committee, Stivers is charged with fending off a Democratic wave and keeping the GOP's House majority in this year's midterm elections.
And he's dusting off the old playbook.
"Nancy Pelosi has stayed in the spotlight," Stivers explained said this week as he outlined the GOP's fall campaign plan at a news conference on the sidelines of a congressional Republican retreat here.
The question is whether Pelosi is as toxic now, with Republicans in control of the White House and Congress, as she was then.
Republicans are certain that she is.
On Wednesday night, Vice President Mike Pence told Republicans here that Pelosi is "out of touch with the American people" because she described corporate bonuses of $1,000 as "crumbs" compared to the benefits the wealthy will receive under President Donald Trump's signature tax cut.
The next day, in front of the same audience of House and Senate Republicans, Trump likened the remark to Hillary Clinton's formulation that half of Trump's 2016 campaign supporters were "deplorables."
Some Democrats fear that the prospect of Pelosi taking the speaker's gavel from Rep. Paul Ryan, R-Wis., will hurt their party's chances in swing districts. Her approval ratings have hovered just below 30 percent. And Conor Lamb, the Democratic candidate running for the House in a western Pennsylvania special election next month, has said he would not vote for Pelosi to lead the party if he's elected.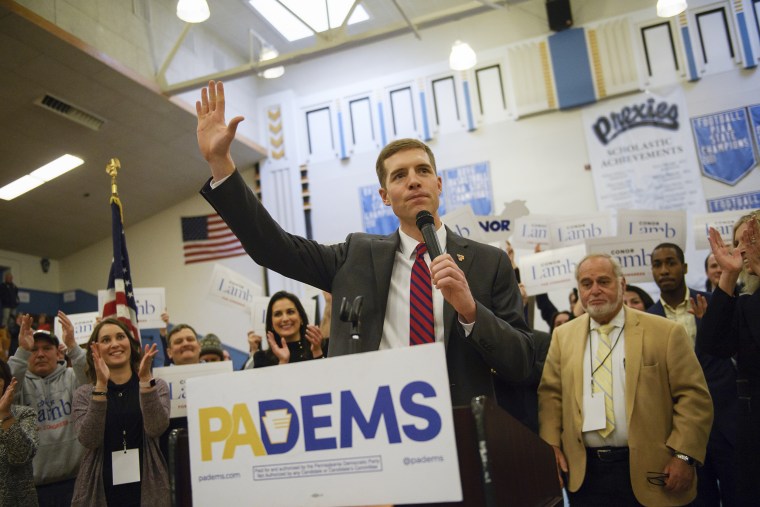 "My take is, if these people have been around for several years and they haven't solved these problems that have been hanging around, it's time for someone new to step up and get it done," Lamb said.
But Pelosi's team says Republicans aren't living in the real world if they think a national campaign against her can overcome Trump's poor approval ratings — he's been below 40 percent in most polls — and the enthusiasm of Democratic voters.
"While we appreciate the ability of Republicans to whip themselves into the delusion that they're on offense, the herd of retiring Republican chairmen stampeding out the door is bold evidence to the contrary," Pelosi spokesman Drew Hammill said. "No amount of petty and pathetic attacks will mask the lethal combination of a Republican Congress held captive to a special interest agenda and a president with historically abysmal approval ratings."
Facing the likelihood of a well-funded Democratic challenger, New Jersey Rep. Rodney Frelinghuysen, the chairman of the Appropriations Committee, announced this week that he won't run for re-election in a district he's held since 1994. Two days later, Rep. Trey Gowdy, R-S.C., the chairman of the House Oversight and Government Reform Committee, said he won't seek another term.
Pelosi's right in noting that powerful GOP committee chairmen are retiring in droves. Some of them, like Gowdy, represent solidly Republican districts. But others, like Frelinghuysen and Foreign Affairs Committee Chairman Ed Royce of California, are abandoning districts that could swing to Democrats in November.
Pelosi's allies note that Ryan has poor approval ratings, suggesting that he's as vulnerable to becoming an anchor for Republicans candidates as Pelosi is for Democrats. But, of course, Democrats are likely to focus more on Trump as they try to persuade Republican and independent voters that they will fight his agenda.
They're emboldened by the fact that Republicans hold 23 districts in which Clinton defeated Trump in 2016, as well as historical trends that suggest the out-of-power party will pick up seats in a midterm election. And Democrats have won both dozens of competitive down-ballot campaigns in the last year and a few big races in recent months, including a Senate seat in Alabama and the governorships of Virginia and New Jersey.
They're excited about the possibility of a wave election that returns them to power in the House.
But Stivers said the race to look at is last June's special House election in the Atlanta suburbs, where Republican Karen Handel beat Democrat Jon Ossoff by about 3 percentage points. It was a close contest despite Republicans' dominance in the district for decades.
While some Democrats took that as a sign of a rising wave of enthusiasm for their candidates, Stivers says it shows just how tough it will be for them to recapture control of the House. He then listed several of the 23 Clinton districts represented now by House Republican incumbents that are based in suburban areas similar to those of Handel's district.
"It is the kind of district that the Democratic majority runs through," he said.
After the Georgia election, Rep. Kathleen Rice, D-N.Y., said Pelosi should step down in the interests of the party's chances in this year's midterm elections.
"Her time has come and gone," Rice said on MSNBC. "Do I think it's fair that the Republican playbook over the last four election cycles has been attacking Nancy Pelosi and demonizing her? No that's not fair. But guess what, it works. They're winning."
For the time being, however, the more-recent Democratic victories in special and off-year elections around the country appear to have quieted criticism of Pelosi from within her own caucus.
The challenge now for Republicans is to make enough noise about Pelosi to drown out Democrats' anti-Trump messaging. That could be a tall order.