Republican gains in Congress were being matched in statehouses Tuesday as the GOP gained at least four governorships and prevailed in several other tight races, some of them in states expected to be presidential battlegrounds in two years.
Millionaire venture capitalist Bruce Rauner ousted Democratic Gov. Pat Quinn in Illinois, according to NBC News projections, while former U.S. Rep. Asa Hutchinson won Arkansas for the Republicans by beating Democratic former U.S. Rep. Mike Ross. Hutchinson's win avenged his 2006 defeat to Democratic Gov. Mike Beebe, who was term-limited.
Meanwhile, unsuccessful 2010 Republican nominee Charlie Baker beat Democratic state Attorney General Martha Coakley in the race to succeed Democrat Deval Patrick in Massachusetts, NBC News projected. And in Maryland, Republican real estate broker Larry Hogan defeated Democratic Lt. Gov. Anthony Brown in the race to succeed Democrat Martin O'Malley.
Republicans were also within striking distance of flipping at least two other states where returns remained too close or too early to call, NBC News projected.
Incumbent Democrat John Hickenlooper was trying to fight off Republican former U.S. Rep. Bob Beauprez in Colorado after a tumultuous first term in which he was sharply criticized for signing a law legalizing civil unions even though voters banned same-sex marriage in a 2006 ballot initiative. With 91 percent of the ballots counted, the Democratic incumbent was at 47.9 percent and Beauprez was at 47.5 percent. And in Connecticut, the Republican former U.S. ambassador to Ireland, Tom Foley, was seeking to avenge his defeat to incumbent Dannel Malloy four years ago. The two candidates alternated the lead back and forth throughout Tuesday night. As of 6 a.m. Wednesday, Malloy was ahead by 3 percent,
RELATED: Complete Results From 36 Governor's Races
The only Democratic gain by 2 a.m. ET was in Pennsylvania, where first-time candidate Tom Wolf ousted Republican Gov. Tom Corbett, who broke a pledge not to raise taxes by signing legislation to raise them on vehicle fuels and was widely criticized for his remarks on same-sex marriage.
Republican incumbents prevailed in other states where they were believed to have been threatened, like Wisconsin, where Scott Walker beat Democratic businesswoman Mary Burke after having survived a recall vote just two years ago; Michigan, where Rick Snyder beat Democratic former U.S. Rep. Mark Schauer; Kansas, where Sam Brownback defeated state House Democratic leader Paul Davis after having trailed in pre-election polls; and Florida, where Rick Scott narrowly beat Republican-turned-Democrat former Gov. Charlie Crist.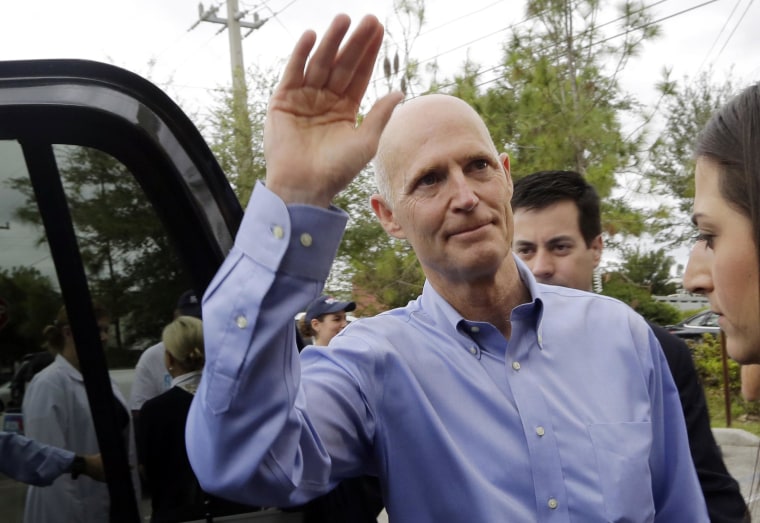 Among the casualties were some Democrats with prominent national profiles.
In Texas, Democratic state Sen. Wendy Davis, who rocketed to national attention during her 11-hour filibuster of a measure that would have virtually banned abortion last year, was easily defeated by Republican state Attorney General Greg Abbott.
And in Georgia, Republican Gov. Nathan Deal turned back a spirited challenge from Democratic state Sen. Jason Carter, the grandson of former President Jimmy Carter.
RELATED: Why Election Day Could Drag on Beyond Tonight
Before Tuesday, analysts had surmised that Democrats might be able to make significant gains in the 36 governor's races because of an anti-incumbency theme that was reflected in pre-election polling.
But at a news conference where he surveyed the Republican victories across the nation, Reince Priebus, chairman of the Republican National Committee, triumphantly declared late Tuesday: "Our governors are winning."