After suffering stinging losses in the 2022 midterms, Republicans said they needed to refine their message on abortion or risk continuing to lose at the ballot box in a post-Roe v. Wade world.
One year later, the GOP finds itself in an eerily similar situation after major losses in off-year races across the country Tuesday night, including in contests in which Democrats made abortion a key issue and others where abortion was directly on the ballot.
"This should be a major wake-up call on the abortion issue for us," said Stephen Lawson, a Georgia-based veteran Republican consultant. "The only way to expose the Democrats' support for late-term abortion is for us to articulate a more empathetic, moderate approach on the issue."
"Until we do that, we will keep seeing the same result," he added.
The Supreme Court's overturning of a constitutional right to an abortion months before the 2022 midterms sent shock waves through the nation's political system. Republicans were left scrambling to figure out how to grapple with the fallout from a court victory they had sought for decades, but which was ultimately unpopular with huge swaths of the electorate. 
Abortion politics were largely seen as undercutting an anticipated red wave, and they're now at the heart of Republican angst in the aftermath of off-year elections that saw Democrat Andy Beshear keep the governor's mansion in deep-red Kentucky and Virginia Democrats gained control of the full state Legislature, a direct rebuke of Republican Gov. Glenn Youngkin, who was heavily involved in the races. Part of Youngkin's pitch was a 15-week abortion ban as a "consensus" position.
And in Ohio, voters passed an amendment to enshrine abortion rights in the state constitution. 
For the GOP, a party that started to spout some self-awareness about its abortion liability after the 2022 midterms, it's déjà vu all over again. 
"Republicans need to figure out how to maximize their early vote and vote by mail, and need to come up with an answer on abortion in a post-Dobbs world," Adam Geller, a longtime GOP pollster not directly involved in the off-year races, said.
Another round of wins by Democrats, who raised significantly more campaign cash in each of Tuesday night's key races, helps the party build momentum headed into 2024 and has President Joe Biden's team taking a bit of a victory lap after much of the narrative leading into election night was that his political operation was slipping.
"There is a lot of beltway commentary about November 2024, but one of the best measures of how voters feel is how they are actually voting — and we have been saying for months," a Biden campaign official said. "Last night's election results are case in point that, when it comes to the ballot box, voters continue to choose President Biden and Democrats' agenda of building the economy from the middle out and the bottom up while safeguarding America's' hard-won freedoms over the extreme MAGA agenda."
Biden did not campaign for any of the candidates in Tuesday's races, and Biden himself came out in the red in NBC News' exit polls in Ohio. Fifty-seven percent said they disapprove of the job Biden is doing, compared to 41% who said they approve. Just over 7 in 10 Ohio voters also said they do not think he should be running for another term.
But on abortion, even Republican base voters, who remain fervently anti-abortion, see a need for some change in messaging. 
"They [Republicans] made it more of a personal deal about 'I have control of what you're going to do to your body and your baby,'" said Nick Rooff, a 58-year-old Waterloo, Iowa, resident who plans on supporting Trump in 2024. "I'm basically a religious zealot. And it was pretty stupid in my opinion. … I've got a cross tattooed right on me with a rosary and everyone like that."
"I believe in God, but God didn't tell me that I'm the judge," he added. "So that's what they need to change."
It is Trump's Supreme Court nominees who helped pave the way for overturning Roe, but he has tiptoed around the issue during his 2024 presidential campaign. In a September interview with NBC's "Meet the Press," the former president said he would not commit to a ban at a specific number of weeks and said "both sides are going to like me."
Trump's only public comment after Tuesday night's election was to distance himself from Kentucky Republican Attorney General Daniel Cameron, whom he endorsed in his losing bid to defeat Beshear.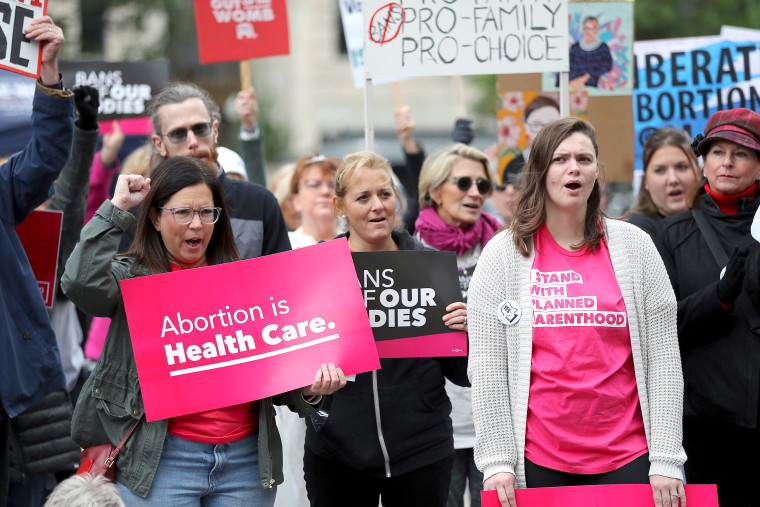 Trump campaign spokesman Steven Cheung said, "President Trump is always right" when asked about abortion's impact on Tuesday night's races, but didn't respond to follow-up questions. 
The two candidates widely perceived as jockeying to be the best alternative to Trump — Florida Gov. Ron DeSantis and former South Carolina Gov. Nikki Haley — have taken different approaches to the issue.
DeSantis signed a 15-week abortion ban into law in 2022, which is currently before his state's Supreme Court. If upheld, a six-week abortion ban he quietly signed into law earlier this year would take effect.
DeSantis has said that, if elected president, he would sign a federal 15-week abortion ban, but his campaign manager James Uthmeier told ABC News on Wednesday that it's an "extreme hypothetical."
"He is going to sign pro-life legislation, but he recognizes in the wake of the Dobbs decision that states will come down differently," he said. "And we as conservatives have to do a better job of messaging and working on the issue."
He said Congress is "dysfunctional" and they are unlikely to pass a bill like a 15-week abortion ban. 
Haley, meanwhile, has framed herself as staunchly anti-abortion but has not put forward a specific policy position. She has tried to thread the needle on the issue, on multiple occasions saying she wants to seek "consensus" on the issue. 
It's a message that some Republicans see as a good way to move forward on an issue they need to solve in order to start winning elections again. 
"Nikki's answer on the issue is a good one," said Lawson, the Georgia Republican operative.
He's not alone.
"Every single ad in Virginia painted Republican candidates as 'MAGA-extremists' with reckless views on women's health," said Alex Stroman, former South Carolina GOP executive director who is unaffiliated in the 2024 presidential context. "The way to win these voters back, as polling indicates, is to have someone like Nikki Haley as our nominee, who has championed pro-life values but doesn't demonize those who disagree."
Republican National Committee Chairwoman Ronna McDaniel told NBC's "Today" on Wednesday that she also believed they had to seek out a "consensus" position.
"What I do think is our candidates have to talk about this," she said. "We can't put our head in the sand. We can't let Democrats define us."