WASHINGTON — As it tries to fend off a progressive insurgency, the Democratic Party in one of the bluest states in the country is facing open revolt after endorsing candidates — including a Trump-voting former Republican — in primaries against three progressive women up for re-election this year.
Progressives across the country say they're fighting an out-of-touch party establishment, but nowhere are the battle lines more clearly drawn than Rhode Island, where the state is run largely by Democrats who oppose abortion rights and get "A" ratings from the National Rifle Association.
The long-simmering fight burst into the open this week after the Rhode Island Democratic Party released its slate of endorsements, which critics say is aimed at punishing three women who ousted old-guard incumbents two years ago.
Meanwhile, the party stood by a lawmaker who has previously been indicted on charges of sexual assault and is accused of domestic abuse, and who is currently under indictment on perjury charges. It also backed a former lawmaker with multiple arrests on his record, including one in 1994 vehicular homicide, over the vice chair of the Rhode Island Democratic Party Women's Caucus.
The endorsements have sparked rebellion in the state, and not just from the left.
Multiple elected officials, including State Treasurer Seth Magaziner and Rep. David David Cicilline, D-R.I., have declared their support for one of the incumbents, while the former executive director of the party said he might scrub the affiliation from his LinkedIn page. "Officially a national embarrassment," an environmental activist tweeted.
State Rep. Marcia Ranglin-Vassell is one of just eight African-Americans in the state legislature and, according to her tally, seven of them are now facing challenges in the Sept. 12 primary.
The liberal high school teacher ousted a 24-year incumbent who served as House majority leader in 2016. Now, the state party has endorsed a professor at a Catholic university who signed a letter supporting Ireland's abortion ban, which was recently overturned.
"Quite frankly, they are not used to women of color, black women, standing up," Ranglin-Vassell said.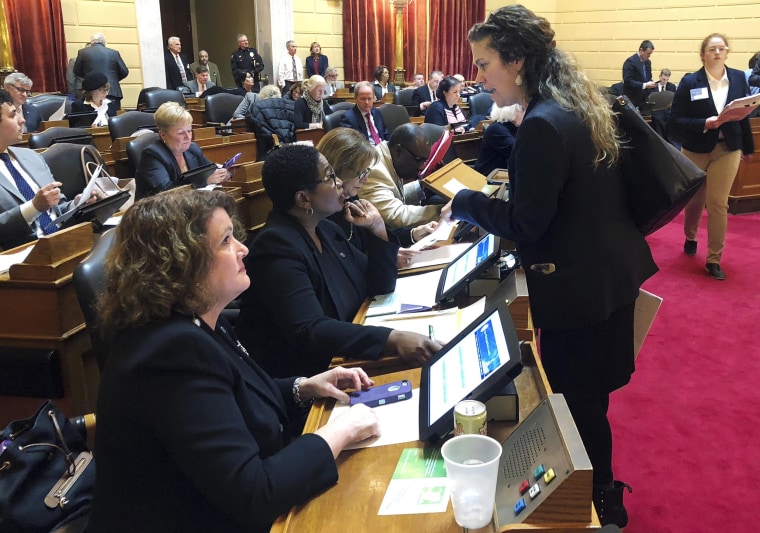 Freshman Rep. Moira Jayne Walsh, 27, who has been outspoken about what she sees as a culture of corruption in the State House, lost her party's endorsement to Michael Earnheart, who voted for President Donald Trump.
As a safe blue state, Rhode Island rarely gets any national political attention. But Walsh woke up Tuesday to donations from as far away as Texas and California.
Party officials describe Earnheart as a "lifelong Democrat" who voted for Trump because he didn't like Hillary Clinton. But public records show he had an active Republican registration in 2012, 2014 and 2016.
Activists in the state also dug up an an archived Twitter account, as first reported by Slate, that appears to belong to Earnheart. The account promoted numerous alt-right personalities like Pizzagate conspiracy theorist Mike Cernovich, Laura Loomer and Donald Trump Jr. And the user wrote posts slamming "the left" and stating "illegals are self-entitled lawbreakers and thieves."
Earnheart did not reply to emails and Facebook messages requesting comment.
Meanwhile, state Sen. Jeanine Calkin, who beat a longtime incumbent, saw the party back a friend of the former occupant, who is a man, instead of supporting her.
"When you beat the machine, they are going to come back at you hard," said Joe Dinkin, a spokesperson for the liberal Working Families Party, which endorsed all three women in 2016 and counted their victories as a signature accomplishment for the group.
State party officials did not respond to requests for comment, but have defended the endorsements by noting they backed a number of other liberal female incumbents, saying it's "categorically false" to accuse them of targeting progressive women.
Still, the move stands in sharp contrast to the Democratic Party elsewhere in the Trump era, which has been trending to the left and putting women front and center.
"What is the story we are trying to tell about what it means to be a Democrat in this state?" said state Sen. Gayle Goldin, who has led the (so far unsuccessful) effort to enshrine abortion protections in state law. "There are core issues in the national Democratic Party that some of the elected Democrats in Rhode Island have a harder time agreeing with."
In addition, the Rhode Island Democratic Party Women's Caucus is barred from supporting candidates not backed by the party, according to one board member, Joanne Borodemos.
"How is that for barefoot and pregnant?" she said in an email.
Some critics point to state House Speaker Nicholas Mattiello, who runs the party and has had the backing of Right to Life, along with a 100 percent rating from the NRA. But others say the system is much bigger than one person, noting some of the divisive endorsements came from local party committees that have remained loyal to former officeholders.
"I hope that this can be a eureka moment for leadership and they see we're here to stay," said Ranglin-Vassell.