WASHINGTON — Rhode Island Gov. Gina Raimondo cruised to renomination in a Democratic primary Wednesday against a progressive insurgent, even as liberals notched some victories further down the ballot against the state's moderate Democratic establishment.
Raimondo has faced simmering opposition on her left flank since being narrowly elected to a first term in 2014. But former Secretary of State Matt Brown and his underfunded campaign struggled to capitalize on that opening, losing to Raimondo by more than 20 percentage points, according to the Associated Press.
Brown ran as a Bernie Sanders-style change-agent, and he secured the backing of liberal groups like Indivisible and Our Revolution, which spun off of the Vermont Independent senator's presidential bid. But Raimondo refused to debate Brown while dominating the airwaves, outspending her challenger roughly 20-to-one.
Raimondo is one of 11 women Democrats running for governor, representing nearly one-third of the party's gubernatorial nominees in the 36 races of this election cycle.
Republicans nominated Cranston Mayor Allan Fung, setting up a rematch of his 2014 bout against Raimondo.
And despite the state's improving economy and heavy Democratic tilt, analysts say not to count out Fung, noting Raimondo was barely leading her opponent in a recent poll that showed her with soft support.
Still, for many offices in the deep blue state, primaries count more than the general election. And local politicos have been more closely eyeing a handful of Democratic primaries further down the ticket than the gubernatorial match for signs of who is winning the ongoing Democratic civil war in the nation's smallest state.
Aaron Regunberg, a 28-year-old progressive, has given Lt. Gov. Daniel McKee a run for his money, and progressives thought he had a better chance than Brown.
But the incumbent is leading the insurgent 51 percent to 49 percent, or 53,021 votes to 51,600, with 96 percent of precincts reporting. The AP has not called the race.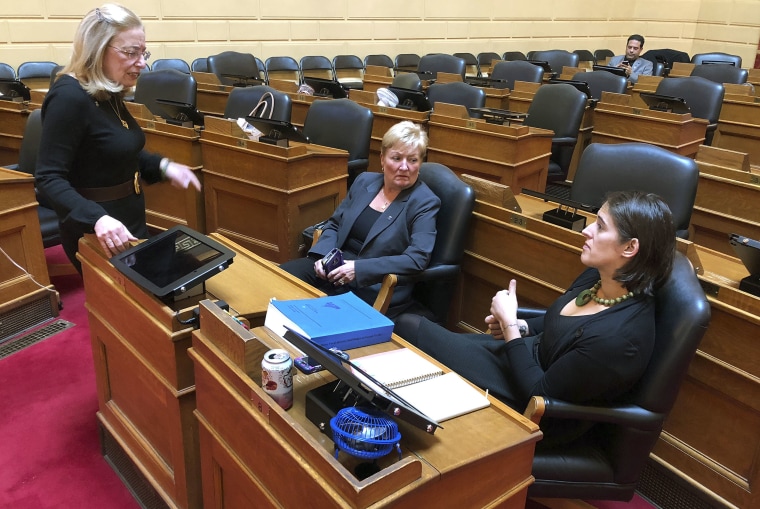 But the state's Democratic establishment took some blows in legislative races.
Progressives have been trying to topple the state's anti-abortion rights Democratic machine for years. In 2016, a troika of insurgent women won key primaries, so this year, the machine was out for revenge.
It openly tried to defeat the lawmakers. And In a move that attracted national scrutiny, the state Democratic Party even got behind a Trump-voting former Republican in its quest to oust Rep. Moira Walsh, a liberal who has been outspoken about what she alleges is a culture of drinking and corruption in the General Assembly.
The Gaspee Project, a pro-establishment PAC, attacked Walsh and other progressives as "beholden to an intolerant Progressive-left faction that is tearing Democrats apart." The group's mailers urged voters to "resist radical extremism in the Democratic Party" and opt for the "mainstream Democrat."
But despite the attacks, Walsh won. And so did a fellow state representative, one of the only African-American women in state politics, who angered party leaders by defeating a powerful Democrat two years ago.
At the same time, a locally well-known progressive activist ousted an incumbent state senator. And insurgents scored some victories in key open-seat primaries as well.
However, the only member of the General Assembly to formally endorse Brown, Jeanine Calkin, lost her State Senate primary. The victor was a close friend of the man whom she beat two years ago.
Rhode Island held the second-to-last primary of the year. Progressives will have one last shot to score another major upset Thursday in New York, where Gov. Andrew Cuomo is heavily favored over actress Cynthia Nixon, who is running to his left.