WASHINGTON — When Rep. Mike Capuano won his Boston-area congressional seat two decades ago, he had good reason to think of it like a Supreme Court appointment: for life.
The low-profile Democrat cruised to re-election nine times, never dropping below 80 percent of the vote, while casting reliably liberal votes that earned him perfect ratings from Planned Parenthood and the American Civil Liberties Union.
Then Donald Trump got elected, and the liberal base began to demand more from its leaders than a party-line voting record.
Now, Capuano is facing his first primary challenge — and he's not alone, with a small but growing number of entrenched Democrats watching as insurgents out-fundraise them with a sense of urgency fueled by President Donald Trump and an unwillingness to follow the old rules of deference to party elders.
Just as the tea party revolution culled some deadwood Republicans on its way to retaking the House, an anti-Trump wave may wash out some of the Democrats' longest-serving members.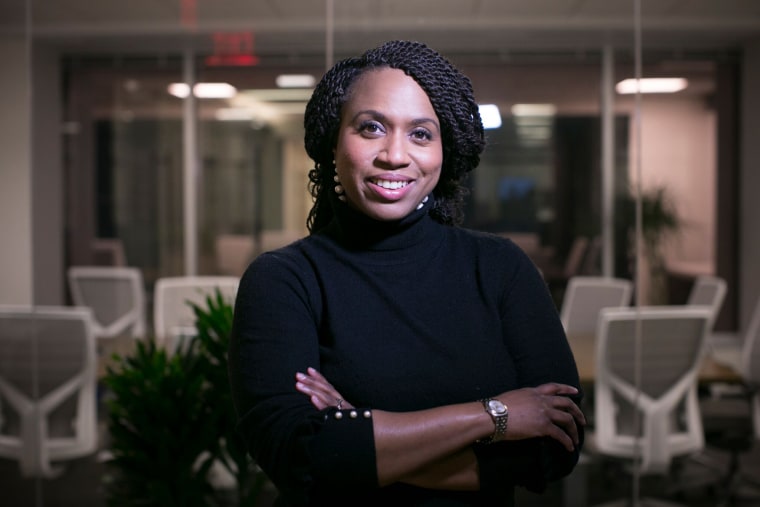 "I understand that this is uncomfortable for many people," said Ayanna Pressley, Capuano's challenger. "These are different times and it requires our being disruptive."
Pressley, the first woman of color elected to the Boston City Council, has been dubbed the future of politics and fêted by Emily's List, the Democratic women's group, with a prestigious "Rising Star" award.
Even though she's upsetting the applecart, Pressley has won support from major unions and a tacit nod from members of the Massachusetts congressional delegation, who made the unusual decision not to support their colleague and sit out the race.
Unlike a recent Illinois primary fought over abortion rights, or the 2016 presidential primary, Pressley and Capuano hold virtually the same political views.
What sets them apart is volume, not pitch, with Pressley saying these times require "activist-leadership" from people with a wider ranger of life experiences.
"We have an opportunity here," she said of the Trump era. "It can be a moment where we grow and build the most progressive movement of our times."
Democrats are no stranger to messy primaries in open seats or ones held by Republicans. But they almost always defer to their congressmen once elected.
Since the tea party wave uncorked the bottle in 2010, Republicans have been significantly more likely to face primaries than Democrats, according to the Brookings Institution. Only two House Democrats lost their seats to friendly fire in the last election.
"Beating an incumbent of your own party is one of the hardest thing to do," said Rep. Ro Khanna, D-Calif., who defeated an eight-term incumbent on his second attempt two years ago.
That hasn't stopped Adem Bunkeddeko, a 30-year-old Harvard grad and child of Ugandan refugees, who says Rep. Yvette Clarke, a Brooklyn Democrat, has done not enough to promote affordable housing in her rapidly gentrifying district. "At the end of the day, it's about getting things done," he said.
And nor has it stopped Jonathan Lewis, a historian and businessman in a neighboring district, who is trying to oust senior Democratic Rep. Eliot Engel of New York. "If I told you there are nations in the world where people are running for election after election completely unopposed, you might wonder what country that is," Lewis said.
Even Barack Obama, perhaps the greatest politician of his generation, failed to oust an entrenched Chicago lawmaker.
But this year, challengers hope the super-charged Democratic base and widespread frustration with elected officials will let them catch incumbents sleeping.
"We have a big split in the party. I don't know that the party establishment has fully wrapped its mind around it," said Saira Rao, who is challenging Rep. Diana DeGette, D-Colo.
In hipsterifying Denver, the first-time candidate outraised DeGette, a member of Democratic leadership and a 23-year incumbent.
Rao volunteered for Hillary Clinton's campaign in 2016, but grew frustrated with the Democratic Party for taking the votes of women of color like her for granted.
So she wrote an essay on "Breaking Up With the Democratic Party" that went viral, and the overwhelming response compelled her to run for office.
"We have a window (to save the country). It's closing pretty soon. We don't have until 2020 and I have zero faith that the corporate Democrats in Congress will do a damn thing about it," Rao said. "Thank you for your service Nancy Pelosi, but we need new leadership."
The odds are stacked against upstarts, and what few polls exist have shown them behind. Voters in safe districts don't typically pay attention to congressional primaries, with some big city districts posting single-digit turnout in the past.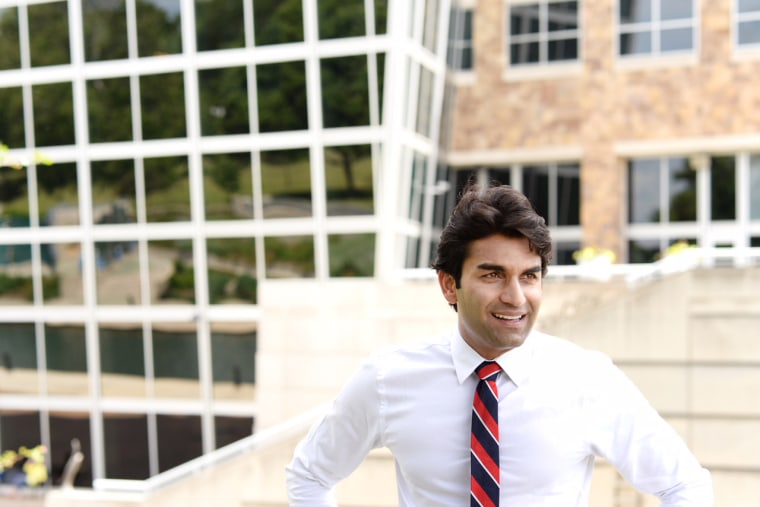 That's a shame, says Suraj Patel, a 34-year-old Obama campaign alum and New York University professor challenging Rep. Carolyn Maloney, D-N.Y., an institution in Manhattan politics.
"No party should be satisfied with 6 percent turnout," said Patel. "We don't just need to elect Democrats, which we do, we need to elect better Democrats."
Patel has raised nearly $1.1 million, outpacing Maloney two quarters in a row, and built a massive campaign team for a congressional race, with 25 staffers and 49 interns.
As he sees it, Democrats should be using the safety of deep blue seats in progressive major cities to take risks on new policy ideas and champion a bold agenda.
"We're really wasting an incredible opportunity to lead from districts like this," he said.
CORRECTION (April 29, 2018, 10:55 a.m. ET): A previous version of this article misstated Adem Bunkeddeko's age. He is 30, not 29.
CORRECTION (April 30, 12:12 p.m. ET): A previous version of this article misspelled the first name of a U.S. representative from New York in a photo caption. She is Rep. Carolyn Maloney, not Caroline. Another photo caption misspelled the first name of a woman challenging Rep. Mike Capuano, D-Mass. She is Ayanna Pressley, not Ayana.