Local black leaders in four key Southern states are taking dramatic steps to mobilize African-American voters as Democrats fret that minority turnout will be too tepid to boost white Democratic candidates to victory next Tuesday.
Their efforts include extending voting hours in their counties, leading voter registration efforts and attacking Republicans in blunt and at times racialized language on behalf of white Democratic hopefuls, even as those candidates at times shun President Barack Obama and seek to distance themselves from his administration.
Jason Carter in Georgia and Charlie Crist of Florida, both gubernatorial candidates, along with U.S. Senate candidates Kay Hagan (North Carolina), Mary Landrieu (Louisiana) and Michelle Nunn (Georgia), all need a very high turnout among blacks to win elections next week. But except for Crist, none of these candidates want to appear alongside the president, who is unpopular among the white voters they must also court.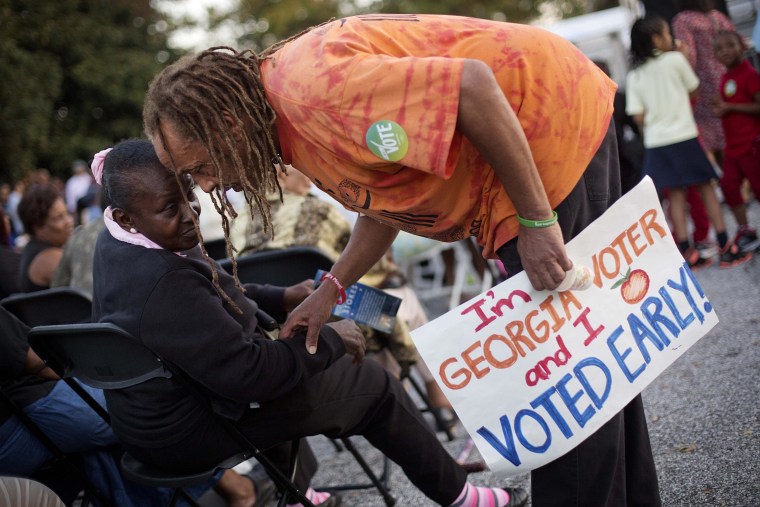 But black leaders in these states say they are determined to elect these Democrats, no matter how often they criticize the first black president. Lee May, the black county executive of DeKalb County in the Atlanta area, used his power to allow early voting in the county on Sunday, a first for Georgia, and a move that allows black churches to easily turn out their members. Leaders in other parts of Georgia with large black populations then followed suit, and angry Republicans in the state have suggested they will change election law next year to bar counties from acting on their own to establish new early voting days.
Looking to fire up voters in North Carolina, William Barber, the president of the state's NAACP, said at a rally earlier this month that Republican-imposed measures like voter ID laws were akin to "wading through the blood of the martyrs." In a video message for the Landrieu campaign, Louisiana state representative Ted James, who is black, refers to the need to re-elect the Democratic senator "to protect our president."
"If the Republicans take control of the U.S. Senate, our president will indeed face impeachment proceedings," James warns in the video. (In fact, GOP leaders have repeatedly ruled out pushing for impeachment, which is a power of the House of Representatives, not the Senate.)
This fiery and pro-Obama language has marked a contrast from the candidates these black leaders are supporting. Landrieu has highlighted her disagreements with Obama in her television commercials, while Nunn has emphasized the president only has two more years in office.
"I'm not bothered by it," James said in an interview when asked about Landrieu's criticisms of the president. "Folks know where she stands."
Orlando Watson, a spokesman for Republican National Committee, noted that Republicans too are courting the black vote, having opened outreach offices in states like North Carolina over the last year.
"Democrats are relying on recycled racial rhetoric to distract from talking about their policies that have failed black communities," he said.
African-Americans historically vote Democratic, so it's not a surprise that their leaders are backing these candidates. But the intensity of their support comes in part from the tense divide between the black community and white Republican leaders in these Southern states.
The 2014 election, both in these states and in others around the country, is something of a grudge match for black leaders, who say the Republicans elected in the Tea Party-fueled wave of 2010 have been in particular hostile to African-Americans. In Georgia, incumbent Republican Gov. Nathan Deal signed into law a provision that requires people who receive welfare benefits to pass drug tests, a measure that angered black leaders. North Carolina GOP Senate hopeful Thom Tillis, as speaker of the Republican-led state House, helped push through a measure to bar same-day voter registration, which civil rights leaders say is an attempt to reduce the number of black voters. Florida Republican Gov. Rick Scott backed a provision that put new restrictions on voter registration drives.
[Obama's] not being on the ballot, you get a little less excitement
All three of these figures helped block the expansion of Medicaid through Obamacare in these states, which would have disproportionately enrolled blacks, who tend to have lower incomes.
"I'm not focused on the office Thom Tillis is aspiring to. I'm focused on what he's done in the office he has," said Barber. He added, "There is so much anger at this regressive legislature."
In Florida, "it's a lot of negativity toward Rick Scott" that is driving black activists in the state, said Chris Smith, the Democratic leader of the Florida State Senate. Smith is organizing a get-out-the vote campaign in Broward County to boost Crist.
In all four states, voting and politics are polarized along racial lines. A voter registration group started by Stacey Abrams, a black woman who is the minority leader of the Democrats in the Georgia House, says it registered thousands of African-Americans, but is now under investigation by the office of Georgia Secretary of State Brian Kemp, a white Republican, for voter fraud. Black Democrats in Georgia have accused Kemp of trying to stop Abrams' operation for political reasons, while his office says "he has worked hard to make voter registration as easy as possible."
Polls suggest Landrieu, Nunn and Carter are winning less than 30% of the white vote (Obama won 39 percent nationally in 2012) in their races, but getting about 90 percent of African-Americans. Blacks are more than a third of the population in Louisiana and Georgia.
Obama spent relatively little time courting black pastors and leaders in states during his presidential runs, with both he and his wife forging a personal connection with the African-American community.
But these candidates are trying to win over large numbers of blacks from a much weaker place. Carter and Nunn, despite their families' legacies in politics, have never run for statewide office before. Crist needed few black votes in his previous campaigns as a Republican, and Hagan won in 2008, when Obama himself was on the ballot too.
"His not being on the ballot, you get a little less excitement," said Smith.
To gin up enthusiasm, Nunn has appeared at black churches in the Atlanta area and campaigned alongside Michelle Obama. Hagan spoke at an NAACP event organized by Barber last week. Democrats in these four states are running ads on black radio, and President Obama has done interviews that will air on African-American stations in these areas.
Victory though may come down to these surrogates. In a Republican primary earlier this year in Mississippi, incumbent Republican Thad Cochran won a very close contest with the help of an under-the-radar effort by black leaders in the state, who cast his opponent Chris McDaniel as a radical Tea Party activist and highlighted work Cochran had done to boost historically black colleges. Black voters there opted to vote in the GOP primary and support the less conservative Cochran.
There are already signs of such an informal campaign, to castigate Republicans in ways the candidates themselves would never do in public. James in his video message also invoked the Tea Party, which African-Americans believe unfairly targets Obama. A mailer from the Georgia Democratic Party that was sent to some black voters urges them to vote to "prevent another Ferguson."
Florida black leaders are reminding African-Americans of controversial "Stand Your Ground" laws that were much discussed in the wake of the killing of black teenager Trayvon Martin in 2012. African-American leaders in both Georgia and North Carolina regularly use terms like "Jim Crow" and "voter suppression" as they look to fire up black voters.